So much can happen in just one year. Sneakers come into fashion, some go out of it. However, there are always sneakers that just stick like Jordans and Yeezy sneakers. Sneakers like those transcended athletics and became an essential part of our daily lives. And the fact that Yeezys were essentially lifestyle kicks, made them relatable! Moreover, being the product of a collab between the music and sneaker industries also plays a role in their popularity.
And let's not forget the exclusivity game that everyone has been playing for years now. So all in all, Yeezys went through it all. That's why we're gonna take a look at the whole story from head to toe. From the pre-Yeezy era to the unfortunate end of the partnership, here's everything you need to know about Yeezy sneakers! From 
PS: You're gonna love this guide so much you're gonna want to share it. So why not do it now?
Looking for something specific?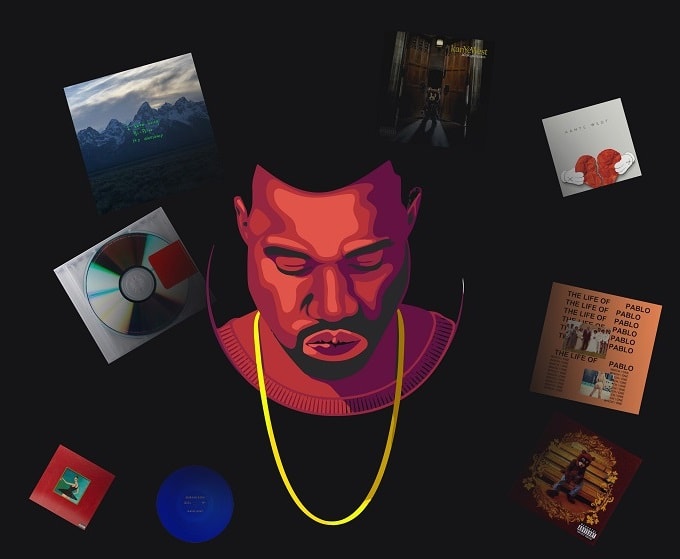 Kanye Omari West – The Brains Behind the Billion Dollars Line!
If you know your music, then you know that Kanye West is a huge name in the music industry. His latest musical win is the Donda album that broke records. It actually topped the charts in 152 countries on release day! However, Kanye's influence doesn't stop at music at all. His fashion influence has always been a huge part of his popularity. He was technically a trendsetter with all the crazy stunts he pulls with his outfits.
Unfortunately, all his creative genius in different industries is on hold now. After a series of anti-semitic comments and controversial posts, Kanye got kinda canceled. Most brands ended their partnerships with him, and that, according to Forbes, made him lose his billionaire status. So whether he will recover from that fall of grace remains to be seen. But as for now, we're just gonna take a look at the history of the Yeezy brand.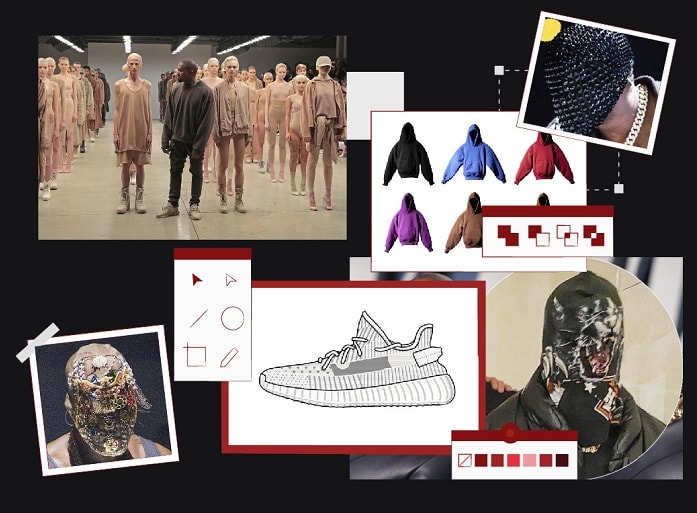 Not only that, but we recently got the "Perfect Hoodie" by Yeezy x Gap. And people's reactions to these hoodies are interesting. Concluding that Kanye is successfully spreading his genius to as many industries as he can. But we're not really sad about that, because there's a lil something for everybody. This is exactly Kanye's goal since day 1 in the fashion industry! However, our preference is naturally sneakers, aka his biggest influence point. Let's check out the most important checkpoints of Yeezy sneakers and more throughout the years!
Pre Yeezy Sneakers Era
Disclaimer: The partnerships aren't in exact chronological order because Kanye can multitask and we can't.
Bape x Kanye West "College Dropout"
If we go back in time 14 years, we'll find that Bape was the first brand to collaborate with Yeezus. Although he didn't get to design the pair, it still is a part of sneaker lore! First off, the sneakers were a nod to his album: The College Dropout. It actually featured the same color palette as the album along with the bear mascot! Another important point is that the kicks were mega-exclusive, and most fans didn't get the chance to own them. Today, this pair is worth about $9K, so if you own these babies, you're sitting on a fortune!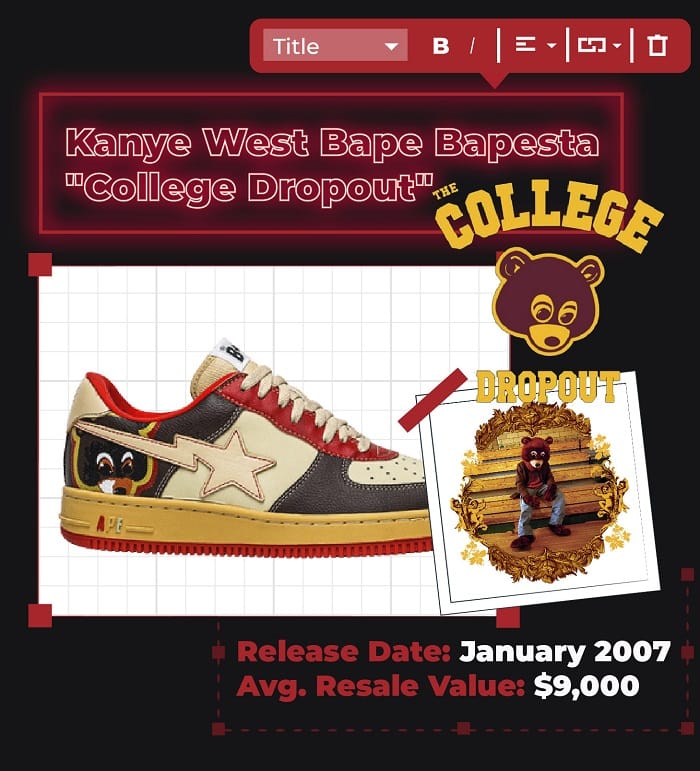 Before All Yeezys, We Had the Louis Vuitton Don!
Who said that high-end fashion was exclusive? Definitely not Kanye west, aka the Louis Vuitton Don! Among his different fashion endeavors, West totally killed it with a stop at Louis Vuitton. My man went and designed with Marc Jacobs three silhouettes: Jasper, Mr. Hudson, and Don. The names are a nod to Ye's friends and collaborators: Ibn Jasper, Mr. Hudson, and Don C! The kicks were expensive at retail, as any high-end LV shoe would be. However, the resale is what actually steals the show!
Needless to say, the collab was a success. It was such a success that Kanye was kinda bummed out when his friend, the late Virgil Abloh, became the creative director of menswear at LV. Obviously, the Louis Vuitton Don thought that he deserved it more. But whatever negative attitude West had, it vanished during the 2018 LV show with a warm hug!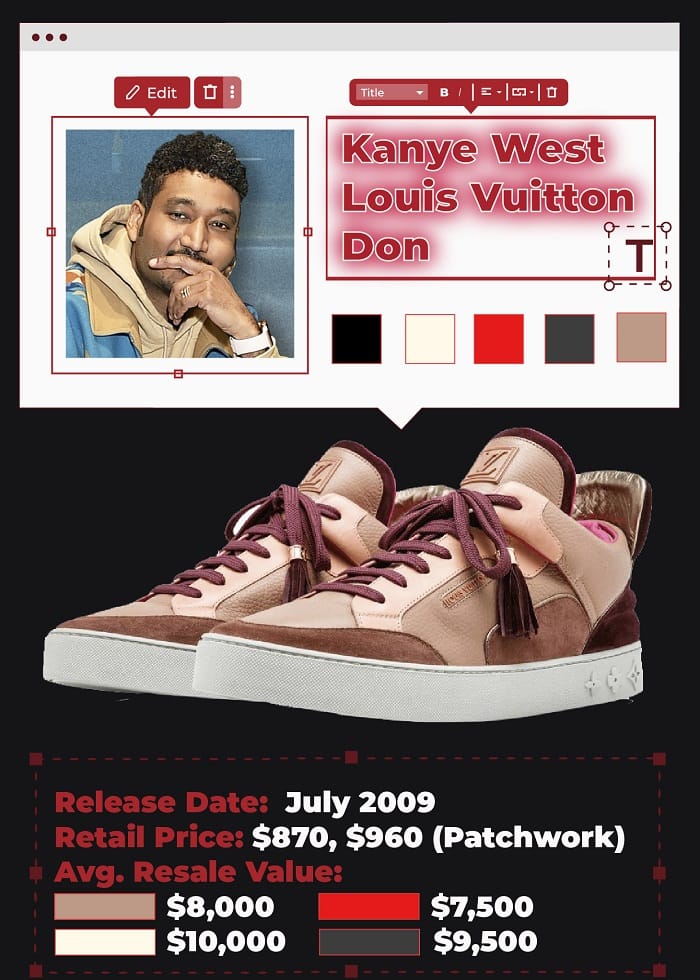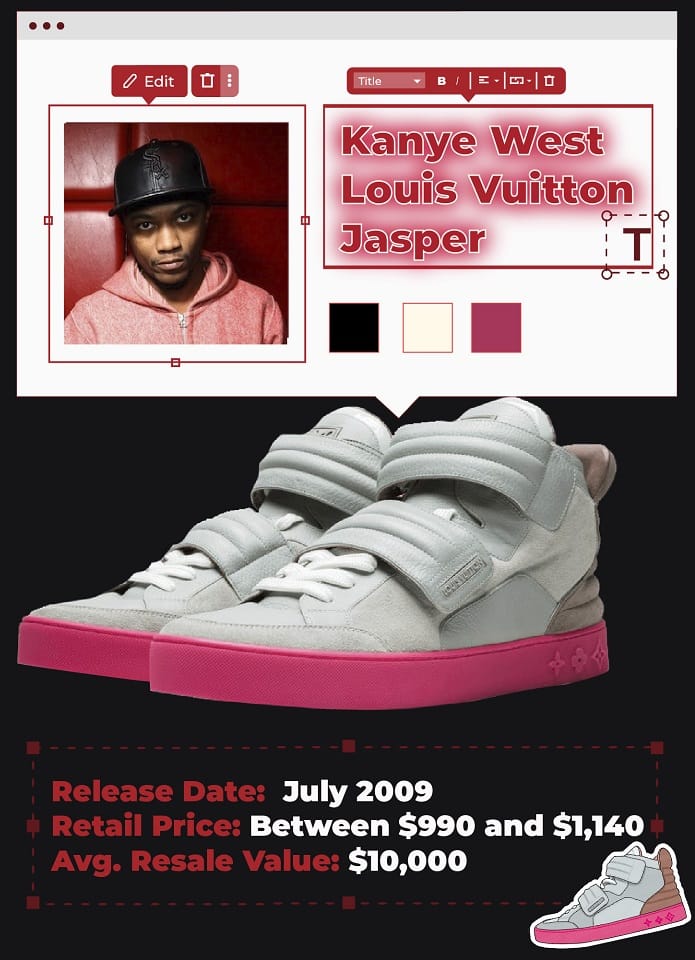 In 2014, We Want Some Credit…
Sooooo, in 2014 Kanye claimed that Balmain and Giuseppe Zanotti didn't credit him for designing their high-top kicks! The brands didn't reply to that statement, so as far as we know, this might be the truth. After all, the sneakers kinda look like the kicks he designed with Louis Vuitton and Nike. So whether that's true or not, nobody knows for a fact yet!
Nike Air Yeezy Sneakers – The Start of a Legacy!
First off, we need to mention a very important thing. The Nike x Kanye West collaboration took the sneaker industry to a different level of hype and exclusivity. In addition to Air Jordan and Supreme, Nike Air Yeezys were a core milestone in the world of sneakers. Despite the fact that the partnership didn't last too long, the sneakers made an impression on every sneakerhead. In fact, we only got 2 silhouettes before he left Nike in 2013.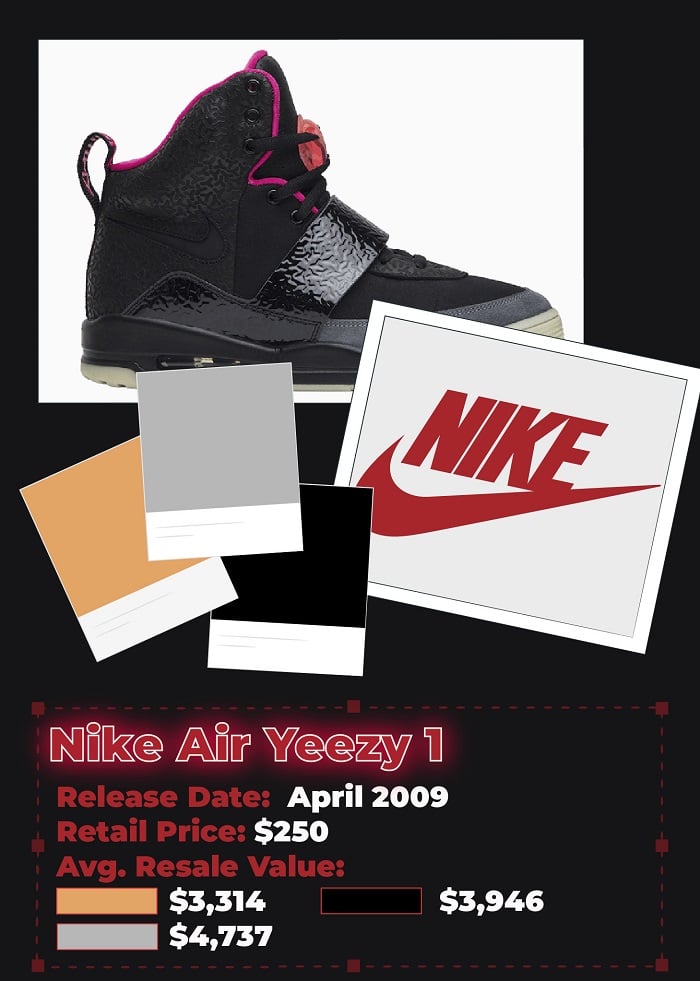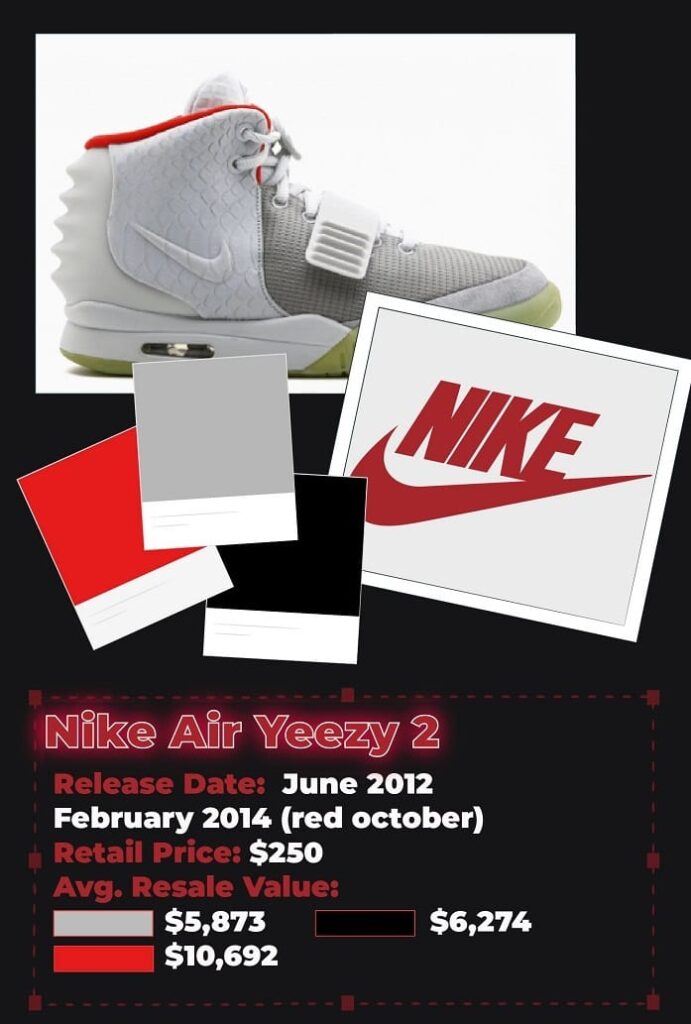 Air Yeezy 1
It's 2009, and Kanye West is performing at the Grammy's and wearing a pretty dope pair of Nike kicks. Now imagine how wild the internet got when they discovered that it's Kanye's own silhouette with the Swoosh! Needless to say, these sold out faster than you could say "Yeezus". Today, the three colorways are worth somewhere between $3k – 4k! So yea, they are worth their weight in gold… almost.
Air Yeezy 2
Fast forward to 2012, three years with absolutely no sign of new Yeezy Sneakers. Well, apparently that was when tensions started to rise between Ye and Nike. So when the Air Yeezy 2 dropped, they marked the end of a precious era. Kanye wanted more creative freedom, royalties, and more availability! Nike wasn't apparently willing to give all of that. And when the Red Octobers dropped, everyone went crazy for a pair. Today, it's pretty hard to find the kicks in deadstock condition. And if you do, the kicks will cost between $6k – 11k!
Adidas Yeezy – How to Build a Sneaker Empire 101
Well, he didn't build it from scratch. Kanye already had a humongous following before moving to Adidas. The move was pretty interesting considering that other celebs usually do the opposite! However, he's not the only one, Sean Wotherspoon also made the Nike to Adidas transition. Anyway, it wasn't only Kanye who benefited from this move. He actually helped put Adidas back on the competitive map in terms of hype!
Now let's get moving and take a look at everything Yeezus blessed us with so far. PS: you can check out our very biased, totally subjective take on the best Yeezy colorways here!
Another disclaimer: We're not going to be showing the silhouettes in chronological order. The listing is based on the silhouette names! Kinda cooler, right?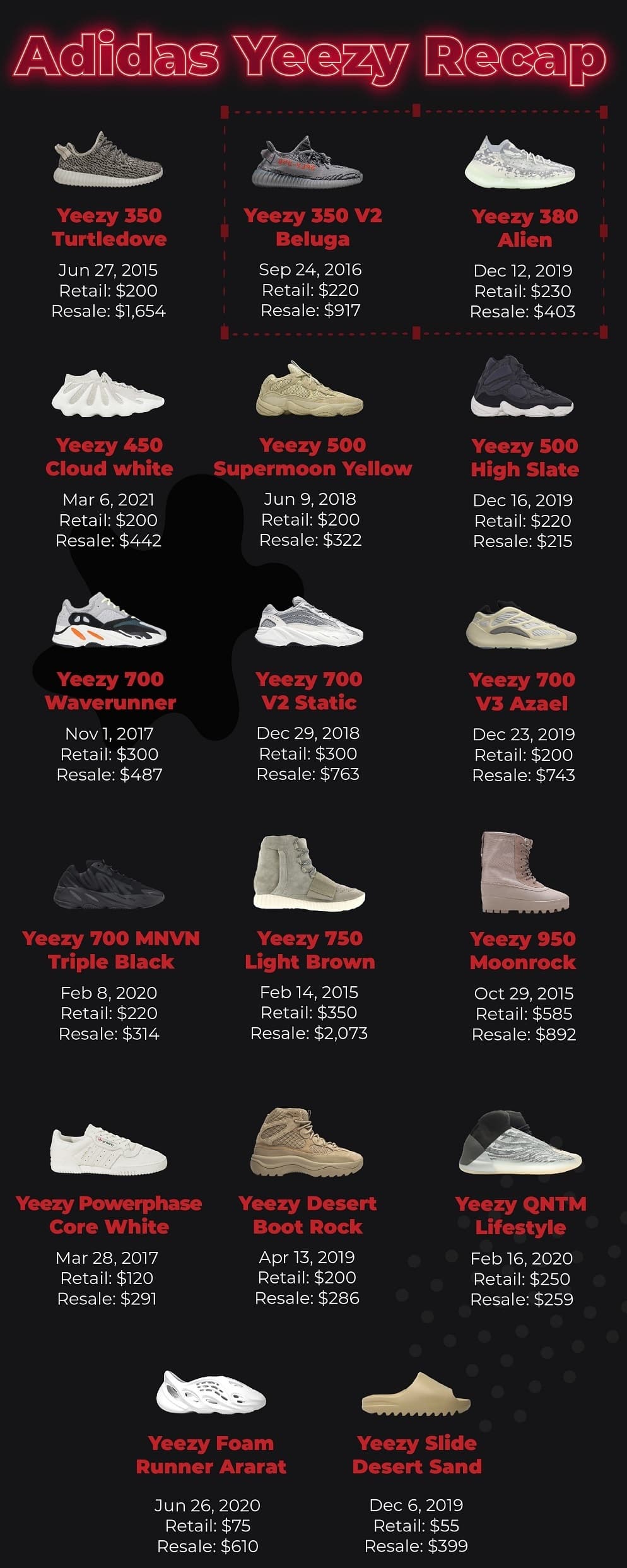 Yeezy 350 – 350 V2
Do we even need to get into that? The 350s are probably the most popular Yeezy sneakers. Even people who aren't very familiar with the industry would know it at some point. That's because of the bang it made with the interesting mix of Primeknit, ribbed soles, and Boost cushioning. The first Yeezy 350 dropped back in 2015 in the Turtledove colorway. 
A year later, the first Yeezy 350 V2 dropped in the Beluga colorway and became an instant fan favorite. As the mighty Yeezus once said: harder, better, faster, stronger! Amen to that! At some point, the 350 V2s were super rare and worth a lot of cash. Don't get us wrong, they're still worth good money on the aftermarket. However, Ye made a promise to make Yeezys available to everyone, and he's staying true to his word!
Yeezy 380
Initially, it was dubbed Yeezy 350 V3, but we think 380 is a better fit. Naturally, the 380s weren't as popular as the 350s, but they slowly grew on us. The first pair, the Alien 380s, dropped back in 2019, and the rest smoothly followed. However, the Aliens are still the most popular, and lowkey the coolest, colorway.
Yeezy 450
The dumplings of Yeezy sneakers! This is one of the latest silhouettes that we have at the time of writing. The first colorway was the stark Cloud White that dropped in March 2021. It features the same Primeknit material as the 350s but lacks the Boost soles. Not a dealbreaker though, since they seem to be pretty comfy with the 1-piece octopus-like sole.
Yeezy 500 – 500 High
So here is one controversial pair of Yeezy sneakers. When the 500s first dropped back in 2018, everyone was skeptical. No boost? No Primeknit? That was a pretty different silhouette than what you would expect since it didn't resemble previous silhouettes at all! However, just like anything different that Kanye drops, it kinda grew on us after a while. And let's be real, the Supermoon Yellow colorway was pretty lit, and so are the rest of the colorways. A year later, Yeezy 500 came back in a high-top fit for the cold winter days. Well, they do look like boots, and you gotta be smart about styling them! The first colorway, Slate, dropped in December 2019.
Yeezy 700 – 700 V2
Yeezy 700 is one of the kicks that brought back dad shoes. So, asking if someone is wearing their old man's kicks is no longer an insult! And we got Ye to thank for that. The 700s dropped in 2017, and it's actually the silhouette that has the most versions! Call us old school, but our favorite will probably always be the Waverunners, aka the OG 700.
And just when we thought that we wouldn't fall in love again, we get Yeezy 700 V2. Although the midsole stayed the same, the upper got a total revamp! However, they kept our favorite things, like the 3M details and the general bulkiness. The first colorway was the very calm Static, which kinda fits. These babies dropped in December 2018.
Yeezy 700 V3 – 700 MNVN
Did you think we were done with the 700s? Think again! Almost exactly a year after launching the V2s Kanye delivers a very futuristic take on the kicks. The surprise though was that he dropped the Boost in favor of the EVA cushioning. Naturally, that didn't sit well with many people, but the kicks still managed to sell out. And that's what we call the power of Yeezus.
Fast forward to 2020, a couple of months after the first V3 release. Now we can notice that Ye's getting pretty experimental about them kicks. Does it matter though? As long as the kicks keep coming in, we're okay! So Yeezy MNVN is like the last child with hand-me-downs. It got the original Boost midsoles and none of the cool uppers. The design team opted to go for nylon uppers with a huge-a$$ 3M 700 print on the side. Not that we're complaining, this is the cheaper version of the OGs! While the V1s retailed for $300, these cost $220 only!
Yeezy 950
Although people generally forget about these babies, the 950s are among the first Yeezy silhouettes! So design-wise, the 950s look like a hybrid of combat and snow boots! They're also actually the most expensive Yeezys in terms of retail. That didn't put anyone off though, because they sold out, and they still bring good cash if you flip them!
Yeezy Powerphase
We're not gonna be judgy and say that these are pre-existing Adidas kicks, even though they are! So the Adidas Yeezy Powerphase was an attempt at reviving the Powerphase silhouette, and it worked. The kicks were the exact same as the original Powerphase. The only change is that they flaunted the word "Calabasas" on the side, and that made all the difference.
Yeezy Desert Boot
So before the Yeezy 500 high dropped, we had the Desert Boot. The initial pair was a Yeezy Season 6 exclusive, and dropped in 2018! However, the actual Adidas Yeezy sneakers didn't drop till 2019. At the time where the 500s were hard to get (and still are), these came as a cool alternative!
Yeezy QNTM 
If you know your basketball, then you definitely remember 2020's All-Star Weekend in Chicago. Kanye decided to pay tribute to his hometown by dropping the first-ever basketball Yeezys! Naturally, the ones you'd wear on the court were a bit different from the lifestyle versions. The technical differences were things like extra ankle support, and an upper cage to keep the foot stable. Finally, let's not forget the 3M detailing that was a no-no on the basketball versions!
Yeezy Foam Runner
The most hated silhouette among everything we discussed. Well, that was the case until they actually dropped and we saw the resale value. The Foam Runners are made of foam that comes from algae, making it a step towards sustainability, and comfort. Well, love it or hate it, slip-ons and co. are all the rage lately!
Yeezy Slides
Last, but absolutely not least, Yeezy Slides are the epitome of comfort. You can rock these anywhere, from your house to post-workouts, they gotchu. And obviously, everyone knows that since the Slides are among the most popular kicks in 2022! So the question isn't if you're gonna wear Slides. The question is: socks or no socks?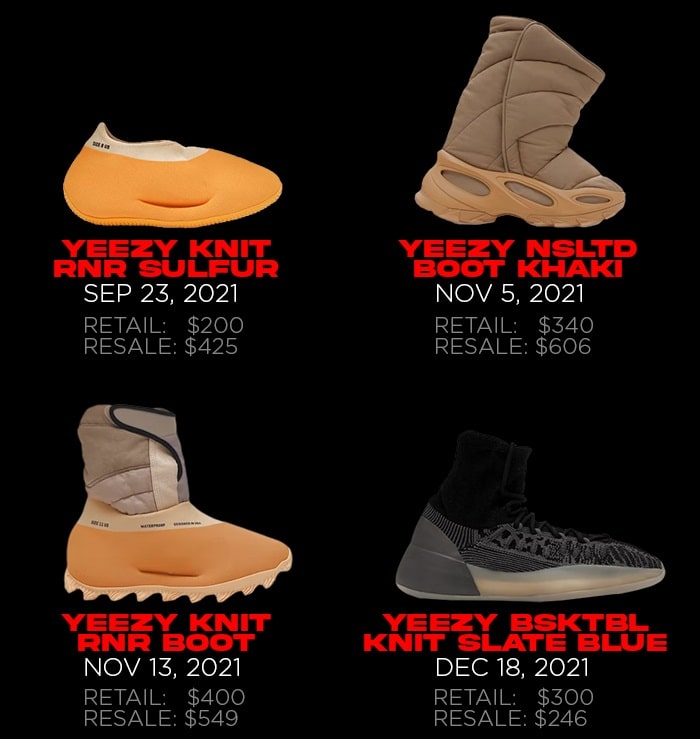 Yeezy Knit RNR
As we already mentioned, slip-ons are the "it" footwear. And boy, the industry has a way of getting into our heads. Why? Because after a while of seeing the same item, it kinda grows on you. And well, the kicks(?) we a success when they dropped suddenly, with a good resale value to back that claim up.
Yeezy NSLTD Boot
We wish that was a joke, but 2021 was hands-down the year of oddities. Kanye was getting "creative" with his designs, and his area of focus was obviously boots! And the NSLTD Boots look like somebody ripped them off of a Star Wars cameo situation. But of course, these babies sold because they were a one-time thing obviously. And the only way to get ahold of those is on the resale market.
Yeezy Knit RNR Boot
We're not sure what was going on on the design table, but we can assume that it was some kind of collage. Because if you mash the Knit RNR and NSLTD Boot together, you'd get this. And somehow, you can make $100+ profit by flipping those… so yes.
Yeezy BSKTBL Knit
Okay, so according to people who actually bothered to wear the kicks and play in them, they're good. However, they're on the heavy side of things, so if you want something lightweight, this is not for you. And let's be honest here, knit uppers don't give kicks lots of room to breathe, do they?
Yeezy Sneakers – The End of an Era
The sneaker industry is ever-changing and evolving. Sometimes, partnerships survive for years and years like the Air Jordan partnership. However, other collaborations don't endure the test of time, and it eventually falls apart. Unfortunately, the Adidas Yeezy partnership is one of those. Following all the controversial comments Kanye made, Adidas (and many other brands) cut ties with him. And if you're wondering what that means, well, it means that we won't be getting any new Yeezys.
Although Yeezy sneakers had their ups and downs, they were still a good investment for the most part. But now that the partnership ended, how will the value of Yeezys change? Read this if you wanna know! What we do know for sure though is that the industry will definitely miss these out-of-this-planet drops. That actually leaves open slots in your rotation for future sneaker drops. And love it or hate it, there are lots of other fish in the sea! But if you're still hung up on Yeezys like that high school crush, check the links below for a quick fix.