Best Sneakers 2022 – Jordans Still Way Ahead of the Curve!
We're almost halfway through 2022, and this calls for a lil round-up! And the best sneakers 2022 edition is not your regular list. We've got a very nice and diverse list of kicks that got us all swooning! But why are we doing this anyway? Well, if you wanna get your sneaker game going right, you're gonna need to know what's popular. After all, the first thing sneakerheads will check out is your kicks. And if you don't pass the vibe check, you're out! So here are the top 10 best-selling sneakers in 2022 so far. And if you managed to cop these kicks, make sure you always know how to take care of them!
Disclaimer: This list is based on StockX's number of sales of each pair at the time of writing. This number can, and will, change depending on hype, new releases, and more!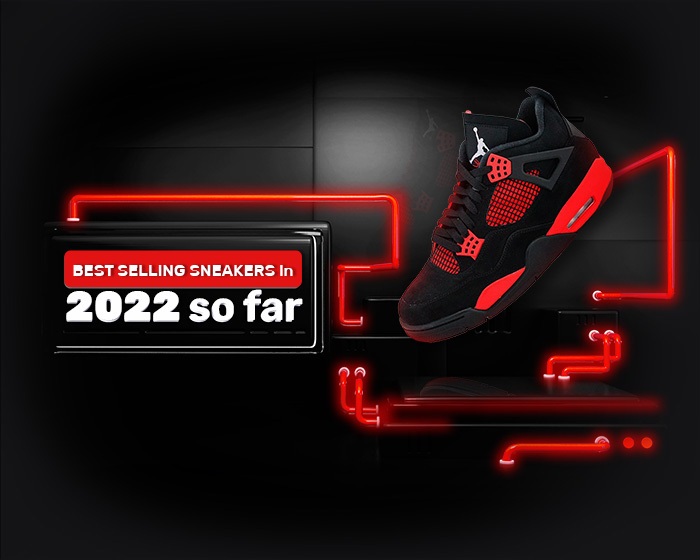 Best Sneakers 2022 – Celebrating Diversity!
This year is surprising, to say the least, and we've got multiple points that we're gonna discuss! First off though, let us start by listing the top ten sneakers of 2022 (so far):
Now, at first glance, you'll think: "Oh, Jordans are dominating, again!" But if you look closer, you'll notice that there are some differences in comparison to the 2021 list. Although the dominating brand is Jordan Brand, the silhouettes changed! It's also worth noting that no Dunks made it to the list after being the best-sellers of 2021.
Jordan 1 Moves Out of the Spotlight?
2021's ranking included more than three Jordan 1s out of the ten best-sellers. This year, however, only one Jordan 1 High made it! In fact, we've got a lot of silhouette diversity. From Jordan 3, 4, 5, 6, to Jordan 12, all the kicks we have on the list are unique in their own way. However, the best-seller of the year so far is none other than Jordan 4 Red Thunder! Despite not being one of the most hyped kicks, they managed to become the best sneakers 2022 could give.
Slides Are Not Going Anywhere Any Time Soon
Not that we hate them, but with everyone going back to work, you'd think that the preferences would change. But despite having lots of sneakers people can wear to work, nobody dislikes comfort. So, people are still buying Slides, and they're still profitable!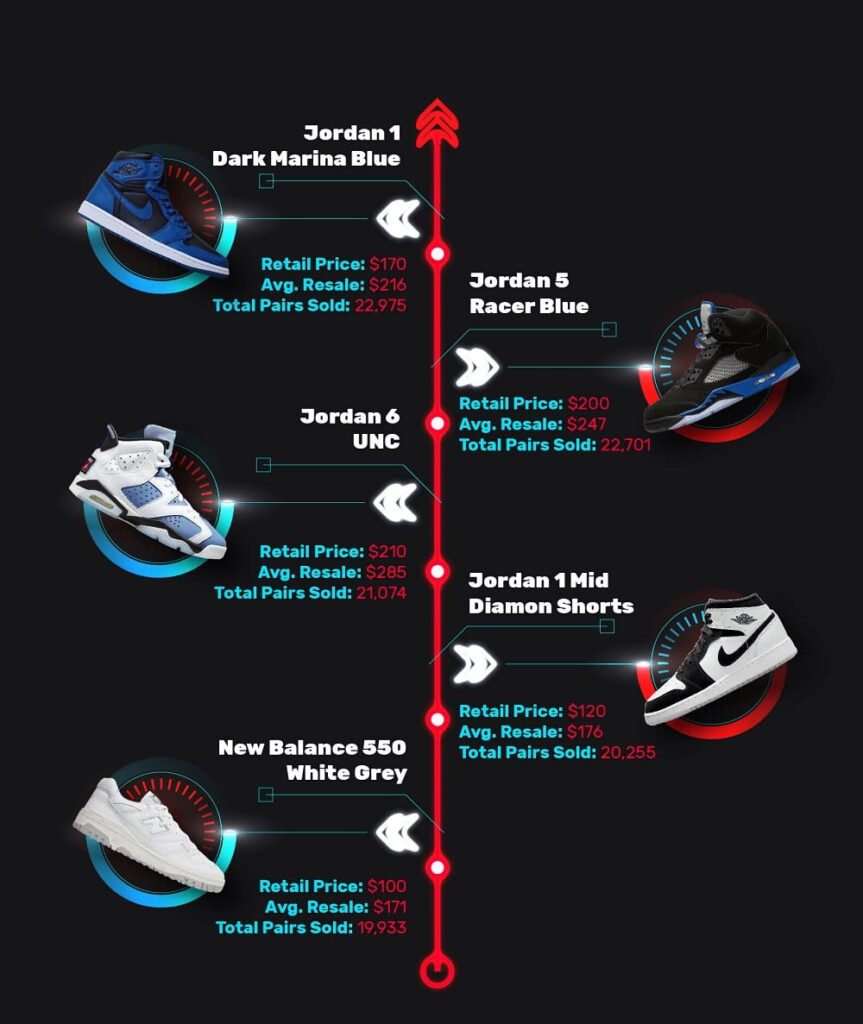 Mids Are Getting the Recognition They Deserve?
So we previously dedicated a whole piece for the Jordan 1 Mid debate, and you can find it here. But could 2022 be the year these babies get love? That's possible for multiple reasons. First off, Jordan Brand is dropping some very cool AJ1 Mid colorways, and they're very hard to resist. Second, lots of new peeps are getting into the sneaker industry. People who don't have the classic Jordan 1 high bias. So if they don't find the highs, they'll think, "oh, that's fine, I'll get the mids!" And that makes all the difference in the world, especially since it propelled the silhouette into the list of top 10 best-selling kicks.
New Balance Joins the Race!
About time man. New Balance has been serving some heat for a while now, and it shows. From awesome collaborations to classic silhouettes, we can't get enough of the brand. And in 2022, the New Balance 550 is taking a spot among the top 10 best-sellers, as it should! We can't wait to see what the rest of the year has in store for New Balance. But it certainly seems like an Atmos collab is looming on the horizon!
To Wrap It All Up…
The best sneakers 2022 has given us so far are like our sock drawer; no sock is like the other! Ironic comparison since we need socks to style any of these kicks. But anyway, nothing is set in stone, and all these standing could change at any time. But make sure you don't miss any future drops, because who knows? It might be the key for you to start a side hustle!
And we all know that to start a sneaker reselling business, you need to cop cool kicks. And one of the best ways to do that is to get the best sneaker bot you can find and use it. Just in case you don't really know what goes on when you start sneaker botting, check this guide out for pointers. Godspeed 🔥