Sneaker Cleaning Kit – Why and How to Get the Best One?
Imagine this: you copped the sneakers you always wanted using your sneaker bot. And now, you can't wait to show 'em off to the crew! And it's all good and well until you go back home and find out that the kicks got dirty in the process. Before you panic though, we already have the solution on hand! A sneaker cleaning kit will come in handy for a quick or deep clean session. So, what are the best packs on the market today? Let's find out together, shall we? But before we go any further, make sure you know how to clean your kicks!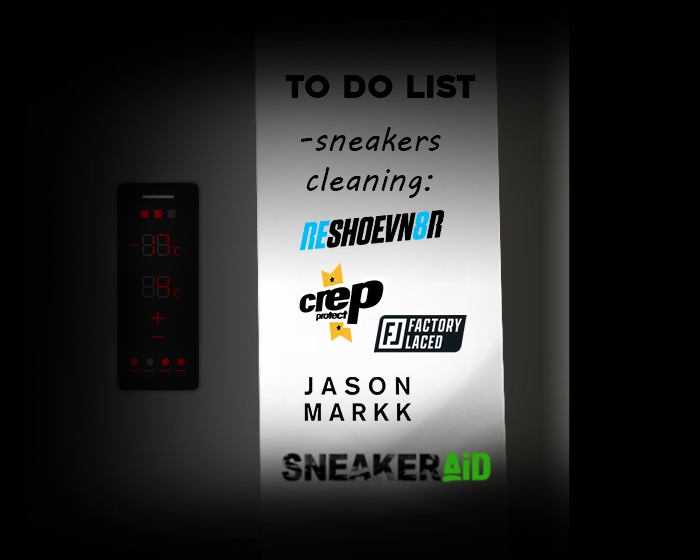 What's the Best Sneaker Cleaning Kit for You?
Whether you're on a budget, wanna go all in, or want a kit on the go, there's something for you. It's hard to find the right sneaker cleaning kit in the big world of sneaker care. But that's what we're here for! Here's a list of the best sneaker care kits around the market today.
SneakerAid – The Best Budget-Friendly Option!

Wanna clean your kicks on your budget? Well, that's pretty easy to do if you get the SneakerAid starter kit! For $14,99, you'll get a shoe-cleaning serum, a microfiber cloth, and two brushes (hard and soft bristles). Now basically, you've got all the cleaning supplies you need to get your kicks back in pristine condition! So if you want quality products even if you're tight on money, this is the best way to go.
Crep Protect Cure – A Travel-Friendly Sneaker Cleaning Kit
Although a tiny bit pricier than SneakerAid, this sneaker cleaning kit will come in handy on the go! If you move around a lot and like to keep your kicks squeaky clean, you need the Crep Protect Cure pack with you. In addition to the cleaning solution, brush, and microfiber cloth, you'll get a zipper pouch with a waterproof tray! The whole pack will cost you $18, which sounds like a good deal to keep on hand. And if you wanna expand, the brand's site has a lot of shoe cleaning accessories that you'll like!
Factory Laced – Midway Solution for Clean Freaks!

This is another good option for you if you go through cleaning kits like there's no tomorrow. Factory Laced has a neat collection of items that every sneaker collector should have. However, essentials always come first, and for $19,99 you'll get exactly that! The essential Factory Laced sneaker cleaning kit includes a cleaning cloth, solution, and a brush. So make sure you check it out if that sounds like something you'd like.
Jason Markk – Ready-to-Use Bundle (RTU)

If money isn't an issue, you can allow yourself to go down a luxurious road! And Jason Markk is all about presentation. So if you like aesthetics with your items, this is a pretty cool option for you. However, looks and premium products will cost you some extra money. And for $30, you can have the RTU kit that includes a microfiber cloth, cleaning brush, and RTU cleaning foam.
Reshoevn8r – Extra Extra Sneaker Cleaning Kit!

If you wanna clean your kicks while also being environmentally friendly, Reshoevn8r got your back! Reshoevn8r's Essential cleaning kit includes a cleaning solution, a microfiber towel, and three different brushes (soft, medium, and hard bristles). This will cost you $35, but remember that you'll be paying for reusable and recyclable items. So guess that's a win-win. And if you wanna go all-in, the Executive pack includes literally everything you need to care for your kicks. But well, you're gonna pay up for this one!
Posted in Sneakers 0 comments