Streetwear has grown into a giant branch of fashion in the last three decades. What started as on the street slowly made its way to high-end fashion runways. Many streetwear brands kickstarted between the 80s and 90s. But one brand managed to create hype like no other and still does to date! And if you made it here, then you're definitely interested in knowing more. So let's go through the history of Supreme, and some of their most memorable items. Welcome to the complete history of Supreme, the streetwear giant!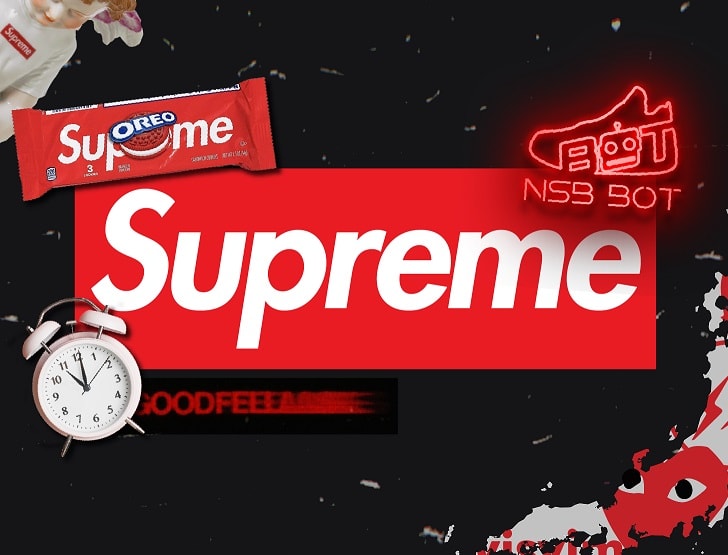 In this post, we'll be covering the following:
What Is Supreme?
Supreme is a streetwear brand founded in 1994 by James Jebbia. Jebbia was originally the store manager of Stüssy in New York in the early nineties. While streetwear wasn't exactly something new, Jebbia catered for the skateboarding community. This is a community that started out in New York and grew to be one of the best street sports for youths in the 90s. The first store's location was on Lafayette Street, Manhattan. The store's design itself took the skaters into consideration. The clothes were lined on the perimeter of the store for them to skate into the shop comfortably. The OG staff were all skaters too with the only exception being the owner himself! With all that in mind, supreme became a safe haven for skaters and catered for them only. But little did we know, the brand will grow and take the fashion world by storm!
How Did the Brand Reach Such Popularity
Well, Supreme became the streetwear giant we know for several reasons. The first one is the fact that the brand offers a wide variety of items. This means that whatever your interest might be, you'll find something for you there. Another reason is that they always underproduce the demand quantity, so they're almost always exclusive. Finally, the brand is the child of the street culture, and as long as streetwear is relevant, so is Supreme!
Timeline and Milestones of the Brand
Why Is Streetwear A Big Thing?

Streetwear has always been around. It's, technically speaking, the casual clothing style. Skaters initially adopted this style because comfort is a must. Stüssy, aka the oldest streetwear brand, was one of the important catalysts for streetwear to become the norm. Dating back to 1980, it certainly helped shape the industry. So people started slowly catching the hype, which eventually led to streetwear reaching the high-end status. In 2020, streetwear is still going strong! But where does the Japanese scene fit into all of this?
The Japanese Influence
The Japanese street fashion scene is extremely versatile in the fashion industry. It has always been a way for individuals to express themselves and their art through outfits. This expression made Japan one of the most important destinations to catch the latest trends and follow up with the style on the street. Japanese brands made Japan's status as a streetwear icon even stronger. Some of these brands, which you might have stumbled upon along your journey into the undergrounds of streetwear. Some of the staples in Japanese streetwear would be: Bape, Visvim, Comme des Garçons, and Fragment Design. Moreover, Hiroshi Fujiwara, the brain behind Fragment, is considered the godfather of streetwear around the world! And James Jebbia realized how important it is to invest in the Japanese market when Japanese tourists made his store one of their shopping destinations. This led to the opening of three stores in Tokyo in 1998 located in Daikanyama, Osaka, and Fukuoka.
Locations of Supreme Stores
Here are all the Supreme Stores listed in chronological order of the opening date.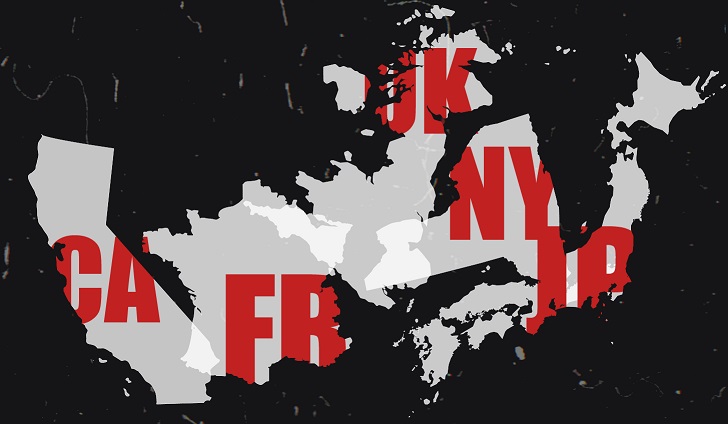 Lafayette St. Manhattan, New York (1994)

Daikanyama, Tokyo, Japan (1998)

Osaka, Tokyo, Japan (1998)

Fukuoka, Japan (1998)

Los Angeles, California (2004)

Harajuku, Tokyo, Japan (2006)

Nagoya, Japan (2008)

London, England (2011)

Shibuya, Tokyo, Japan (2012)

Paris, France (2016)

Brooklyn, New York (2017)

Bowery St. Manhattan, New York (2019)

San Francisco, California (2019)
The Seasons and Weekly Drops
If you're new to the streetwear scene, you're probably wondering what drops and seasons in Supreme terms mean. So we'll break it down to you right now! You're probably aware of luxury fashion weeks and seasons. However, Supreme's release calendar is much different than we're used to in the fashion world. Although it has the usual Fall-Winter Spring-Summer cycle, the drop system consists of weekly releases that span around 5 months (19 – 20 weeks). So every Thursday at 11 AM EST, a new collection drops on the Supreme online and physical stores. Finally, the break between the seasons is about 2 months, and then we're back to the streetwear war!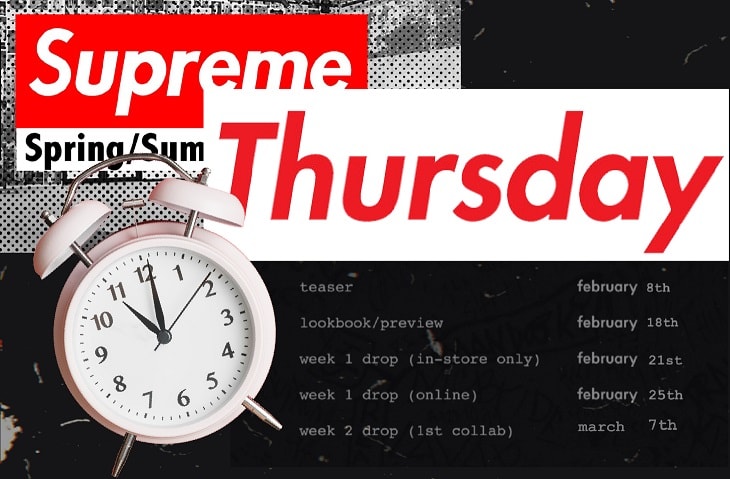 Lawsuits 'n' Trademarks!
Supreme is a brand that appropriates other brands to sell their own products. And because of that, they got their own share of Cease and Desist letters! We all remember the Louis Vuitton Cease and Desist letter. Another possible example is SS18's Alphabet pieces because the letters are actually the work of the french artist Erté. But the best call out that Supreme ever received is Farmland Foods' tweet when Supreme copied their logo!
The Trademark Battle
This section is a full circle of irony. Supreme's logo is technically a ripoff of Barbara Kruger's art (we'll talk about that later). Moreover, we already talked about brand appropriation, so where's the irony? The irony is the fact that Supreme sued the knock-off Supreme Italia brand! Here is the full rundown of the story. 
Supreme filed another lawsuit on another occasion. This time the receiving end was the NYC-based brand Married to the Mob (MTTB). They dropped box logos that said "Supreme Bitch" and Supreme considered that an infringement. However, the best thing to transpire from this legal battle is Barbara Kruger's comment on it! When asked about this, the artist simply thinks that this is "a ridiculous clusterf**k of totally uncool jokers." Well, who am I to argue?
The Supreme Bot Debate
Are they legal, are they not? Are they ethical, are they not?
This really depends on how you look at bots and those who use them and WHY they use them. This, in fact, has to be the most controversial topic in our industry. But to put things into perspective, you almost CAN NOT buy a Supreme item online without a Supreme bot. Unless you like doing things the old fashioned way and line up along with hundreds of Supreme fans in front of a store, bots are the way to go.
The reasons why you need a Supreme bot will get clearer as you progress with this post, but to sum them up: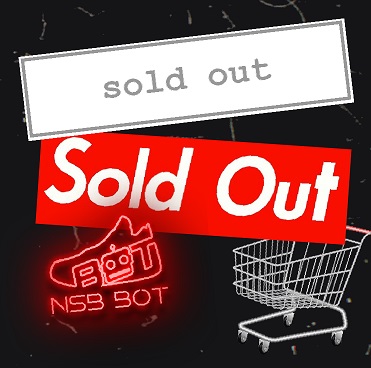 Demand for Supreme is so high you stand almost no chance at buying

Supreme items sell out VERY VERY fast and only a bot can get through

If you cop Supreme items, you can sell them for A LOT!

On the long run, items as insignificant as stickers can turn into fortunes
So, basically we're looking at an incredibly great investment here. Similarly to a sneaker bot. However, the downfall here would be to pay for 2 bots, 1 for sneakers, and 1 for Supreme. Since you know, you can't be involved in 1 and overlook the second.
But the way around this is actually pretty easy. You just go for an All-In-One bot, which is a bot that cops different kinds of items, from all sorts of websites, including Supreme. So this way you'd be saving up a lot of money. And when you make the right choice, and buy a bot as powerful as NSB in copping bot sneakers and Supreme, you're in for a treat. Loads of treats that sell out for thousands over retail price. 
For around $500 a year, NSB is one of the TOP sneaker bots in the industry selling for a very reasonable price and that is always available for buying, here. NSB supports sites like Adidas, Yeezysupply, Footsites, Supreme, and everything hosted on Shopify! So, if you're into sneakers, streetwear, Supreme, or collectibles like Funko Pops, NSB is EVERYTHING you need.
And in terms of success, NSB hasn't missed out on a single release in 2020. And we've estimated our users' profit selling goods copped with NSB with around $5M so far this year. But if we're to discuss Supreme separately, you're looking at a good 'ol minimum of $600K in Supreme reselling profit!
Need a tad bit more convincing? Read on to know why Supreme is such a big deal, and why you need to get involved. 
Best of Supreme
Best Supreme Sneakers
The following ranking is based on the average resale value of the sneakers.

Supreme x Nike Dunk SB Low "Black Cement"
The OG of successful Supreme sneaker collaborations. The colorway is inspired by the OG Air Jordan 3 colorway with its elephant print and bred colors. As always, the Supreme releases are exclusive, that's why there were only 500 pairs available for the public! So if you're one of the lucky 500 owners of the kicks, you technically own a small fortune!
Release Date: 9/1/2002
Retail Price: $65
Average Resale Value: $4,115
Nike Dunk Pro SB Blue Stars
The second installation of the Nike x Supreme partnership took on a different direction this time! Three different colorways of the Nike Dunk High Pro SB were available: Red, blue, and orange. Although the three are valuable, the blue iteration takes the cake! With the golden stars on the side panels and Supreme lace lock, the kicks were candy to the eyes. A lesser-known, rejected sample featured the Nike branding instead of the stars. However, they stopped their production due to legal issues.
Release Date: 8/8/2003
Retail Price: $75
Average Resale Value: $3,969
Supreme Nike SB Blazer Black
The inspiration behind this one is the bling of the 1980s! The golden heel tab, the Gucci-like stripe, and the quilt-looking leather upper scream street luxury. And honestly, it's worth the luxury price in 2020.
Release Date: 4/21/2006
Retail Price: $180
Average Resale Value: $2,043
Supreme x Nike Dunk SB Low "Red Cement"
A decade after the initial SB Dunk collaboration, Supreme and Nike hit us with a new red colorway. The fire red cement pair was a bit more accessible than the original kicks, but that didn't make them easier to own! They became almost as popular as the 2002 legendary pair!
Release Date: 7/19/2012
Retail Price: $148
Average Resale Value: $1,675
Supreme Nike Air Foamposite Black
A pair so hype it caused a shutdown in the New York store on release day! The number of people that camped out to wait for the release and the number that showed up the same day was enough for the NYPD to come and shut the whole thing down! The release went exclusive online and people left with no kicks. But we have to admit, they were worth the wait.
Release Date: 4/3/2014
Retail Price: $250
Average Resale Value: $1,148
Last Decade's Best 5 Bogo Tees

The section we all love! The Supreme Box Logo, or Bogo for short, became one of the most recognizable logos in the world. However, the origin of the Bogo is actually some sort of a rip-off. The Futura Heavy Oblique font and the red box background were originally created by Barbara Kruger. Kruger is an American artist and collagist who introduced the box logo concept in 1981! This has been her trademark ever since.
Fast forward to 1995, and the first Box Logo tee saw the light of day! And whether it is considered a legit rip-off or not is a matter of personal opinion. After all, according to Barbara Kruger, she doesn't own the font! From then on, the Supreme saga of "brand" inspired releases began! And now, we're going to share the most valuable Bogo Tees of the last decade. And if you already own one and wanna style it with a sick outfit, check out our guide!
The tees' ranking is according to their average resale value!
Supreme 20th Anniversary Bogo – Red
What better celebration could we ask for? After 20 years of extreme popularity, Supreme dropped a simple Box Logo for streetwear lovers. The tee featured the OG red Bogo. But if you inspect the tee closely, you'll find a medal rosette on the back of the tee with "20th anniversary Supreme" with 1994 – 2014. So if you consider yourself a Supreme aficionado, this tee must be in your collection. Or sold from your collection.
Release Date: SS14
Retail Price: $32
Average Resale Value: $1,850
Supreme x Louis Vuitton Bogo – White
17 years after their cease and desist letter, Louis Vuitton and Supreme joined ranks! Officially this time. The collaboration took both the street culture and the high-end fashion world by storm. This release included a lot of interesting items, but the box logo is always the must-have of any pack!
Release Date: SS17
Retail Price: $485
Average Resale Value: $1,476
Supreme Paris Bogo Tee – White
It's a Supreme tradition to drop a Bogo tee when a new store opens. So on the day the Paris store officially opened its doors, the Bogo stole the show! The front featured your usual box logo. However, the back had "Bonjour Madame" and the opening date on it. Naturally, the tee was pretty exclusive, which means a really high resale value!
Release Date: SS16
Retail Price: $44
Average Resale Value: $1,173
Supreme Swarovski Bogo (25th Anniversary) – White
Since the 20 year anniversary was a blast, it was only natural for Supreme to outdo themselves. So to celebrate the 25th anniversary of the brand, Supreme dropped the Swarovski Bogo! The usual box logo was made of Swarovski crystals. So it's a state-of-art Box logo that any Supreme collector must have!
Release Date: SS19 (4/25/2019)
Retail Price: $398
Average Resale Value: $751
Supreme NY Yankees Bogo – Navy
Cheer on your favorite New York team in style! The Supreme Yankees collaborative tee had our favorite Bogo on the front and a huge Yankees logo on the back. The navy tee was the most successful of the pack, and flipping it gave the owner some good side cash!
Release Date: SS15
Retail Price: $44
Average Resale Value: $654
Best Non-Bogo Logos
Although the Box Logo is usually the best seller among Supreme items, we can't ignore other logos!
Some of them are sometimes worth a lot of money on the resale market. So let's take a look at some of the cool non-bogo logos.
This is an interesting one, but for more than how cool it is! This logo is inspired by the 1990's Goodfellas title sequence. It was designed by Saul Bass, one of the greatest graphic designers of the 20th century!
Supreme with Accented "e"
Just to reinforce the fact that Supreme takes inspiration from other brands, we've got this. The Frenchy looking Supreme logo with an accented "e" "Suprème" is immediately recognizable. It features the same font and design as the famous Courrèges logo. The French brand dates back to 1961. André Courrèges, the founder, is famous for creating the miniskirt!
Leave it to Supreme to give us interesting and controversial logos! The Arabic logo checks all the right boxes. It's visually appealing, can become a box logo, and is inclusive. However, the word doesn't mean Supreme in Arabic, as odd as it may sound. It actually means "Glory Be To", which is even more intriguing. Maybe they didn't find the Arabic counterpart of Supreme marketable enough?
Last Decade's Most Valuable Supreme Clothes
In this section, we're excluding Box Logos for a reason. Everybody knows Bogos would flatten any other clothing item in terms of value! So let's take a look at the most valuable clothing items of the last decade.
We ranked the clothes based on their price premium. Aka, the percentage by which the resale price exceeds the retail price.
Weirdest Accessories

Now we're going to the realm of "What on earth is this?" Supreme never fails to surprise us with really weird jaw-dropping items. Which proves two things. First, the creative team at Supreme are really awesome people. Second, anything with a Supreme tag on it sells out! Even Oreo cookies. So now we're going to show you some of their weirdest works.
Ever wanted to stab something to let off some steam? Well, Supreme definitely felt your anger management struggles because they dropped a Voodoo Doll along with some pins! With that Voodoo doll, you could make your enemy go through a lot of trouble without having to go to jail for doing so. The problems range from No Wifi to stuff as gruesome as Eternal Pain. Though with the COVID-19 lockdown extended in many regions of the world, "No Wifi" sounds a lot more painful.
This is a ridiculously weird item. But it's become a THING. Like: "Hey, you know Supreme?", "You mean the brand that sold a brick?". So, just to prove that Supreme always sells, they sold a brick with a Supreme print! That's one way to build a branded house! A brick can be a nod to the fact that they don't sell "bricks"! In streetwear and the sneaker industry, a "brick" is an item that sits on the shelf and doesn't sell. So that might be the biggest Supreme troll to date!
Being stylish isn't enough anymore. The style extends to pets too! So why not get a Supreme Dog Bowl? That way you, the family, and the pets can rock the street style all at once!
When we say weird items, this is exactly what we mean. Meissen is a prestigious porcelain company, founded by Kind Augustus the Strong, King of Poland. But their collaboration with Supreme on a Cupid statue wearing a bogo introduced the brand to a whole new type of clients! And we can't say that we hate it, it's every Supreme collector's dream!
The latest addition to the quirky list of Supreme items! The streetwear giant slapped their box logo on Ziploc bags and dropped them. And you know, these can come in handy! You can keep a lot of stuff there, your sandwich, your fruits, and… other stuff.
Fastest Sellout Times Last Season

Five seconds is a really short time. And some Supreme items sell out even faster! That's why we're going to share with you the top 5 Supreme SS20 items that sold in less than 5 seconds!
Supreme TNF Cargo Jacket Multicolor – 3.9s
Week 13 included a Supreme x The North Face collaboration. It's not really a surprise considering the fact that every season has at least w TNF release! But as always, some drops are more interesting than others. And the multicolor Cargo Jacket is definitely an interesting item!
Supreme Vans Sk8-Hi Pro Blue – 4.6s
The Vans Supreme collabs are always cool to look at. However, this season's collab is on a whole new level because several weeks earlier matching jackets dropped! So if you wanna skate in style, we hope you copped them both! The blue high top vans sold out in 4.6s, and lucky are those who got them in the last week of the season.
Supreme TNF RTG Fleece Jacket – 4.8s
The third week of SS20 gave us the first TNF collab of the season! The RTG collection is a throwback to the rare 90s collab. So when news of the collection dropped on week 3, it was only natural for the gold RTG fleece jacket to sell out in 4.8 seconds!
Motion Logo Tee Purple – 5s
Week 18 included a lot of interesting drops, including the summer tees. However, the motion logo tee is almost as hype as the box logo tee itself! The purple Supreme motion logo tee actually sold out in 5 seconds. It also resells for more than 3 times its original retail price!
Supreme New Era MLB Jacket – 5s
What's better than a two-way collaboration? A three-way release! That's why when we heard about the New Era and Major League Baseball collab, we knew it's gonna be lit. The Navy varsity jacket featured all the team logos along with a hue S for Supreme! 
Honorary Mention: COVID-19 Relief Bogo – 2.7s
Supreme is no stranger to dropping items for a cause. In 2011, following the earthquake and tsunami in Japan, Supreme dropped a relief tee to support the victims of the catastrophe. Nine years later, Supreme dropped the COVID-19 relief box logo. The bogo was the signature of the Japanese artist Takashi Murakami! It actually sold out in a record time of 2.7 seconds.
Personal Favorites 
Business aside now, I'm going to give you a taste of my love for Supreme. The following items are based on my personal preferences and interests. To each their own!

Oreo Pack
I loved the concept and the collab, it definitely promised some good taste. But for $8 per pack, I expected more than a paper wrapping and 3 Oreo cookies. However, I've always been an Oreo Junkie so I did what any sane person would do, I copped and ate! YES, I ran NSB to cop. And NO, I have no regrets!
Release Date: SS20
Retail Price: $8/pack
Resale Value: $14+ 
Bandana Box Logo Hoodie
Let me introduce myself. I'm the hoodie type of person, all day every day. So you can say working from home got me right in my element! But I'm also a sucker for paisley print! So when news of the bandana box logo got out, I absolutely lost it. My personal favorite out of the whole pack would be the blue Bandana Bogo Hoodie!
Release Date: FW19
Retail Price: $168
Resale Value: $747
Ali vs Superman Tee
Muhammad Ali is an icon in American culture and the world. So the Supreme tee that featured Ali fighting Superman won my heart. But the best part of this is that this comic actually exists! It was published in 1987, and it's actually one of the DC comics that were published in all countries back in the day! Moreover, DC reprinted the comic multiple times, making it one of the best-sellers. I mean, who doesn't wanna see a real human (that's up for debate) fighting Superman?
Release Date: 2000
Resale Value: $600
Supreme x Comme Des Garçons Hoodie
Two fashion giants collaborated together and gave us the mighty split Box Logo hoodie. The black colorway is my weakness. This hoodie, as the name implies, features a logo that's split in half and reversed! So it's kinda like a Bogo hoodie with a twist. Subtle but you can definitely see it! And man, you're one of the lucky ones if you managed to cop this.
Release Date: FW18
Retail Price: $178
Resale Value: $550
Supreme Bookends
Call me weird, but this is every reader's dream (even if they don't know it)! Storing books in a stylish way was never a goal, but once I saw these, I knew I needed them. However, their resale value is kinda tempting, kinda not. It depends on how bad you need them!
Release Date: FW18
Retail Price: $54
Resale Value: $113
Everything We Love About Supreme!
Love it or hate it, you can't ignore the impact Supreme has on the streetwear industry. But aside from this influence, we've got a lot of reasons to love the brand. First of all, the brand is, and always has been, Supremely inclusive. It blurred the line between luxury and comfort too while being gender-inclusive. The sizes cover a wide range, so you don't have to worry about not finding a hoodie that fits!
Did you think that's all? Nope, we still have more reasons to love Supreme! One of them is the fact that Supreme highlights artists and musicians that otherwise would be known to only a small group of people. Plus, they collaborate with international artists too! The collaborations are also versatile, catering to all tastes. Supreme didn't forget about sports fans either, for some of their sporty collabs are worth a lot! And finally, the price range is really wide. Starting at $4 and up to a couple thousand, Supreme items are budget-friendly no matter your pay rate! 
Now that you know the key elements of Supreme, you're ready to go into the FW20 season. Good luck, and may the odds be ever in your favor!