Today, it's all about the glitz and glam of the streetwear industry! You'd think that when they say streetwear, it means affordable things, but nope. Hate to disappoint, but the streetwear industry transcended being affordable or even being clothes for the street. In a way, streetwear making it in the fashion world led to looser fashion rules. For example, it was totally unacceptable to wear sneakers to work, but today it's mostly okay! The downside though is that luxury streetwear became unattainable for many. So, here are some of the collabs we can't afford!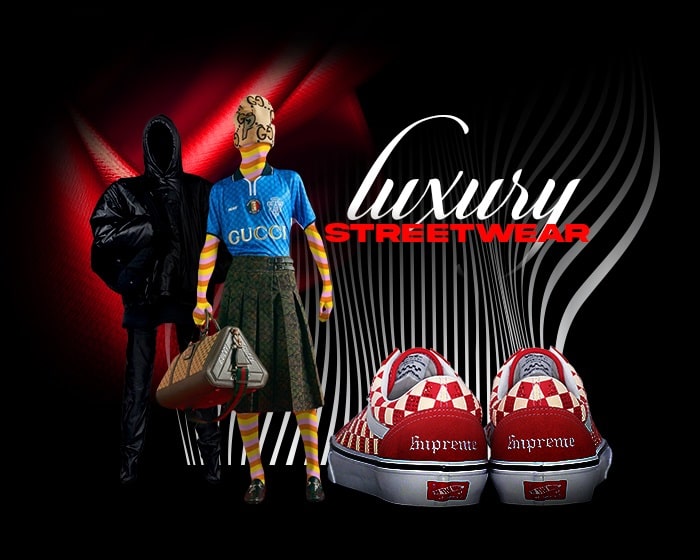 Luxury Streetwear Collabs to Die For…
… Or sell a kidney for, at least (we're kidding, don't do that.) The point is, streetwear infiltrated the fashion industry, and even the most prestigious fashion houses wanted in. After all, how relevant can you stay if you're not catering to your customer's needs? So, whether it's sneakers, apparel collections, or even accessories, luxury streetwear became a thing. Now let's check out some of the most interesting, expensive, and sometimes outrageous collabs that came out of this trend!
Palace x Gucci – If Trippy Was a Collab
The upcoming Palace Gucci partnership is certainly one for the books. It's not just the fact that they're dropping luxury streetwear, nope. It's much more than that! Starting off, the video that introduced us to the collab looks like one of those dreams that you can't make sense of. From puppets to a pool party with an alien dancing in a house, it's one heck of a trip! What matters though is that the collab will bring unisex products, in addition to women-exclusive items. That's a first for Palace, which is one of the prominent skate shops that are famous for their… streetwear obviously. The highlights of this collab, however, will definitely be the 50 co-branded motorcycles and 10 safes. Now, there was an initial exclusive online release, with pop-up shops to follow later on! So if you got the money for it, be ready.
Supreme – Doing the Good Work in Luxury Streetwear
Let's be real here. Some people will argue that Supreme is dead, but some facts remain the same. Supreme is one of the first streetwear brands to push the luxury streetwear agenda in the industry. From their LV ripoff to a legit collaboration with the fashion house, the brand really made it. They also collaborated with Burberry during SS22 on multiple items. And finally, we have the recurring Swarovski collabs, which led to very pricey items!


The Latest Supreme Shenanigan – A Shoe, Crystals, and Drip Is All You Need!
You didn't think these were the only tricks up their sleeve, did you? FW22 came in full force with a three-way collab! Now, Supreme and Vans have been working together for a long time. And now that they're under the same VF Corp ownership, it only makes sense to keep the tradition going. But did you ever imagine a pair of checkered Old School with Swarovski crystals all over? Bet you didn't, but that totally happened just last week!
The North Face – Never Stop Exploring… in Style!
If you're the outdoorsy type of person, then you probably own a few TNF items for your trips. But if you ever wanted to up your game, no need to branch out of your comfort zone! The activewear company joined hands with Gucci in 2021 to give us a really expensive line. Mind you, they're currently on their 3rd chapter, with obviously more to come!
But that's not all, because TNF was getting real busy making it in the luxury streetwear world! And the second partnership they went for was with the legendary KAWS. The first colorful wave of the collab happened at the start of 2022, and the second black-and-white wave just dropped!
Yeezy GAP Engineered by Balenciaga
Now that's one collab we're sad to see go. Although the actual products were pretty simple, it was the vision behind them that attracted everyone. Kanye, GAP, and Balenciaga were set to do great things. However, with Adidas dropping Ye, and all other brands following suit, we can kiss these luxury streetwear dreams goodbye. If you wanna see why we loved that partnership, check this out!
Finally, Some Luxury Streetwear Collabs for Sneakerheads!
Before we wrap this whole thing up, we gotta stay true to our sneakerhead roots. That's why we just wanted to remember two interesting collaborations that went down in 2020! To be fair, 2020 was both a curse and a blessing in different aspects. But one thing is for sure, we got some crazy awesome collaborations and sneaker releases! The first one was the bang that Adidas and Prada made with their collaborative Superstars.
But the collab that absolutely ate the whole thing was hands-down Air Dior. From the very exclusive Jordan 1 High and Low to the apparel collection, we were in awe. And the brands played an excellent marketing game by bringing Travis Scott on board. You know, everything he wears, sells. So, which luxury streetwear collab was your favorite? And which would you cop if you had the chance?