How to Clean Yeezys – The Only Spotless Guide You'll Need!
We all have that pair of beaters we'd step in the mud with and not give a damn about. But well, Yeezy heads are definitely not that. However, sometimes you could get careless or lazy and stop cleaning them. But who would flex a dirty-looking pair of Yeezys? That's why we're gonna take you through the whole process of how to clean Yeezys the right way! For a more general idea about cleaning kicks though, you should check this out. Now let's hop on for the Yeezy cleaning ride.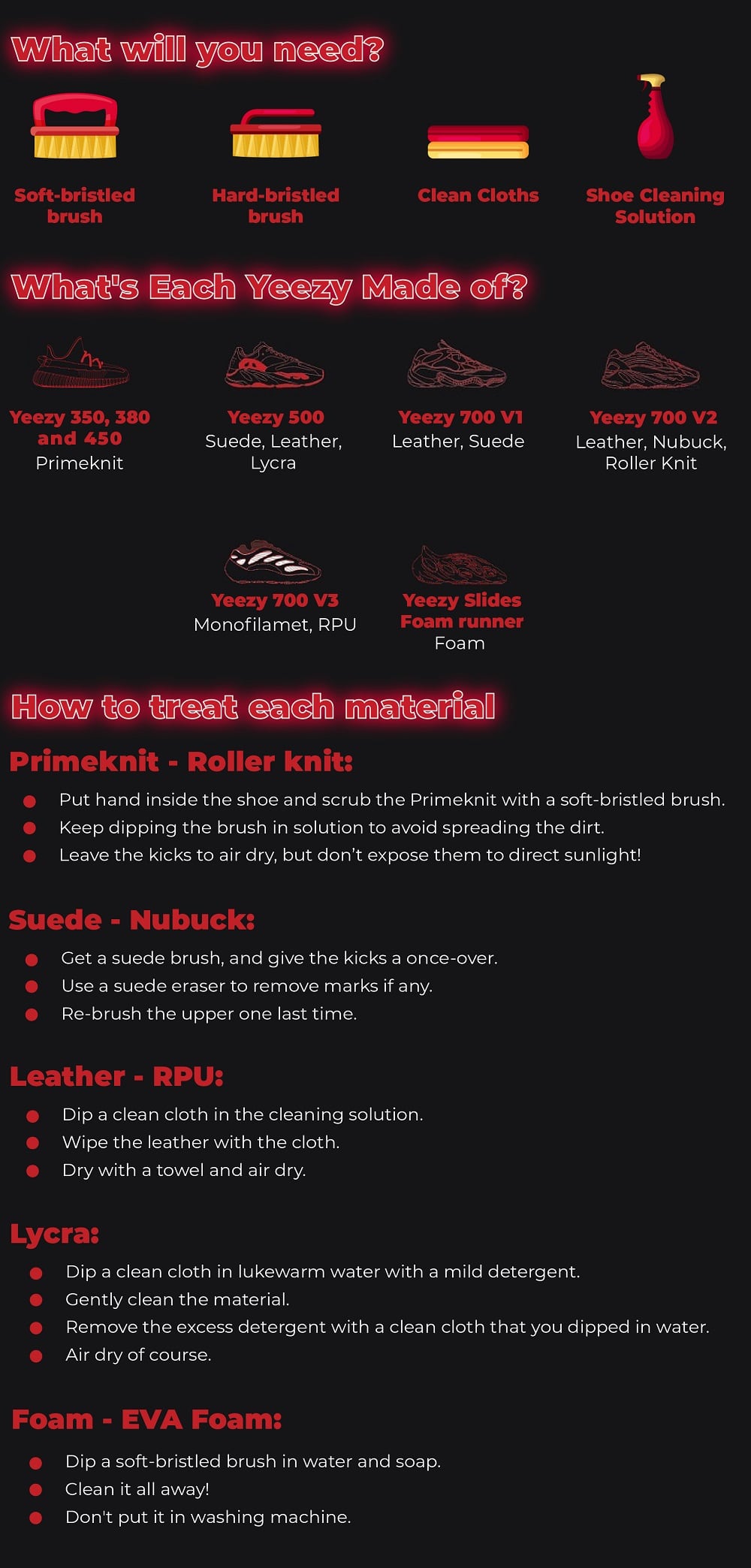 How to Clean Yeezys – Simple Steps for Ultra Clean Kicks
Yeezy 350 – 380 – 450
So these three silhouettes are totally different in looks, but share the same upper material: the comfy Primeknit! And when you're handling material like this, you'll need to be gentle. So first, you're gonna put your hand inside the shoe, and scrub the Primeknit upper with a soft-bristled brush. Make sure you keep dipping your brush into the solution to avoid spreading the dirt again. Finally, leave the kicks to air dry, but don't expose them to direct sunlight!
Now, you can do the same to the outsoles, but with a hard-bristled brush. You don't have to be gentle there, because some stains need the scrub! And when you're done, wipe the soles with a clean cloth to remove the excess soap.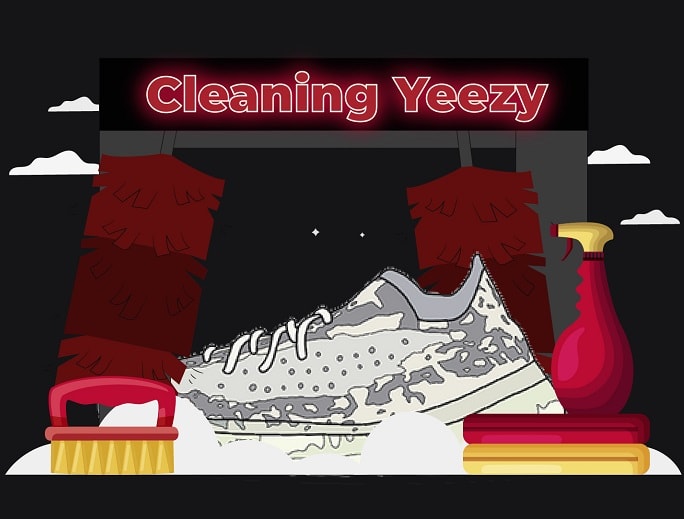 Yeezy 500
When you want a cool pair of kicks, you gotta know that they'll come with a price. For example, Yeezy 500 is made of 3 different materials: cow suede, leather, and lycra. We showed you how to clean each part separately to keep them kicks in good condition! You could always protect your sneakers before looking up how to clean Yeezys too. 
Yeezy 700
Just like the 500s, Yeezy 700 comes in a mix of materials. It's a good thing you wanna know how to clean Yeezys, otherwise, you could mess the kicks up! So the materials you can find on the V1s are leather and suede, which we already covered. Just go back to the 500s and you'll be good to go!
Yeezy 700 V2 comes in leather, nubuck, and roller knit. We already discussed the leather, and you can treat nubuck and roller knit respectively like suede and Primeknit! So if you wanna know more, go back to the material map. The V3s actually come in the Monofilament mesh and RPU, making it super easy to clean. You just gotta wipe the mesh, and treat the RPU the same way you'd do leather!
Yeezy Slides – Foam Runners
Although these two are made of different base materials, they're both made of foam at the end of the day. And that makes cleaning them super easy. You just gotta dip a clean cloth in soapy water and get cleaning! Don't put them in the washing machine though, you know how foam gets with water fam.
Golden Rule: Own a Yeezy!
You probably looked up how to clean Yeezys because you own a pair, or are planning on owning one. If you're the latter, you got to the right place! Copping a Yeezy isn't easy, especially if it's a really good pair. That's why you're gonna need a sneaker bot, and here are the best ones in 2021. You should also check out the best sneaker servers and proxies to cop Yeezys! And if you're a newbie to all of this, check out this guide for an intro to the awesome world of sneaker bots. Godspeed 🔥