Let's get straight to the point. You're either here to flip and make bank, or here to own a pair of limited sneakers that will give you bragging rights! However, along with that journey of flipping and cashing in, you'll definitely get the chance to own a pair, or more, of Yeezys. So if you're keeping them (we know you are), you gotta know how to wear Yeezys the way they deserve! If you're interested in this, you'll love our Supreme Bogo styling guide.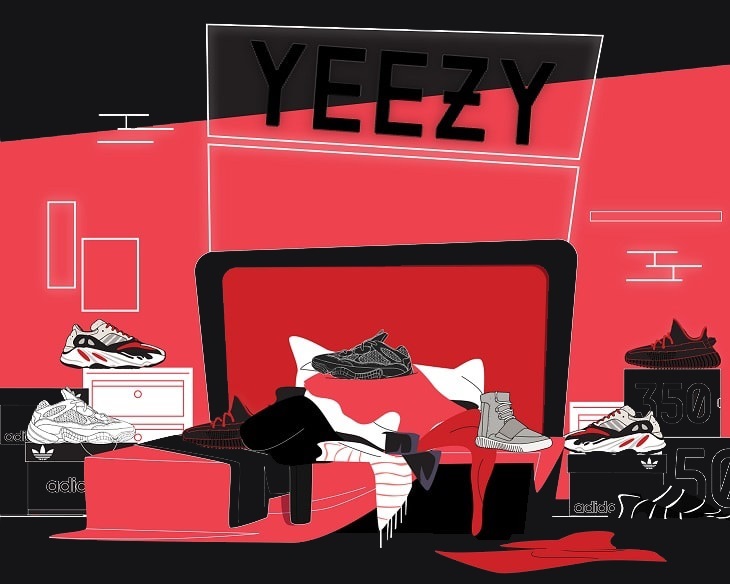 First things first, how to get a pair of Yeezys is an easy matter with us. Our sneaker bot, NSB is the most successful and powerful All-in-one bot in this arena. And buying a pair of Yeezys straight from suppliers is a piece of cake.
However, if you're looking to flex a classic Yeezy or one that dropped a while ago, you'll have to get it from the aftermarket. Yes, you'll have to pay MORE, but if you know how to wear Yeezys right, they'll be worth every extra dollar you paid. And speaking of being worth it, Yeezy Ash Pearl and Yeezy Foam RNNR Moon Grey are March's highlights!
Now let's get to business and check out the subtle art of how to wear Yeezys.
How to wear Yeezys – Every Silhouette!
Yeezy 750
Treat the Yeezy 750 the way you'd treat an Air Jordan 1 High. However, the thing about Yeezy 750s is that they all come in tonal colorways. We're talking about Grey, Brown, Light brown, and black. And as sad as the colorways may seem this kind of palette allows you to go wild with your outfits. And that makes the options endless here.
You can wear them with an all-black suit the way DJ Khaled did it.
A white tee with jeans is an all-time IN. But we're only taking a leaf out of Kanye's book because nobody pulls off the Yeezy 750 looks the way he does! You could also go for a monochromatic look from head to toe, because why not? (Oh, and we added that last pic because Kanye smiling is a phenomenon on its own!)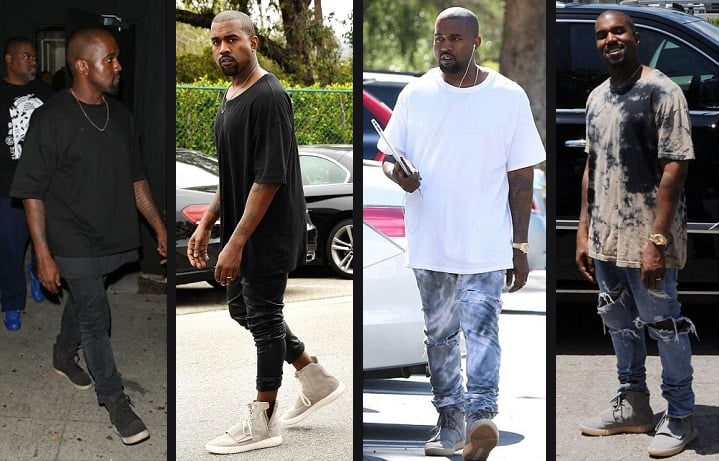 Finally, for the colder days, a fleece jacket over the tee would do the job and give you that stylish look you want!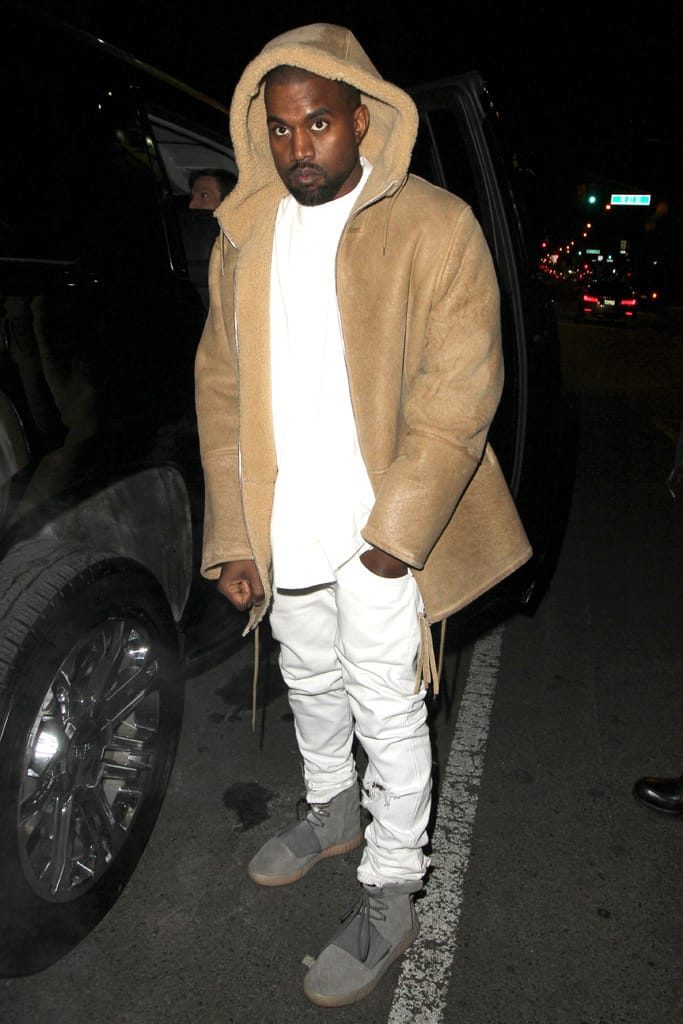 Yeezy 350
Whether you've caught the hype from the very beginning and copped an OG Yeezy 350, or own a pair or 2 of 350 V2s, styling shouldn't be a problem. Actually, it's not rocket science to know how to wear Yeezys from the 350 line.
The simple silhouette and the BIG, very BIG, variety of colorways gives you infinite options to style and dress up to your heart's desire.
If you wanna stick to the casual street style, the OG of the OGs, Kanye, got you covered with endless looks. After all, we can't deny how he influenced the fashion industry. However, a lot of other celebrities are often spotted rocking the 350s in different outfits!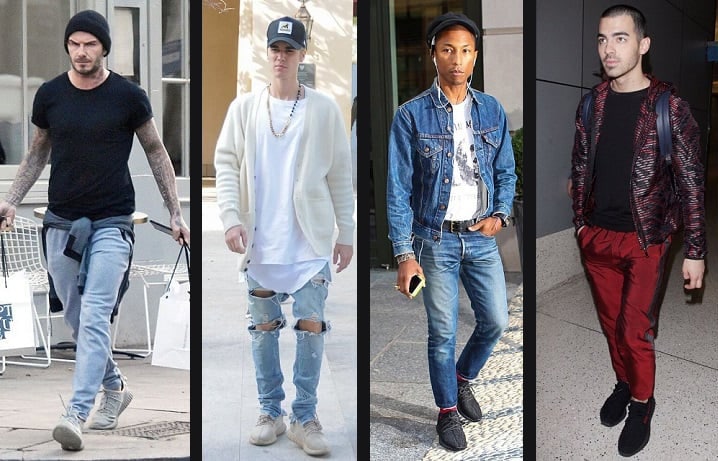 David Beckham's everyday sporty casual look is great for a grocery shopping trip or post-gym look. Justin Bieber's look is 100% Kanye approved. And if you wanna add some edge to that look, Pharrell and Joe Jonas here are serving us so denim and shiny looks that we won't forget!
On the other hand, we're also gonna show you how to wear Yeezys in important events too! If you're tired of the mainstream dress shoes, a Yeezy 350 is everything you would need! Marcelo and Kris Jenner definitely rocked the suit/Yeezy mix. Meanwhile, Michael B. Jordan rocks his overcoat that makes any outfit look formal with a black Yeezy 350 V2.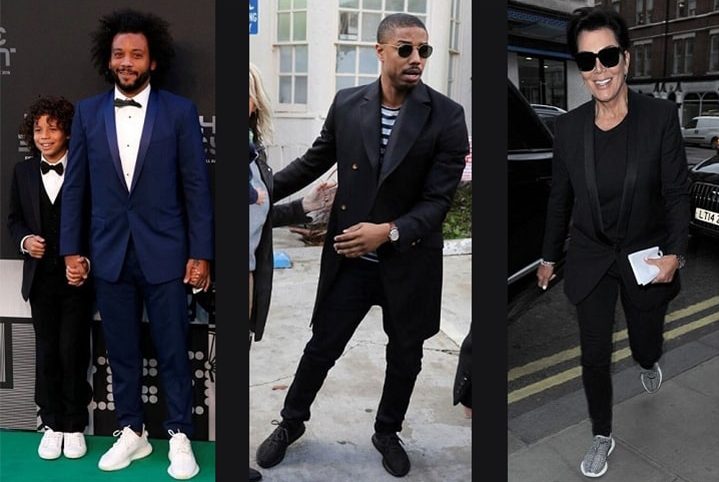 Bonus: Yeezy 350s, as per Kim Kardashian, are great workout sneakers. And if you're keeping a good level of physical activity indoors, make sure you don't do it barefoot and rock a Yeezy 350.
The ladies also rock the Yeezy 350 silhouette in different outfits for all occasions! Whether it's a red carpet event, an after gym look, or a smart-casual look, they've got it!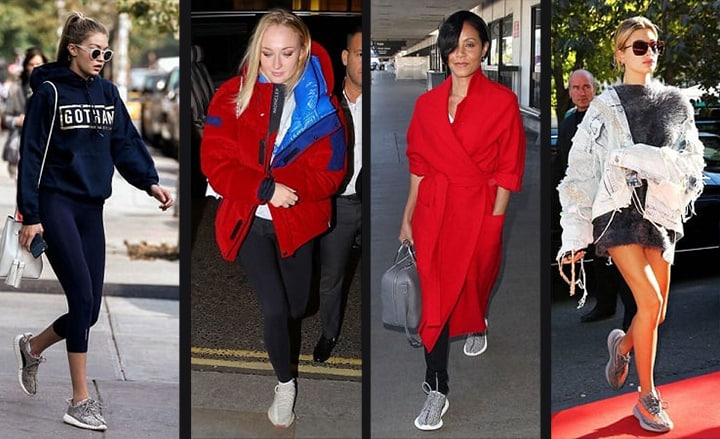 Yeezy 700s & 500s
We all know these two Yeezys belong to the same family of big sneakers. Big, as in dad shoes big! So learning how to wear or style one of them means you can flex the second without any knots in your laces!
Yeezy 700s offer a bigger freedom thanks to the variety of colorways they've been dressed with. Unlike Yeezy 500s that are usually monotonal, Yeezy 700s usually feature 2 or 3 colors making it a blast to mix and match garments with them. And guess who went out with a super colorful outfit? Kanye West, the king of plain colors.
So now we've got some simple tips and ideas on how to style these two silhouettes. First of all, unleash the colorful spirit within you, you'll need it!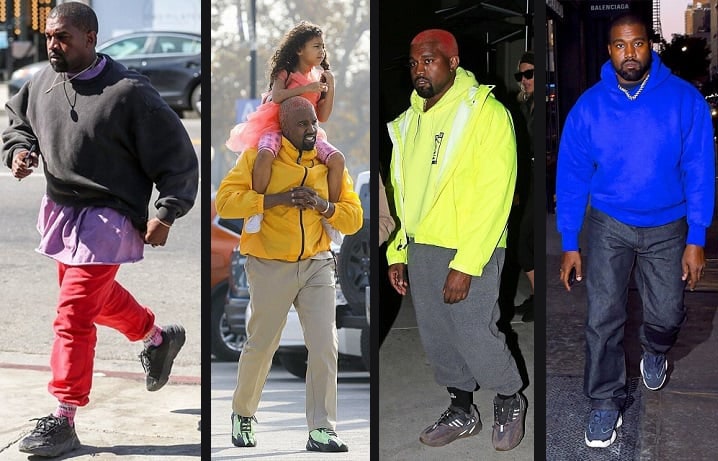 Second, if you don't wanna go full-on colorful, get creative with your socks. Kanye's go-to look is the sweatpants tucked in socks, which is a brilliant idea if you wanna keep the neutral colors with a hint of crazy!
Third, why wear pants when you can wear shorts on hot summer days?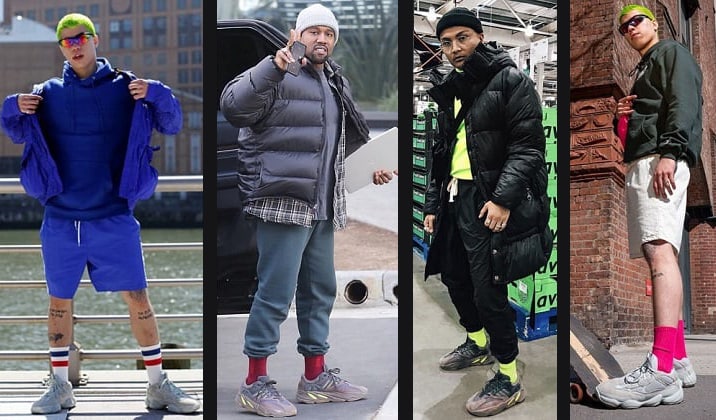 So now, you're all set and know exactly how to wear Yeezys. But then again, you can always dress the way you're feeling! Yeezys are statement kicks, and you better make a statement with your whole outfit!
Yeezy 380
The kicks we initially thought would be the 350 V3 is one of the harder pieces to style. Why you'll ask me. Well, that's because the kicks are a statement piece alone. So the best way to style them would be a simple outfit with joggers and a hoodie. And if it's hot outside, shorts would be pretty good alternatives. It's really very similar to styling the 700s and 500s. They share the same chunkiness without looking like each other! And if you're a lady sneakerhead and wondering how to rock them, well, black leggings are always your friends. Obviously, Khloe Kardashian agrees with that too.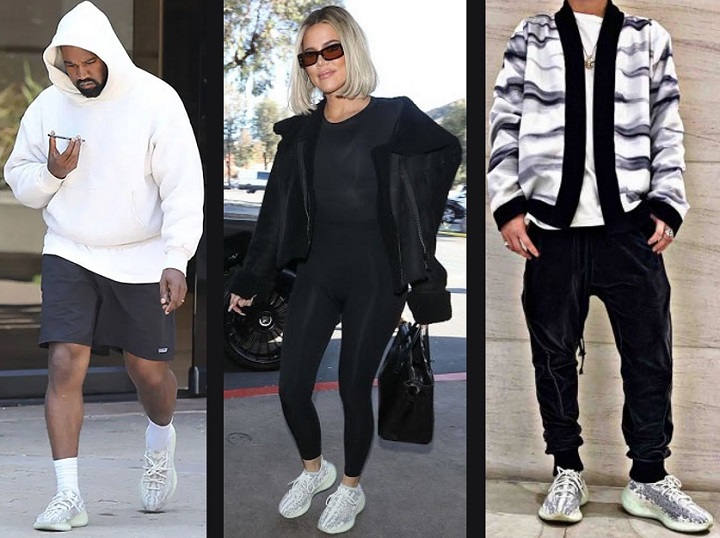 Yeezy QNTM
This one is a bit tricky, but nothing that we can't pull off! If you're tired of that casual jogging pants/hoodie mix, we got a good alternative for you. But you need to have Kanye's vibe and you're good to go! What we mean by that is that you should have a knack for styling leather pants of different colors. Which is not bad, especially during winter time! Add a tee and a jacket and you're definitely ready to be a genius like Kanye. After all, if you wanna play the part, better look the part! And ladies, this time go for the oversized jogger because you'll kill it just like Kim did!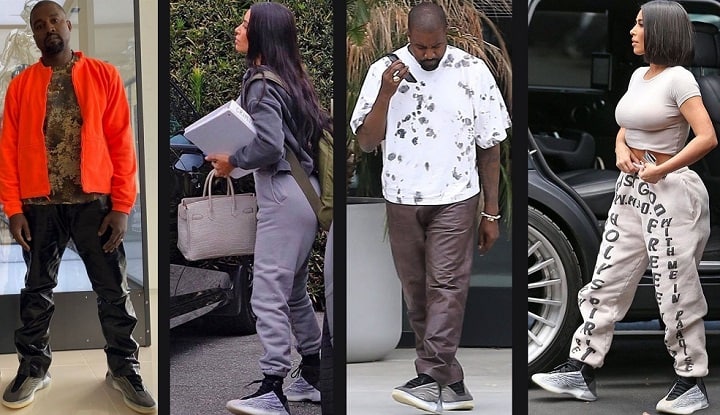 Yeezy Foam Runner
You really don't need to follow any rules to style the Foam Runners. The kicks look and feel comfortable, so you should probably go for the same type of outfits. The golden rule though is to make sure you have a very strong sock game. It's definitely a game-changer for the Runners! Moreover, the Runners are pretty suitable for extended house stays, which we're exactly doing. They're cool slipper alternatives if pajamas are getting boring. So wear them with a sweatsuit and you're ready for an evening of streaming n chill!