If you're a real sneakerhead, then you already know that the Air Jordan legacy stretches beyond just sneakers. They grew from being just basketball shoes to being a cultural pillar, especially for those familiar with Michael Jordan's game. And it does help that they're great kicks to start a reselling business with! But you have to wear Jordans the right way to bring out the best in them… and your fit. So, here's a guide that will show you how to wear Jordans, and if you wanna go beyond style, we got you!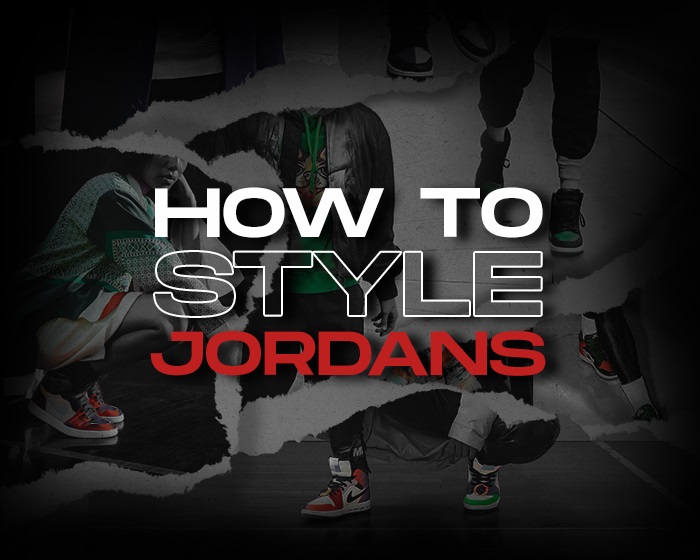 Gotta Get Them Js First!
Okay, if you're reading this then you either already have your Jordans, or wanna buy your first pair soon. If you're the latter, you'll wanna know how to score the coolest Jordans around. Go big or go home, right? Anyway, these hot Jordans are popular, which means that many other people will wanna get them too. So how can you have an extra edge on drop day? Well, simply put, you need to get yourself an all-in-one sneaker bot!
A sneaker bot can boost your chances of copping the hottest kicks on different sites simultaneously! Of course, you need to start with knowing the basics and build your way up. But once you do, you should find the best bot and get cooking. Don't worry though, because NSB is here and it can help out on all the sites that matter! From Shopify to Nike SNKRS, and everything in between, NSB brings the latest tech for you to score. So get your copy today to start your journey right!
How to Wear Jordans – A Simple Guide
If you're lucky enough and copped your dream pair, then you shouldn't waste your effort by not styling them well. Jordans look good with everything and they practically stand out no matter what you're wearing. You just gotta know what to wear and how to wear it with the right silhouette to look your best. So, here's how to wear Jordans and style 'em right. If this is what you're looking for, you'll totally enjoy the following:
Choose the Right Silhouette First
Before styling anything, you need to choose the right kicks for you. Whether it's how you're feeling or where you're going, make sure your kicks reflect the swag. After all, you've got a ton of different silhouettes to choose from. If it's a retro-classic look you want, the AJ1 and the early silhouettes are what you need. If you're more into athletic and futuristic-looking kicks, the latest designs are good options. And if you're on a budget, there are always takedown models to get! No choice is wrong, you just gotta do you.
Let Your Jordans Stand Out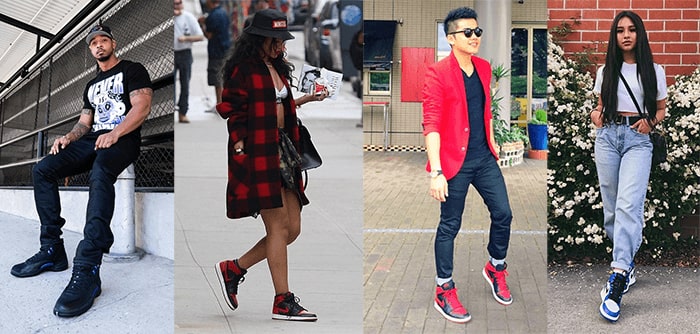 With their various colorways and designs, Air Jordans are made to stand out. You can do that by wearing your killer Jordans with slim jeans or pants. But make sure your pants and outfit are simple. Slim jeans, either blue, black, grey, or white, can give you this modern street-style look you're after. Straight jeans would also look good no matter what T-shirt or blazer you decide to wear. But you should make sure that your jeans don't look so baggy that they end up covering your kicks. The ladies could also rock shorts, skirts, and more. Take a queue from Riri if you're looking for inspo!
Don't Be Afraid to Experiment 
Wondering how to step up your Air Jordan game a notch? Wearing your AJs with ripped jeans would give you a bold look. They would rock your cool outfit no matter what color they are. The comedian Kevin Hart, the Hip-Hop megastar Drake, even the Yeezus Kanye West, and more artists and fashion designers are Air Jordan lovers. But well, Kanye won't show it anymore after the whole "jumping over the Jumpman" issue. Anyway, don't be afraid to experiment and get inspired by how great artists wear their Air Jordans with an impeccable sense of style.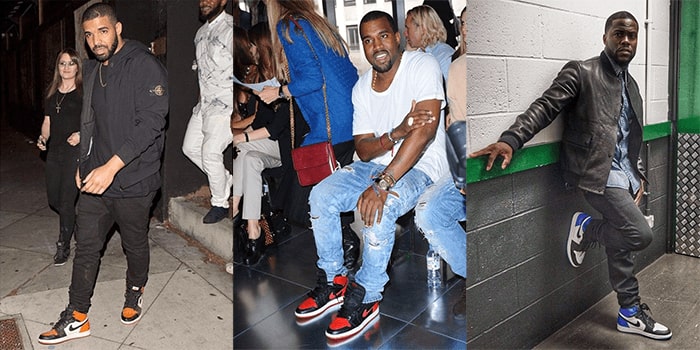 How to Wear Jordans and Not Mess It Up
We mentioned that any colored jeans would work. You just have to make sure that you don't cause any clashing of colors. With Air Jordans dropping in many colors and patterns, they can lose their spark if you wear multi-colored outfits or materials.
You might not have played it safe when copping your Air Jordan, and we totally get it. But to make sure you look good in them, go with neutral and simple colors. That will make the look pop without you looking like you're going to a circus. You can complete your Jordan look with other streetwear items, such as a logo tee and bomber jacket.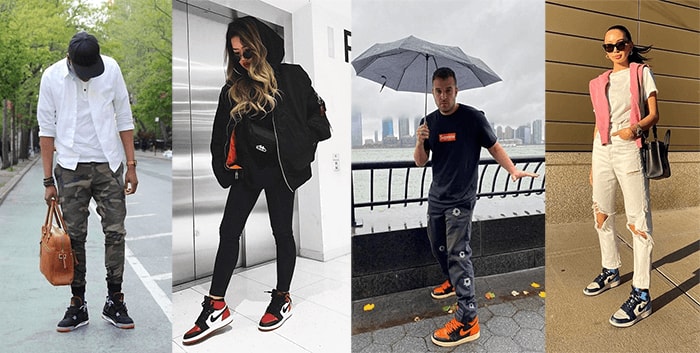 Rock Js with the Confidence of NBA Stars in Tunnel Fits!
Last but not least, any pair of Air Jordans looks good if you're confident enough. Every sneakerhead knows how hard it is to get your hands on exclusive Jordans. So be confident and don't be afraid to show off your centerpiece. You know, have the confidence of NBA stars showing their fits in the tunnel. That will certainly catch some glances. And unless you plan on reselling them, stacking kicks on your shelf is not what a sneakerhead is all about!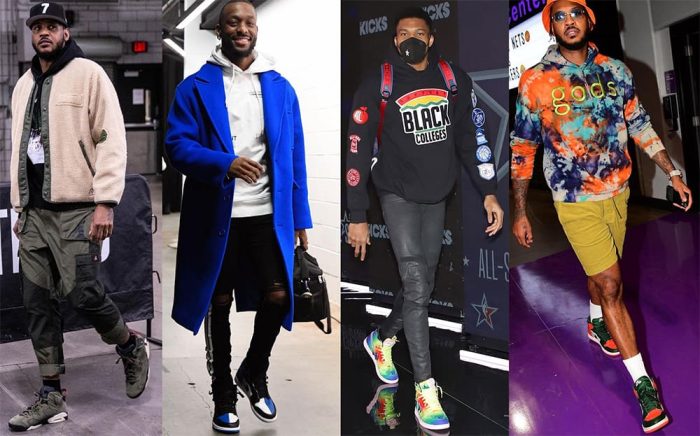 How to Wear Jordans with Jeans – FAQ
What's a staple in every person's wardrobe regardless of their fashion taste? Jeans. And if you wanna learn how to wear Jordans, you gotta know how to make them work with Jeans. So, here goes nothing!
First off, we recommend that you go for slim jeans that go straight under your Jordans, especially if you wanna flex the high-top cuts. And even if you wanna wear the low-tops, no need to risk it, just go for slims anyway. Second, if the pants aren't slim, you can opt for cuffing them. And who knew there were many ways to cuff jeans? Finally, we'd stay away from baggy jeans to not steal from the Js. But again, it's a personal choice… and if MJ can do it, so can you!
Debunking the Myth of How to Wear Jordans
If you've been in the industry for a while, you probably heard and read so many styling tips. And today, we're gonna debunk the most common myth. You can't wear high-top kicks if you're short. Absolute bu… myth. Usually, it's the pants, or whatever you wear with the kicks that affect the overall look. It's like saying tall people shouldn't wear low tops… absurd, right?
How you style the outfit to go with the kicks can make you look taller, shorter, slimmer, or broader. It all depends on what you want and what suits your frame. The main example of that is the famous sneakerhead, Kevin Hart! He made sure to make a statement with every piece of sneakers he wore. And let us flat out say it: he killed it every time!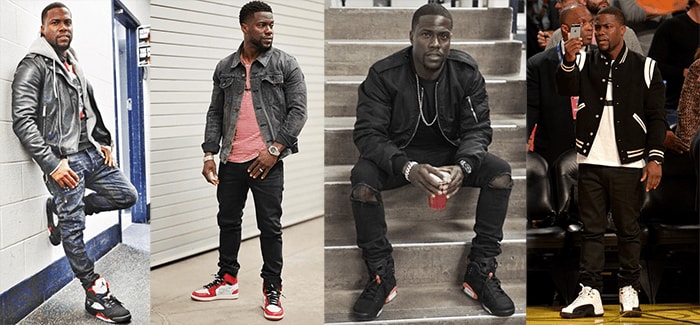 Finally, how to wear Jordans is not as hard as copping them. You need to balance style (streetwear, casual, neat) and color between your Js and the outfit you wear. Don't forget to get some inspiration from famous artists and fashion designers online. And most important of all, don't forget to add your touch and sense of style to your outfit. After all, wear what reflects you, not only the trends, even if that means going a bit crazy! So, the next time you open your shoe closet, ask yourself: how would you wear your Jordans?