Is it the shoes? Or is it the rookie wearing them? It could also be the genius marketing streak too! Why are Jordan 1s so popular in the sneaker industry and pop culture generally? Well, today we're gonna break down all the reasons and circumstances that favored the rise of the AJ1. But if you're interested in more general info, check out the full Air Jordan history guide! Now, let's get down to business, shall we?
Nike Signs Michael Jordan and Creates a Legacy
The year is 1984, the Chicago Bulls drafted a promising young rookie called Michael Jordan. And at the same time, sportswear brands do their own scouting for endorsements. And while MJ wanted to sign with Adidas, they couldn't give him a suitable offer. Meanwhile, Nike was struggling in the basketball department, and it needed some fresh blood to endorse the brand. So, they decided to give Michael Jordan an offer that he wouldn't say no to. And well, a deal was signed, and the struggling Nike Basketball department wouldn't struggle for too long.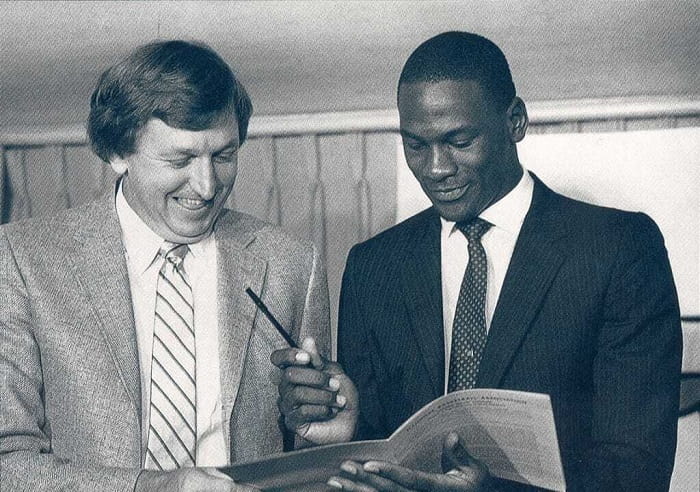 The Nike x Jordan endorsement ended up exceeding Nike's expectations when it came to revenues. In fact, the brand made more than $100 million in revenue in the first year of the Jordan partnership. Eventually, the brand grew enough to become its own independent entity on the market. And today, Jordan Brand is actually signing athletes who are developing their own signature kicks!
Before the Air Jordan 1 – Nike Capitalizes on a Silhouette
Although MJ signed with Nike in 1984, it took a year for him to wear his signature sneakers. In the meantime, he mostly wore the Nike Air Ship, which actually is the OG "Banned" shoe. It's totally understandable how people would confuse it with the Air Jordan 1 because they kinda look similar. Obviously, Nike took advantage of the drama and marketed the AJ1 silhouette like there was no tomorrow. This commercial can give you an idea about the direction Nike was going in. But beyond all that, why are Jordan 1s so popular even today?
Why Are Jordan 1s So Popular – Design and Looks
In 1984, Phil Knight realized that Michael Jordan is a big asset to the brand. But a big asset needs a big shoe, and a big designer to handle it all. And we gotta say, they did not disappoint. Peter Moore, a sneaker designer at Nike, managed to make history with the Air Jordan 1 silhouette. Moore didn't have much to go on except that Jordan wanted the kicks to be exciting and low to the floor. The rest was Peter Moore's creative genius, especially the Wings logo that he sketched on a napkin. No joke. Anyway, the end result was the Air Jordan 1. At first, Michael Jordan was skeptical about the Air cushioning and the general design, he eventually warmed up to it. And well, good thing he did because the shoe became as famous as the athlete wearing it.
Why Are Jordan 1s So Popular – Marketing
We already mentioned that Nike marketed the Air Jordan 1 as the "rule-defying" basketball shoe. But how far did they go with that strategy? The short answer is: they went far enough to sell. Let's give you the long answer though, it's fun. So as we said before, Jordan started his deal with Nike wearing the classic Nike Air Ship in a black and red colorway. That colorway violated the uniform rules by the NBA (they're not around anymore if you're wondering).
That violation cost Jordan a $5,000 fine every time he wore the kicks. A fine that Nike gladly paid because it gave the brand a bright idea. The Swoosh capitalized on that ban and marketed the OG Air Jordan 1 as the shoe that the NBA banned. Side note: It wasn't until 2020 that Nike acknowledged the Air Ship as the OG before the OG.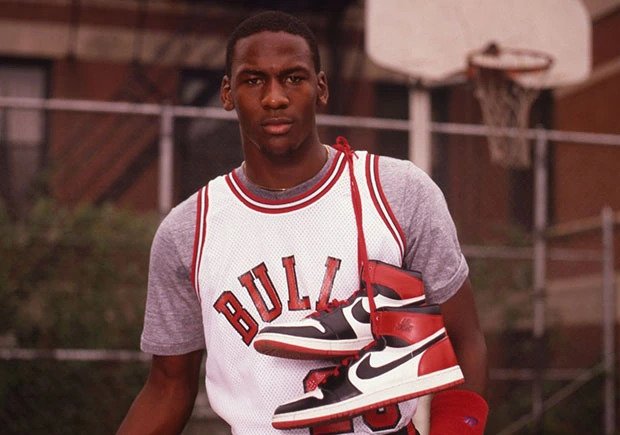 Moving on, Nike dropped commercials and marketed MJ as an individual athlete. Let's face it, that wasn't the way they did it in the 80s when it came to team sports. So, Nike turned Jordan into this legend that had very special shoes. And well, a kid, teen, or any basketball fan watching these ads would definitely fold and wanna own a pair. After all, who doesn't wanna be like Mike?
Jordan 1s Leaves a Mark on Pop Culture & Endorsements
Athletes and Endorsements
You know that you made it, when everyone knows who you are even if they're not interested in the industry. And well, everyone (and their grandpa) knew who Michael Jordan was. In addition to being a force on the basketball floor, he became an icon off the court! That's partly thanks to the Nike partnership. In fact, the deal changed the way athletes signed their endorsement deals. You see, instead of the traditional fixed amount of money, athletes started getting royalties out of their deals. And that's a trend that we can thank Deloris Jordan, MJ's mother, for. In short, this is when the sneaker industry really kicked off.
Pop Culture
When people wonder: why are Jordan 1s so popular? There's a general consensus about the answer. The kicks are basketball shoes at their core. However, you don't need to be a basketball player, or even a fan, to wear them. The Jordan 1 doubled up as an excellent lifestyle shoe! So, whoever and wherever you are, you can wear a pair of AJ1s and everyone would appreciate it. But make sure you know how to style it before you rock it.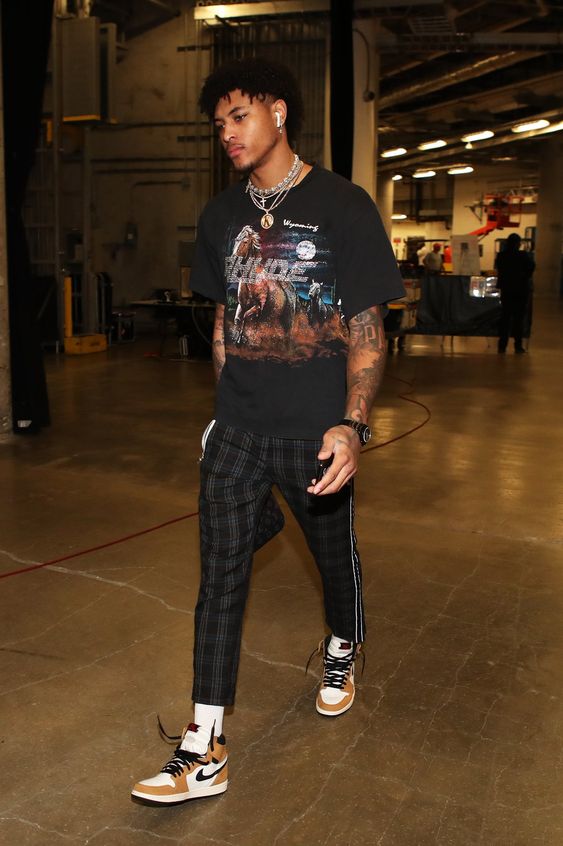 Finally, collaborations and celebrities wearing the Jordan 1 solidified its status as a pop culture icon. And today, every celebrity who knows where style is at, knows that they should own a pair of Air Jordan 1. You see, there are plenty of colorways on the market, and you can get as creative as you want! This is also another reason the Jordan 1 is this legendary and in demand.
Now That You Know Why Are Jordan 1s So Popular…
You gotta keep in mind that the sneaker resale industry exists as a result of the growth of the sneaker industry. And sneakers as popular as the Jordan 1 are definitely worth a lot in resale. But you gotta make sure what's hype and what's not when you go into the rabbit hole of sneaker reselling.
Now, if you really wanna start a side hustle, in addition to flexing your Jordan 1s, there are a couple of things that you gotta know. First, buying Jordans for retail is relatively hard, especially if it's a hype drop. Second, you'll need a sneaker bot to get yourself a pair of Jordan 1… or any pair of popular kicks really.
But wait… What's sneaker botting?
If you wanna find out, click here for a sneaker botting crash course! And in case you wanted to know more, our blog is at your service with the latest sneaker and botting news. Godspeed!