Nike Air Ship – Most Valuable Pair of Kicks in 2021?
Sneakers are a huge part of our culture, and they've been like that for decades now. And it usually starts somewhere, right? Well today, we're gonna jump right into the past and check out where it all started for so many sneakerheads. It was right before the Air Jordan mega-takeover, and it went under the radar for so many people. The Nike Air Ship is actually the OG OG before Air Jordans got all the hype. So let's explore why these babies might become the most expensive sneakers ever!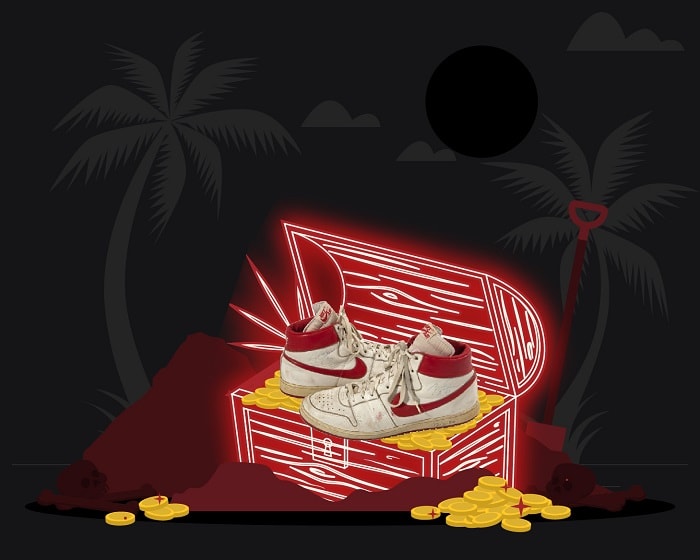 Before the Jordan 1, There Was the Nike Air Ship
History time! We're gonna take it step by step for the newbies reading. So, back in 1985, Jordan showed up wearing a black and red pair of sneakers. This pair violated the rules of the NBA, so they warned MJ that he'd get a fine if he kept wearing them. He did, and Nike agreed to pay that fine and defy the rules, and in turn, revolutionize the sneaker game. Naturally, that reputation went to the "Banned" black and red Jordan 1. That's what Nike capitalized on through their very short and on-point commercial.
However, the actual pair MJ wore before the Air Jordan 1 even became a thing was the Nike Air Ship. Legend has it that special makeups of the Nike Air Ship were available for Michael Jordan. And by legend, we mean the sneaker designer Peter Moore. Yep, totally that one. Nike applied some alterations to the kicks to fit the GOAT. Whatever happened to these kicks, nobody knows. Well, MJ probably gave them to people, and that will lead us to the recent news later on!
But First, a Pit Stop with the New Beginnings Pack
We're not gonna have a very big throwback here, we're just gonna go to early 2020. I know, I know, it's not the perfect year to remember, but it did bring some heat! First off, that was the first time Nike actually puts the Nike Air Ship under the spotlight. They retold the story and decided to bring the silhouette back for the masses after not retroing it for years.
The "New Beginnings" pack included the white and red Nike Air Ship, and a white/red Air Jordan 1 1985. It looked fantastic, and whoever owns this can easily start a sneaker collection. The pack dropped in February 2020 for $350, and it's worth $1,800! That's almost 1.5K in sheer profit fam. That's why you should always know your kicks.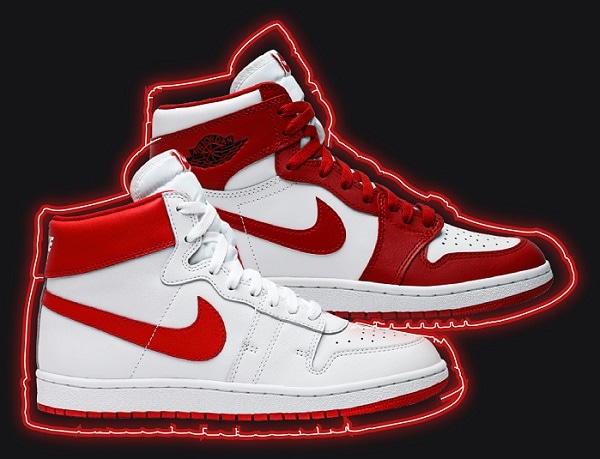 Nike Air Ship Finally Gets the Recognition It Deserves!
We're still shooketh by the news that Kanye's Grammy-worn Nike Air Yeezy 1 Prototype jumped over the Jumpman. It was auctioned off for a record-breaking $1.8 million! And if you wanna read more about Yeezys and their crazy awesome history, check this out. Anyway, now we have a potential contender for the #1 spot on Sotheby's. 
A Nike Air Ship that His Airness wore during a game. Oh, he also signed them and gifted them to the current owner. Well, now it's time to make millions of dollars off them! The estimate that Sotheby's has is between $1M and $1.5M. However, kicks like that could totally go off the charts and surprise us. If they do that, the kicks will become the most expensive sneakers ever! So let's keep our fingers crossed.
Last Notes Before We Go
It's amazing how one pair of shoes can change a whole culture. And that's exactly what the Air Jordan did along with the Nike Air Ship in the background. But as sneakerheads, we're always looking forward to new kicks to love! So keep your attention on our blog for the latest sneaker and botting news. And if you're looking for a cool pair for this winter, the new Jordan 14 winterized is definitely it!