How to Style a Supreme Bogo & Not Look Like a Hypebeast!
Supreme has been a pioneer in the streetwear department since it kickstarted in 1994. If you're not very familiar with the brand's history, check this post out. Even if you don't know the brand as well as you should, you must know the Supreme Bogo. And if you're interested in anything streetwear and swag, you definitely own one or at least wanted to! But wearing a Supreme tee or a hoodie can prove trickier than you might think. Some outfit combos can scream "I'm a Hypebeast" without you even noticing. So spare yourself the embarrassment and here's how to style a Supreme bogo the right way.
First, Buy a Supreme Bogo
Before you head to your closet and get excited about learning how to style a Supreme Bogo, you need to have one. If you do, skip this part altogether to the next one. 
As with ALL Supreme items, a Supreme Bogo sells out in seconds. In fact, Supreme BOGOs are the most desired and awaited items every season. Be it a Hoodie, sweatshirt, or a simple Tee, a garment that features Supreme's unique box logo is one worth the fight. So, with a lot of style, and cash, at stake, how can you secure yourself a piece?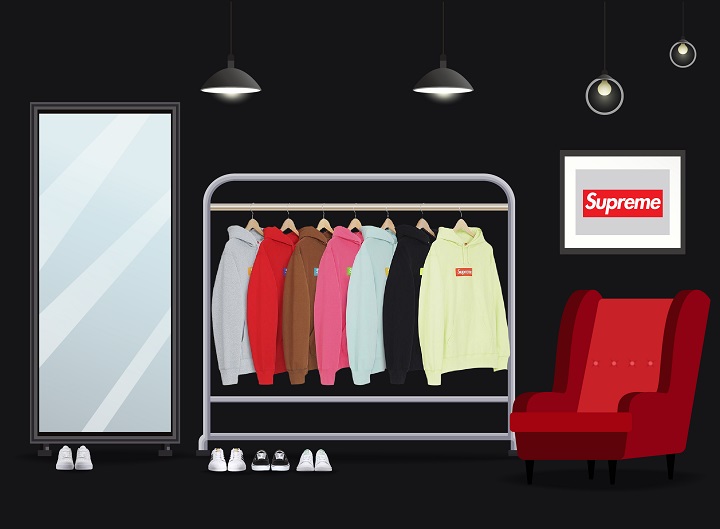 You can, if you have enough cash, go straight to a reselling site and buy a Supreme Bogo there. But be aware that the prices you pay there go as high as 10X the retail price. Else you can put in some elbow grease, and buy your Bogo at retail online, using a bot. And we won't let you go through the trouble of finding the "Perfect Supreme bot", and paying for it. What you need is all here. 
NSB is an All-in-One bot that works like a charm on Supreme. Securing huge numbers of items every season. In addition to killing it on sneaker drops. So, when buying NSB you're stepping a foot in the sneaker game and another in the streetwear allies. What more can you ask for?
Supreme SS21 is literally starting in 2 weeks, so you barely have time to get your game going. Get NSB today and make sure you catch the hype wave right from the start. You seriously don't wanna miss out on the awesome Jordan 1 Supreme collab.
How to Style a Supreme Bogo: A Guide
Now back to the styling bit.
You're in luck! Supreme Box Logos are the simplest fashion items you can get your hands on. But at the same time, not knowing how to style a Supreme Bogo could lead to a fashion disaster! So follow closely and take notes because we're gonna be covering every type of Bogos.
Style Your Tee Right
Before we dive into the piece you need to style, the tee, just remember one thing. A Supreme box logo is a statement piece in itself. Meaning that it should be the center of attention. The focal point of your 'fit. Wearing something equally as hype would make the look hypebeast-y and a bit tacky. So the golden rule here is: Keep It Simple! You could always take a hint from our favorite celebrities. Although Travis and Kanye took it up a notch with highly-coveted kicks, the rest is low-key. Cargo pants or chinos are pretty interesting options. Or you could go with your usual jeans and an oversized flannel shirt. Honestly, don't try too hard and you'll be just fine!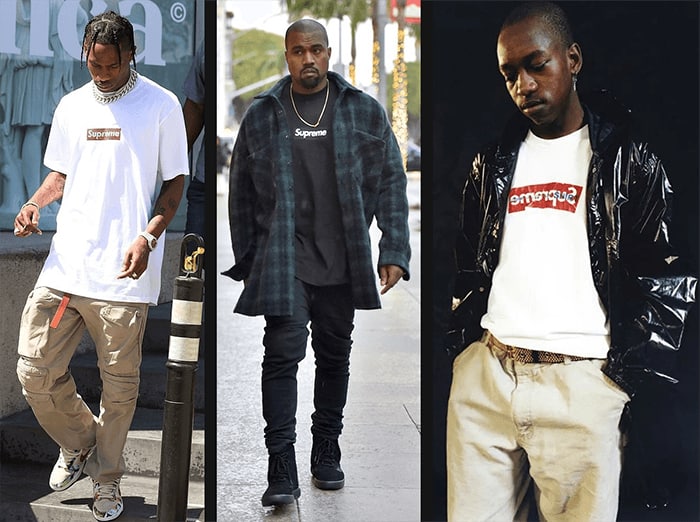 Now the ladies have an extra advantage in the clothing department. If you're petite and own an oversized Supreme tee, turning it into a dress is never off the table! You could dress it up with a blazer and belt, and you can dress it down with backpacks and sneakers. If dresses aren't your thing, tuck 'em in chinos and throw on (or don't) a jacket! Finally, you can take a page out of queen North West's fashion book and rock them with shorts and Yeezys. Really, the options are endless.
Hoodies Are Your Thing? Right On!
There are two styles to go for when wearing a Supreme box logo hoodie. You can go for a true-to-size fit, or take it up a notch with the oversize style! We're gonna discuss how to style a Supreme bogo hoodie both ways.
The hoodie is a pretty simple piece to style and you shouldn't find it difficult! If the weather is cold, throwing a long coat over the hoodie can give a chic vibe to the outfit. If you wanna keep the streetwear vibe, distressed jeans or cargo pants are your go-to. And during the spring weather, it's not too cold nor too hot. That's why mixing your hoodie with denim shorts is a good idea. Either way, simple kicks are always key. We'd personally recommend a classic Air Force 1 or Vans Old Skool. But Adidas Stan Smith or Superstars can do the trick too!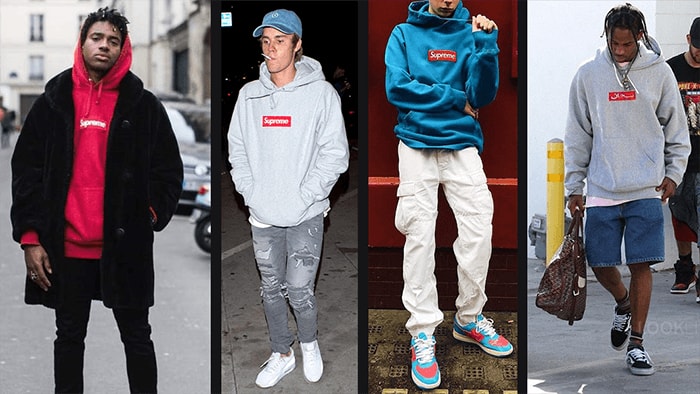 We love how androgynous Supreme apparel has become over the years. Celebrities like Kendall and Kylie Jenner, Rihanna, and many more certainly helped. What men dominated once, became a common ground for all genders! Which brings us to our next styling tips. As a lady, you can rock the Supreme hoodie in interesting ways too. Although the same rules apply, you can take it up a notch! Jeans, leggings, shorts, are all a yes from us. But another player is the biker shorts that can go really well with the hoodies. Some Lady Di vibes never hurt anyone, did they? And to complete your look, the shoe rules apply, and a denim jacket or bomber jacket would be killer!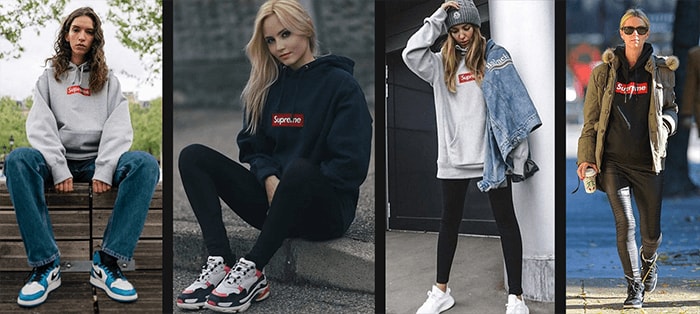 Finally, Be Yourself
We just gave you the golden rules on how to style a Supreme bogo. However, there's one more condition that you can call the "platinum" rule. Always Be Yourself. Whether that means dressing like a hypebeast or like you're staying in, you do you! And if you need some extra pointers. Here's how to style Jordans and Yeezys!
Tags: How to, supreme, Supreme Bogo, Supreme tees
Posted in Supreme 0 comments