Cheap Sneakers in 2021: Get That Drip for Under $250!
You know, having hype kicks releases is pretty fun and all if you can cop. But it stops being fun and giggles when you gotta pay 10x the original price for a pair, right? Don't worry though, we've got your back with a list of cheap sneakers you can get in 2021! Just the way we said goodbye to 2019 with a similar list, 2020 and 2021 hold lots of gems. So here's what $250 (or less) can get you today! Let's check the kicks out, you'll definitely find something up to your taste!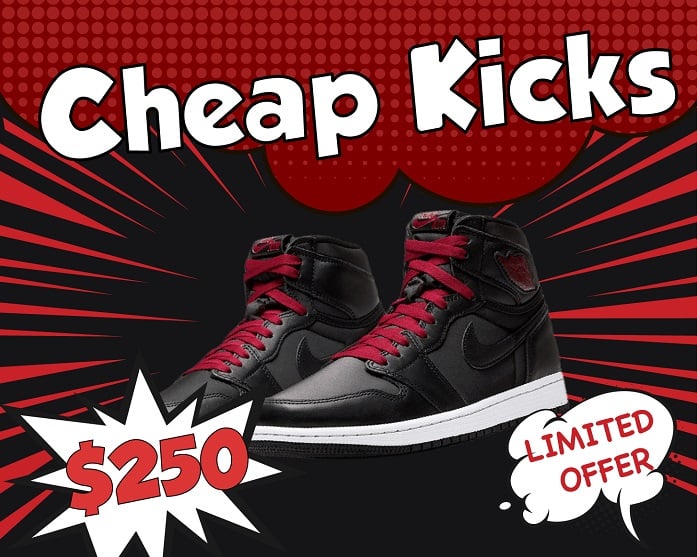 Want Cheap Sneakers? Get Them for the Lowest Price Ever!
We're probably stating the obvious, but why risk paying resale when you can go for retail? If you're worried of catching an L when you cop manually, we've got the thing for you! NSB is an all-in-one bot that supports different types of sites! Footsites, Shopify, Adidas, YeezySupply, and Supreme? We got it all for you! Make sure you get your copy of the best bot in town before the upcoming Yeezy and Royal Jordan releases! 
One of the biggest April drops happening this Saturday with the Jordan 1 "Hyper Royal"🔥

Reselling at $500+ you wouldn't want to sleep on this one😁

🚨NEED A KEY THIS WEEKEND?
🔄RT & COMMENT FOR A CHANCE TO WIN NSB2.0🤫 pic.twitter.com/bW6vYwfmg8

— NSB Bot (@NSB_Bot) April 14, 2021
When you get your kicks for retail thanks to NSB, you won't be saving money only. You'll be also making sick profit if you decide to sell your sneakers! But if you don't mind paying extra, here's a list of cheap sneakers you can get for under $250. It's not as good as retail, but desperate times call for desperate measures! Read on for all the sneakers you can get on a budget.
Style on A Budget: Cheap Sneakers of 2020
2020 didn't treat many of us well. Many lost their jobs, many lost some of their income, and many lost loved ones. But we're all doing our best to get back up, and a little style help can draw a smile on any face! And honestly, you don't have to pay thousands of dollars to have Class-A drip. So here's how you can rock some cheap sneakers and look priceless!
Jordan 1 Satin Black Gym Red
A pair that's both stylish and affordable! If you're looking for a pair of beaters that'll make you look good, Air Jordans are it. The upper comes in a mix of black leather and satin. It wouldn't look much really, but the popping red laces and wings logo can change your mind! This pair resells today for $149 on average… pretty cheap if you ask me!
Jordan 3 Unite Fire Red – Surprisingly Cheap Sneakers!
A very, very, very underrated pair in our opinion. It's one of the red Jordans that have lots of drip potential if you style them well! These were obviously a GR take on the very exclusive 2017 DJ Khaled "Grateful" Jordan 3s. Naturally, hype goes down when the kicks come in high stock. That's lucky for you though, because you can get them for around $194! We lowkey think that the pair is worth much more than that.
Nike Dunk High Maize
A Dunk that comes all the way from 1985! The OG "Be True to Your School" pack slithered its way into our hearts in the past year or so. The play on nostalgia is totally a part of the Dunk revival campaign! That's why it's interesting that a pair like this could be this affordable. You can get the pair for $202 on average! Although the pair gives profit, it's still relatively cheap if you're buying. Cheap sneakers could be stylish you see?
Yeezy 380 Pepper
Okay so, we gotta clear something out: hype and exclusivity drive the reselling community. And sometimes, it's just not a measure of how cool a pair of kicks is. Cheap sneakers aren't uncool, they're just not hype. That's exactly what happened with the Yeezy 380 silhouette. But that's good for you, the person who's looking for a pair of comfy yet stylish kicks! Yeezy 380 Pepper is all that, and it'll only cost around $205!
Yeezy 350 Marsh
Last, but definitely not least! It's hard to find a relatively cheap pair of Yeezy 350s. However, every now and then you could find a pair that resells for near retail. And when you do, you buy! Yeezy 350 Marsh features a light green upper, just like a marsh. If that's what you're into, make sure you cop it today for an average of $265. A bit more than the $250 margin, but that's the lowest value today!
Cheap Sneakers: A 2021 Q1 Haul!
Although we're barely over Q1 of the year, we got many gems that we wanna add to our sneaker collection. That doesn't mean that the sneakers are super expensive, and we're gonna prove it! Here are some cheap sneakers that you'll be glad you bought for the drip! Bad news though, we don't have any Yeezys on this list yet. Who knows? Maybe next quarter will have a pair for us!
Nike Dunk UNLV
January 2021 had us with a low-top version of 1985's Nike Dunk UNLV! It features a grey and red leather upper, just as we would expect of a cool pair of Dunks. If you managed to cop the kicks when they dropped, then good on you! If you didn't, you'll have to pay $208 on average for a pair today. Although it's $100 more expensive, you can still consider it a pair of cheap sneakers!
Nike Dunk Syracuse
Another pair of classic Dunks y'all! Another step in the BTTYS revival process took place in March 2021. The pair came in the OG high-top and orange/white leather upper! It's a pretty cool colorway that you can style with black outfits. And if it's your cup of tea, you can get the pair for about $209! 
Jordan 1 Volt
Where are the funky colors fans at? This pair is the perfect match for your outfits. We low-key had so much fun with all the puns when we covered them here! Jordan 1 Volt is a pretty fly pair with flashy volt wings that we all would love to rock. Luckily, you can get your pair of Volts for an average of $227 on average off the aftermarket!
Jordan 3 Cool Grey
This is a pretty good-looking non-OG colorway. That wasn't the first time we see the colorway though! It originally dropped back in 2007 in the exact same look. The only drawback about these kicks is that the heels have the Jumpman instead of Nike Air branding! That sometimes makes sneakerheads steer clear of the kicks. Why? Because they love their OGs so much!  However, we're willing to disregard the branding because the colorway is pretty smooth. If you are too, you can get the pair for around $228!
Adidas Pharrell NMD Triple Black – Cheap Sneakers
 Always Look Good!
If you're team Adidas, we gotchu! Although we don't have a Yeezy on this rollout, we're giving you a close second. We all love Yeezys for their Boost cushioning, and NMDs have them! Not only do they feel good, they also look good too. The Adidas Pharrell Triple Blacks are part of a whole pack that dropped in March 2021. The black NMDs are pretty cool and can go with any style you want! And if you want your own pair, you can get it for an average of $241!
Tags: Adidas, Adidas Pharrell, Air Jordan 1, air jordan 3, Air Jordans, AJ1, Jordan, Kanye West, Nike, Yeezy, Yeezy 380, Yeezy Boost 350 V2
Posted in Adidas, Nike, Sneakers 0 comments