A Blue Yeezy 700 and Another 500 Are Painting Our April!
Update: The blue Yeezy 700 already dropped, but we didn't get any 500s! Yeezy 500 Enflame's release got a push to May 8, 2021. All the other details are still the same though. Make sure you stay up-to-date on all release info on our blog! 
It's already mid-April, and Yeezys is the gift that keeps on giving! We already know that Kanye is feeling the divorce blues, and so are we apparently. It's pretty sad to see the power couple of the last decade split, but that's life. On the other hand, we might be getting some bomb music after the break-up and lots-o-kicks! And the upcoming blue Yeezy 700 is one of them.
So if you're here watching all the drama unfold and waiting to cop some Yeezys, so are we. That's why we've got two new Yeezys to discuss! The new Bright Blue Yeezy 700 and a pretty sick 500 are both on the way! You could even start a sneaker collection with all the blue Yeezys. After all, Yeezy 500 Frosted Blue is still fresh on the market!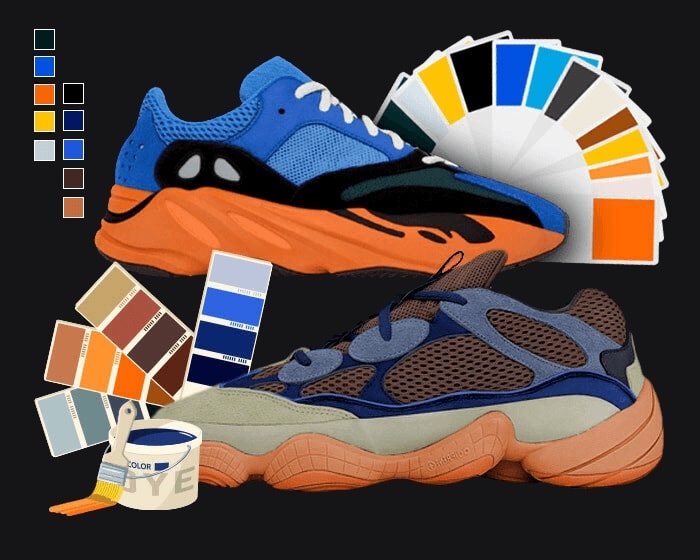 Bright Blue Yeezy 700
Remember that amazing interview Kanye had with Forbes back in 2019? Back then he showed us a world of Yeezys and Yeezy samples that he didn't drop yet. The upcoming Yeezy 700 Bright Blue was one of them, and so was Yeezy 700 Sun! The blue Yeezy 700 is next up the list of sneaker releases. The pair features the same OG 700 cut as the Waverunner. However, the upper is pretty blue mesh and suede along with some black. The Boost midsole though comes in a pretty contrasting shade of orange!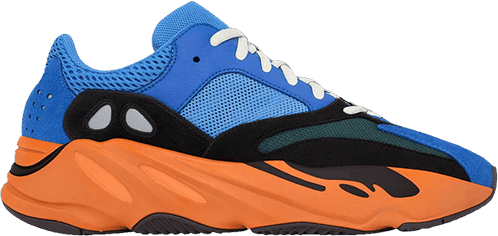 When Does the Blue Yeezy 700 Drop?
We're all used to the weekend Yeezy drops, and this week is no different! The upcoming Yeezy 700 Bright Blue will drop on April 17, 2021, for $240. That's like, $60 cheaper in Yeezy retail price than the original Yeezy 700 Waverunner. Why though? Could the material be not as high-end as the older pairs? Or is Kanye cutting back on the prices to sell? Well, anyway, we know we're copping! That lowkey has to do with the average resale value of $500 of the kicks too.
Yeezy 500 Enflame
Reading this name you'd totally think of a colorfully popping pair, wouldn't you? Not to disappoint you or anything, but the colorway looks like a washed-out version of the blue Yeezy 700. I mean, for the usual neutral Yeezy 500, the "Enflame" palette IS a change of pace! The kicks feature a blue mesh/leather upper, in addition to the brownish mesh panels. The Adiprene soles mix two different shades of orange and we like it!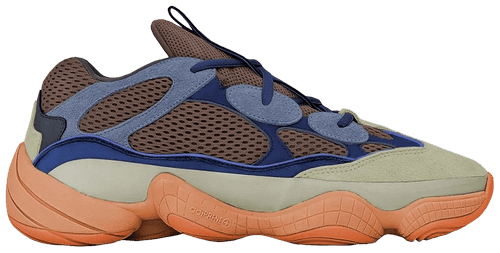 Release Info
Just like the upcoming Bright Blue Yeezy 700, Yeezy 500 Enflame will drop on a weekend. Exactly a week later, on April 24, 2021, for $200. And for an average of $470 in resale, we'll totally try to go for multiple pairs! If you wanna do that though, make sure you know where to flip your kicks. 
Will We See Anything Else Like the Blue Yeezy 700 Soon?
These two releases are totally must-haves, especially if you're a Yeezy collector. But if you wanna profit off Yeezys, you gotta cop lots of pairs. And that won't happen unless you either have super luck or have a pretty strong all-in-one bot! NSB is the bot you gotta have when you're going for the jackpot. Our users totally did so with Yeezy 450 and Yeezy Carbon before it! It supports Footsites, Shopify, YeezySupply, Adidas, and ever Supreme! So what are you waiting for? Go and get your copy, NSB is in-stock!
Tags: Adidas, Kanye West, Yeezy, Yeezy 500, Yeezy 700, Yeezy Boost
Posted in Adidas, Yeezy 0 comments