Overlooking the sneaker scene, one can not overlook the impact that the Adidas Pharrell partnership had. Ever since this creative collaboration started back in 2016, every single Adidas Pharrell design stole the spotlight from all other releases.
And that was rather justifiable. Who wouldn't want to rock some very colorful and very lit BOOST sneakers and help spread positive vibes and energy all around?
The first Adidas Pharrell NMD experiment was a Friends and Family pair. NMD R1 Burgundy is now available for purchase on reselling platforms such as GOAT. The prices range from $5,000 to a staggering $25K, depending on the size. So good luck if you're a 9.5!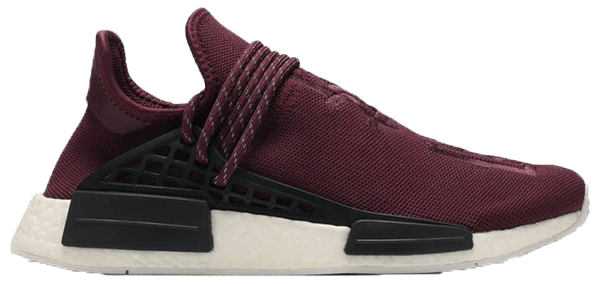 That being out to the masses, everyone was dying to cop the following Adidas Pharrell release. Some wanted to sell it and make that much profit, while others wanted to prove their loyalty and love for Pharrell.
Adidas Pharrell NMD Human Race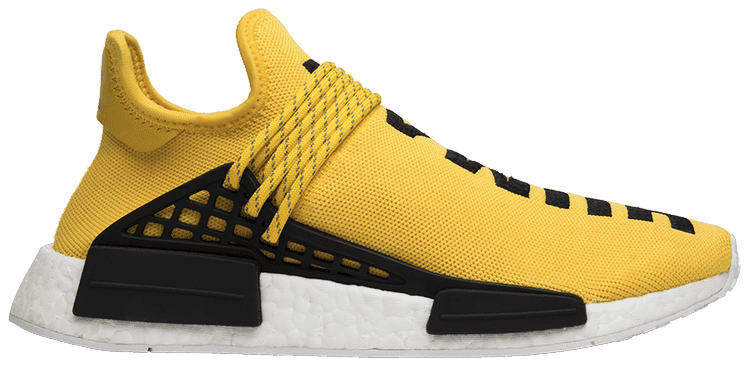 The first Adidas Pharrell sneakers to drop to the public were the Yellow NMD Human Race. They launched on July, 22nd 2016 and were welcomed very warmly. Which explains the ridiculously high resale price to date.
NMD Hu Packs
This trial release proved so successful that only 2 months later, a whole pack of Adidas Pharrell Hu NMD dropped. On September 29th, 2016, 5 distinct colorways of the NMD Human Race released and that's when the Adidas Pharrell legacy really kicked off.

The sneakers came in Green, Red, Blue, Tangerine, and Black, which clearly was the most valuable to sneakerheads.
The PrimeKnit uppers of these shoes conveniently showcased terms like Hu Race, Human Being, and Human Species.
NMD Hu TR Hiking Collection
After that, it took Pharrell over a year to release another pack. On November 11th, 2017 a new Adidas Pharrell NMD Human Race pack, called "Hiking Collection", was released. This time it only included 4 pairs, but every pair look completely different like it had its own personality.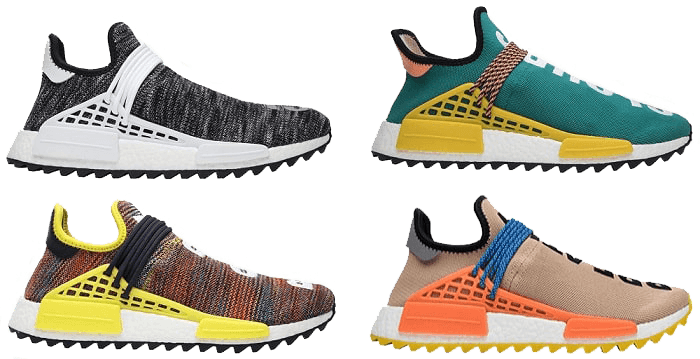 The Teal and Oreo pairs both had Moon & Clouds embroidered across their PrimeKnit. While the Pale Nude one had Breathe and Walk and finally the craziest pair among them, the Multicolor showcased the words earth and body.
This Hiking-inspired collection also included a three-layer jacket, gilet, packable windbreaker, cargo pants, hooded sweatshirt, leggings, T-shirt, and vest.
Culture-inspired Packs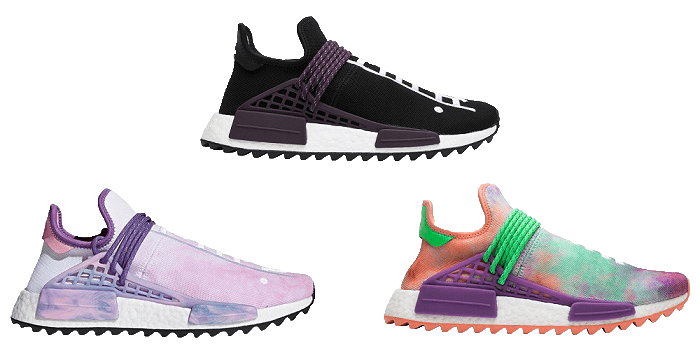 Moving on to 2018, the Adidas Pharrell collaboration continued but took a whole new pathway. This year's packs were all about celebrating great nations and countries. First, it started with the NMD Holi pack which celebrated India's Holi Color Festival. That collection included 4 colorways, White, Black, pink, and Coral.

The second culture-inspired collection was dedicated to China. It included 3 colorways, Green, Red, and blue. An additional very fancy golden pair was also manufactured, but unfortunately, was an F&F.
And next week, a third similar Adidas Pharrell collection will be dropping. The NMD Human Race Afro Pack or Solar Pack includes "officially" 2 pairs that nod to the rich African heritage.

So Many Exclusive Releases!
Away from the usual NMD Human Race pairs, Pharrell also co-created a few very exclusive and expensive releases.
These include several Adidas Pharrell NMD NERD, BBC, and Chanel which retailed at $1160.
The high level of exclusivity of these pairs made them extremely valuable at resale. Buying a pair of these rare pairs could cost you starting $1400 and up to $7000.
"Inspiration Pack"
Off to November 2018, the Adidas Pharrell collaboration is as strong as ever. The Inspiration pack that dropped on November 10 is just as colorful and vibrant as we expected! Each shoe is embroidered with Chinese characters that translate to "Inspire" and "Empower". Pharrell definitely likes sending us deep messages through all of these kicks!

Now Is Her Time Collection
"Now is her time to be powerful. Now is her time to run the world. Now is her time to teach us all. Now is her time to equalize the playing field. Now is her time to stand up for her right to choose. Now is her time." This is the message the Adidas Pharrell collab decided to send with their September 2019 collection "Now Is Her Time". The pack included very colorful Solar Hu, Crazy BYW X, and NMD kicks!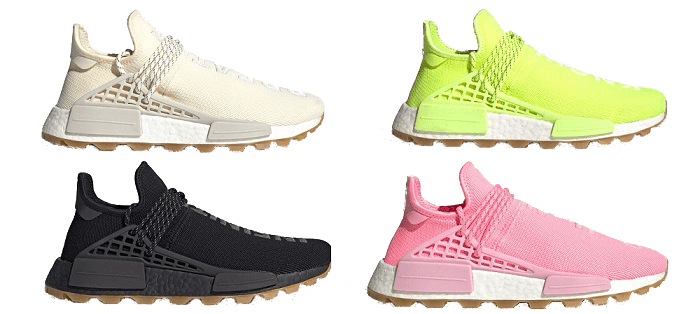 Human Race x Human Made
In October 2019, Adidas ventures into a new collaboration, the Adidas Pharrell x Human Made limited edition collection. The collection included one NMD Hu, Solar Hu, and Tennis Hu that donned an all-white upper with Human Made's heart logo instead of the usual embroidery.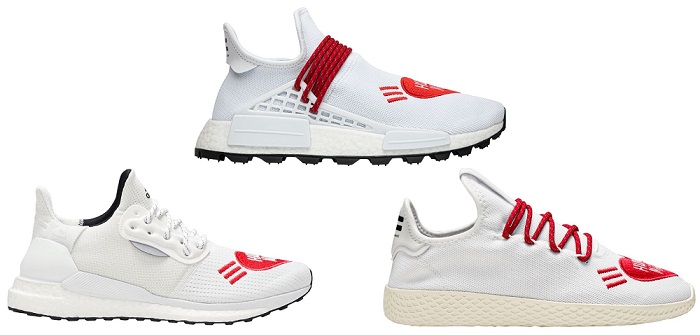 Off to The Multi-Dimensional World!
Some might argue that the 4D midsoles are the future of sneakers. Why not? The Adidas Pharrell partnership certainly thinks so. Their latest venture into the multi-dimensional world of sneaker midsoles gave us two new pairs of 4D Runners! The kicks are actually very nice to look at with the purple and olive Primeknit uppers and definitely provide good performance!

Adidas Pharrell Tennis Hu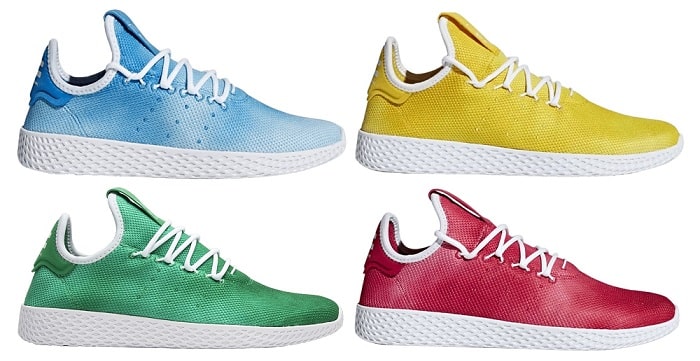 In addition to his infamous Human Race pack, Williams has another collection he's continuously working on. The Adidas Pharrell Tennis Hu is another successful project between the musician and the Three Stripes Brand.
Although the Tennis Hus isn't as hyped or as limited, they're still a welcomed addition to the sneaker family. In fact, if you fail to cop the PW NMDs you can still have a chance to cop the colorway you liked by getting the Tennis version.
Adidas Pharrell Collab Goes Crazy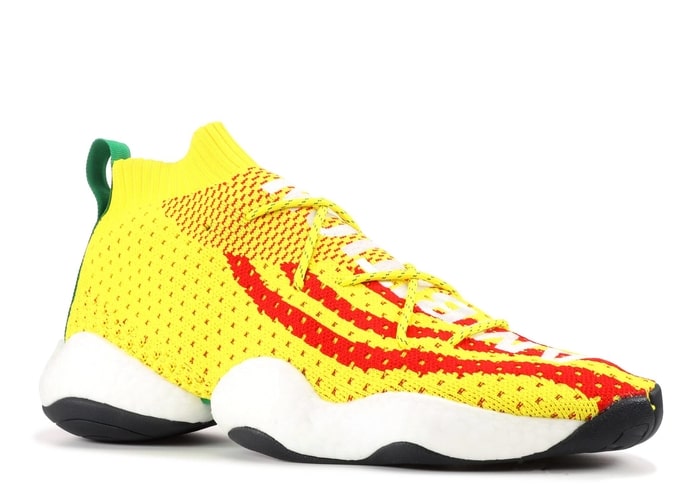 Aside from the usual Pharrell NMD sneakers, the Adidas Pharrell partnership featured a very eccentric yet low-key air of sneakers: The Crazy BYW. The 2 reimagined the Crazy's several times and offered several colorways like the Pink, Red, Black, White, and the ambitious Yellow reminding us so much of Hot Dogs. Also, not too long ago, a new Adidas Pharrell Crazy 2.0 appeared. On March 2st, 2020 the BYW 2.0 Hu released in an interesting mix of Yellow, Coral, and Purple and retailed for $180.
More NMDs
Back in September 2019, the Adidas Pharrell NMD family expanded exponentially. We're talking about more than 14 different Adidas Pharrell sneakers and a whole line of Adidas Hu slides. The pack addressed the issue of gender equality and the colorways ranged from the vivid Pink, 'Power Red', and 'Hi-Res Yellow', to the subtle 'Cream White' and 'Utility Black',
Bright Future
As the numbers and fans' reactions indicate, this collaboration is far from ending. In fact, it's just begun. The unique design of the shoe- and its many elements- open up hundreds of opportunities for a diversity of patterns and colorways. The addition of the values it stands for makes the Adidas Pharrell partnership one worth giving a chance. Or many chances for that matter.