The Adidas Pharrell collaboration, which dropped the first collection in 2016, was and still is a huge success. And it got everyone's bots running. And now, better get your bot ready because, on September 13th, the Adidas Pharrell collab will strike again with a very interesting capsule. For more about upcoming September releases, click here.
Adidas Pharrell Solar Hu "Rainbow" pack

After the neutrals, the Solar HU line is being expanded into four bright colors: Blue, Yellow, Purple, and Red. Each pair retails for 160$ and features breathable mesh uppers with a white "Hu" embroidered on the forefoot. The midsoles appear in matching color palettes with Boost material within and Adidas Continental rubber outsoles. The finishing touches consist of the three stripes logo on the tongue and aglets.
Adidas Pharrell Crazy BYW X "Gratitude" pack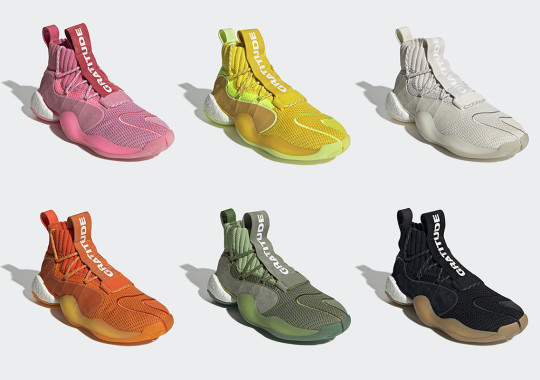 This pack, also dropping on September 13, is coming in six different colors: Pink, yellow, orange, cream, olive green, and black. These shoes, which retail for 220$, have toned down and vibrant colors to suit all tastes. They also feature monochromatic uppers made of different materials along with a bold white "Gratitude" on the throat tab. The white Boost midsole is also seen in the heel area and covered in a tonal shell at the forefoot area.
Adidas Pharrell NMD Hu "Proud" Pack 
The star of this capsule, and the Adidas Pharrell collaboration makes a comeback in four different colorways which each features a different word embroidery
Yellow: "Know / Soul"
Cream white: "Breathe / Thought"
Pink: "Sun / Calm"
Black: "Infinite / Species"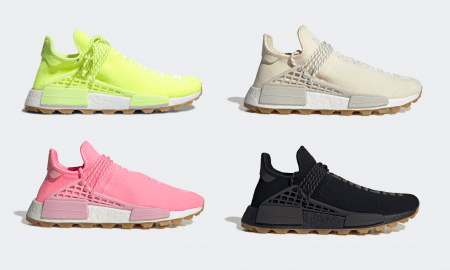 After pushing back their release date, people are getting more hyped up for the "Proud" lineup so make sure you've got your bots ready to cop them. The NMDs will be retailing for $250. And will definitely go higher on the reselling market. Especially the black and white pairs.
If you thought that was the last of Friday the 13th releases, think again. Pharrell and Adidas are releasing a colorful Adilette Sandals capsule too!
Adidas Pharrell Adilette Sandals 2.0 Capsule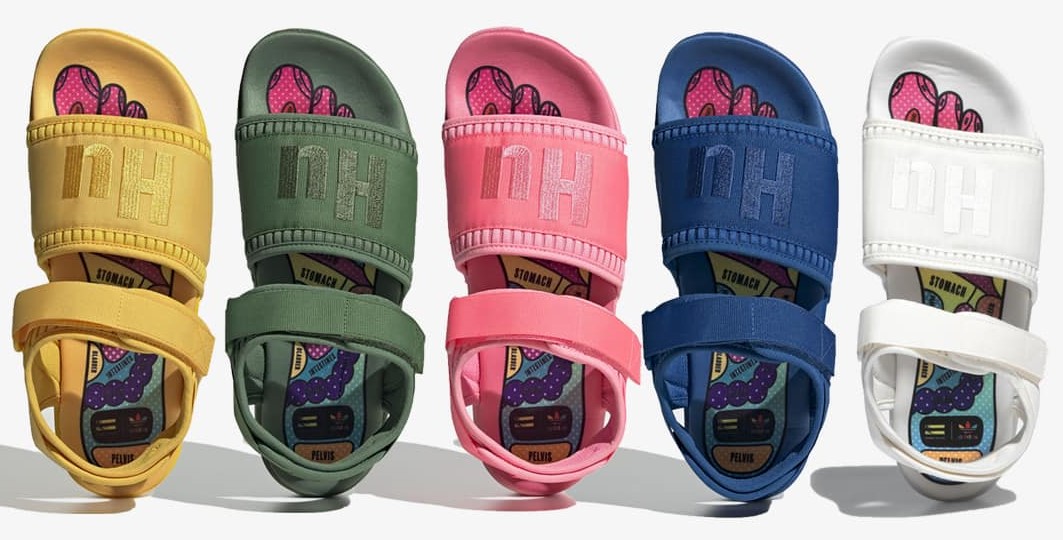 The sandals are coming in six vivid colors: Pink, blue, green, yellow, black and cream. For $90, you'll get sandals that have the same forefoot and base as the infamous Adilette slides with an added strap on the heel and ankle to lock the foot in place. The sandals also feature an embroidered tonal "Hu" on the forefoot strap while the footbed features the signature anatomy design we've seen on the insoles of previous NMDs.
Get your bot ready to roll!
Make sure you've all got your bots in order this September 13th because you don't want to miss out on these drops. And if you're lucky, you might cop more than one pair of sneakers this Friday! Still don't have a bot? No problem! NSB will help you cop these sneakers in no time.