The Best Supreme Bot Round-Up of 2020 Is Here! [2021 Update]
Best Supreme Bot Update [July 2021]
A lot can happen in a year, and when you play the game of bots, you win or you die. We're not being dramatic though, in this industry, a bot can sink in as much as a couple of months. And because this is the hard reality sneakerheads and resellers are living in, we need an update! Some bots left the race, some stood their ground, and some replaced the ones that left. But one thing will never change; you definitely need a Supreme bot to survive the Supreme seasons!
And now, the best bots of 2021 are MEKPreme, Velox, NSB, Cyber, and Kodai. Those are the bots that stood their ground throughout the year, so kudos to them. Tohru AIO also made it to our Best Supreme Bot list because it's been having some serious success. And Supreme isn't the limit to the success, because it's an all-in-one bot! The only downside is that the bot is not in stock. So make sure you check your options before you make a decision. After all, the new season is right around the corner!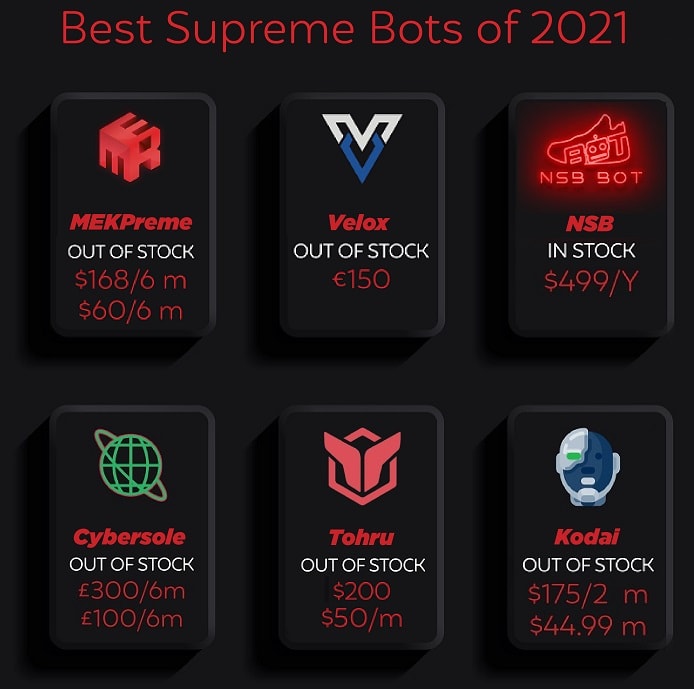 OG Post [October 2020]
2020 is closing off with only two months left! Now that we already have Footsites covered, we're going for more! That's why we decided to do a recap of every Supreme bot that killed it this year. So if you're on the hunt for the best Supreme bot, you just arrived at your destination! And if you're new to the Supreme game and wondering how to avoid that L, here's the answer!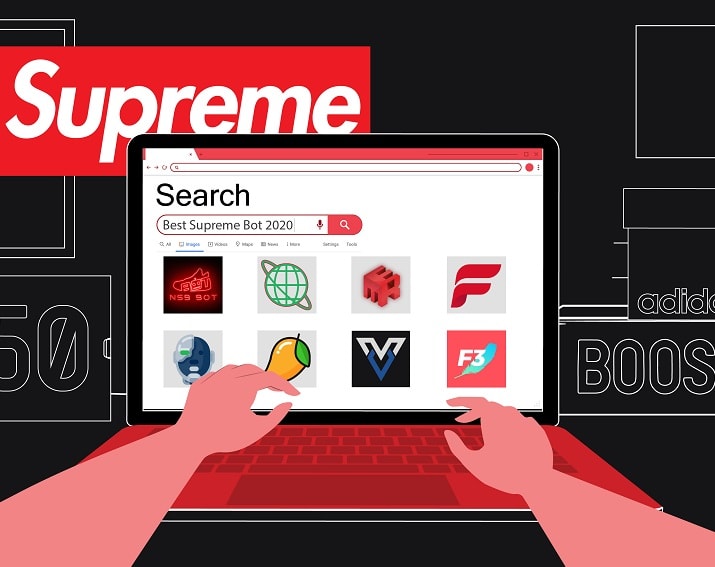 Supreme Ruling The Streets Since '94!
It all started with a skateboard shop on Lafayette Street and a dream. After leaving Stüssy, James Jebbia noticed that New York didn't have a place for the skaters. So he took it upon himself to create that safe haven: Supreme New York! It started small and gained momentum really fast. The brand started with the Bogo that became a streetwear phenomenon not long after. Moreover, the brand infiltrated the industry through awesome collabs. And it went far with that. It went so far that today, a collaboration with Supreme would bring the spotlight to the other brand! Who doesn't wanna be hip and appeal to the younger generation?

But with such hype come slimmer chances of owning Supreme items. People waited on the store's doors days before the weekly drop for that chance. Luckily though, Supreme went online and took some load off of the stores. And with that, Supreme bots come into play. Nobody likes that sold-out sign, be it on the Bogo, or something as little as a beanie! But there are so many options to choose from, so what's the best Supreme bot for you?
Best Supreme Bot: The List
So there are different types of Supreme bots. If you've already got a sneaker bot but it doesn't support Supreme, you've got two options. Either buy an exclusively Supreme bot or a Chrome extension! But if you wanna go all in from scratch, an all-in-one bot that supports Supreme is the way to go. Let's check each category out, and you can choose your favorite option!
All-In-One Bots
If you're a sneakerhead and wanna cook some Supreme merch, the industry's got your back too! All-In-One bots can usually help you pull off some great cooks on different sites like Shopify, Footsites, and Supreme! So here are the best bots streetwear fans and sneakerheads alike swear by.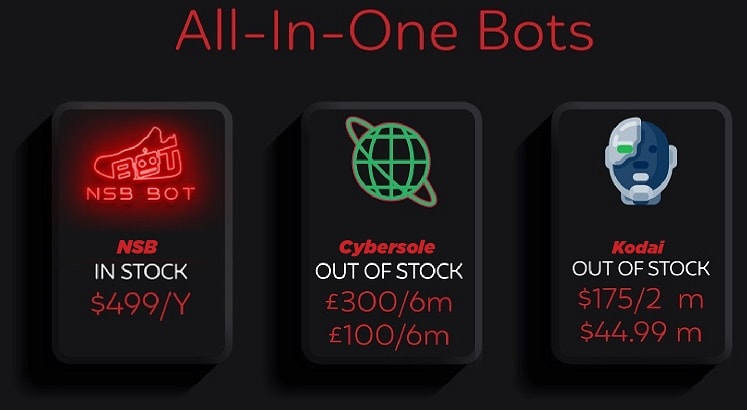 Each of these all-in-one bots is one of the best Supreme bots you can find on the market and more. However, NSB is the only bot you'll currently find in stock among them. You won't secure the others for a low price at the aftermarket. So technically, you're getting the best of both worlds! And if an all-in-one bot isn't what you're looking for, keep on reading!
Supreme Only Bots
Already have a sneaker bot, but it doesn't support Supreme? Don't worry, sneakerheads and Supreme fanatics always have a solution! Standalone Supreme bots are a thing that you can always make use of. They are also focused, and focus leads to success! But they're pretty costly considering you'll be paying for a sneaker bot too.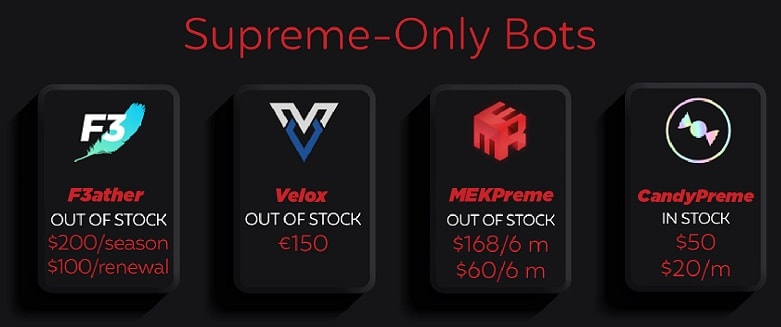 Although each of these is a really powerful Supreme bot, they're out of stock. So if you're looking for a good in-stock Supreme bot, there's CandyPreme and Slap! These are pretty good alternatives while you wait for a restock. Meanwhile, Supreme Chrome extensions are a cheaper alternative, they're easy to use and pretty efficient!
Chrome Supreme Extensions
Chrome extensions are small programs that you install to Chrome to change its behavior. They usually serve a single and easy-to-understand purpose. That way you can add functions to the browser, and customize it to your liking and needs! And Supreme happens to be one of our needs, so naturally, we got new extensions.
However, the spark of extensions isn't as bright as it was in 2019 and earlier. That's partly due to really good Supreme bots emerging at affordable prices. The other reason is that their potential is somewhat limited. That means you can only cop a certain number of items per drop. And who likes being bound to numbers? Some of the good Supreme extensions were (and still are to a certain extent) ForceCop and MangoPreme!
So, What Is the Best Supreme Bot?
The answer is subjective. The Supreme bot you'd cook with, someone else won't. So when selecting the best Supreme bot for you, do your research. It's a pretty good investment if you manage to cook and flip! And speaking of hype releases, don't miss out on this week's releases. That includes a pretty fancy watch and a gold necklace! May the odds be ever in your favor!
Tags: FW20, supreme
Posted in Sneaker Bot, Supreme 0 comments