It's 2021, and we got new Supreme Nike shoes this season. And with Supreme Italy actually becoming a legit store, Supreme has been getting busy! That's why we decided to do a full rundown of our favorite Supreme Nike collabs. Although some go hand in hand with resale, we'll be ranking them based on how cool they look! So let's check the 5 Best Supreme Nike shoes out, and you can choose your favorite.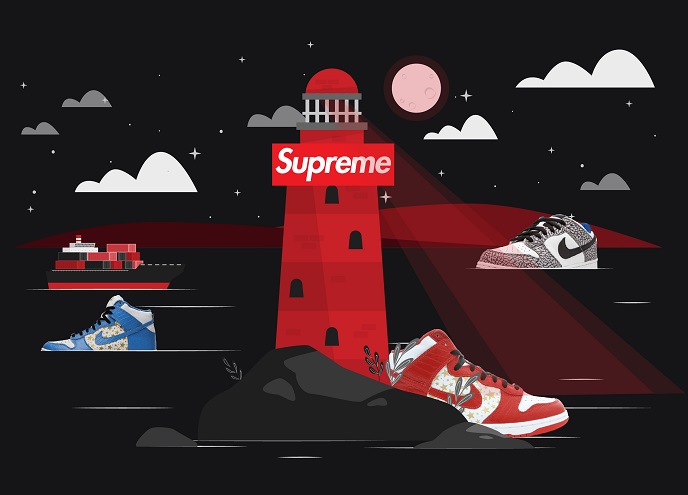 Supreme Nike Shoes – Ranking the Top 5!
I think we can all agree that the Nike Supreme partnership gave us some pretty unforgettable sneakers. Some were not so hype or profitable, but we still remember them fondly! You know, most of these collabs are still pretty profitable to this day, years later. But here are our all-time favorite top 5 picks!
Supreme Nike SB Dunk – Forever Cemented in Our Hearts
It's 2002, and SB Dunks weren't as hype as they are today, thus there weren't really many out there. But then, Supreme came along and changed the whole equation! It was arguably at this point that SB Dunks started gaining the mass following they have today. Their hype went beyond skaters and more sneakerheads were jumping aboard! The inspiration behind both the white and black colorways is obviously Air Jordan 3's cement design. We got the sneaker designer Tinker Hatfield to that for this bit!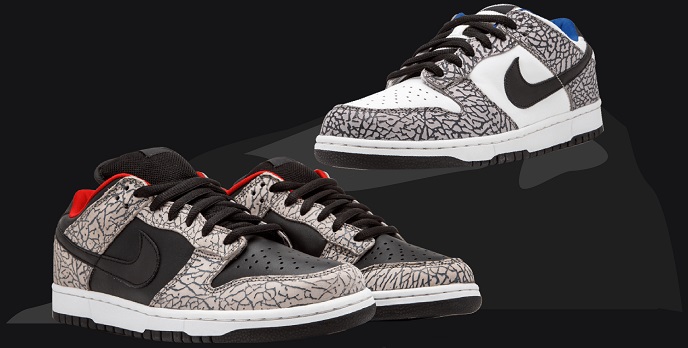 Today, both colorways of the Supreme Nike shoes are worth their weight in cash! In fact, the black pair resells for $5,900 on average. Meanwhile, the white Cement Dunks resell for an average of $5,700! So if you have a sneaker collection that includes these kicks, you're definitely one of the OGs.
Supreme Nike SB Dunk High Got Us All Starstruck!
Who doesn't know the star-studded Nike SB Dunk High? A year after their first collab, we got another batch of Supreme Nike shoes. The sneakers came in very bright and colorful iterations: red, blue, and orange! Instead of the gold stars, we were supposed to get the Nike logo. Unfortunately, legal problems ensued and we got the golden stars. No regrets though because the kicks resell for $5,000 on average!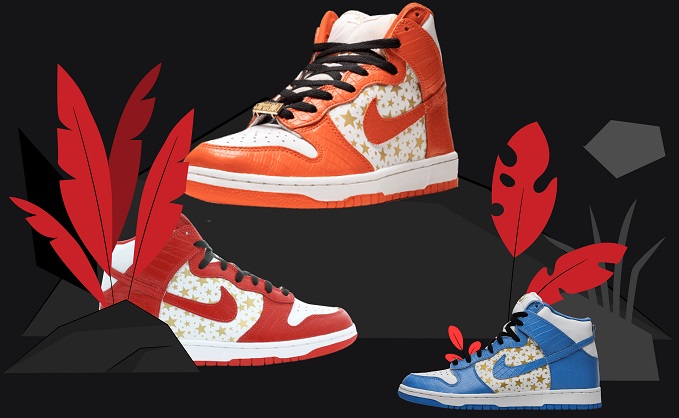 In other news, the same design came back in 2021 on the low-tops! Although not as hype, we still appreciated the nostalgic throwback. And sneakerheads who weren't around in 2003 got to experience the hype again! The pairs all resell for $1,000+ because why not?
Supreme Nike Shoes Take the Blazers to New Heights
So, Supreme is a skateshop, at least that's how it started. Nike Blazers are skateboarding shoes, and well, you can make the connection on your own! Another gem of the 2000s, the blazers were the stars of 2006. With three different colorways, we can't really choose a favorite, can we?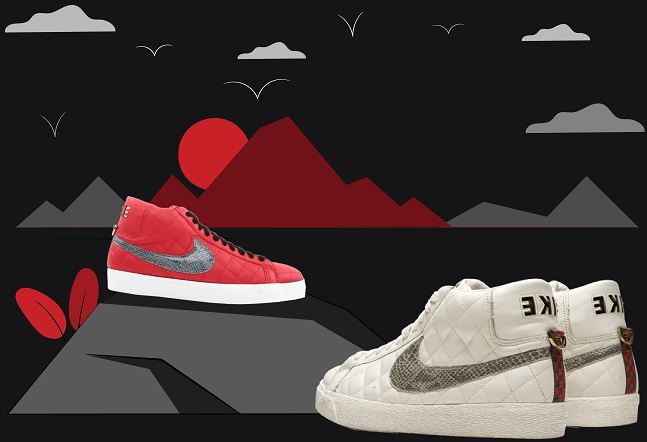 Inspired by quilts, snakes, and Gucci, the sneakers could only be a success with such a weird combo! But then again, Supreme isn't famous for working inside the box and bringing new designs. A pair of Supreme SB Blazers can range between $2000 and $2500 on the resale market today!
Victorian Patterns Make It to Street Styles with Supreme Foamposite!
So, Supreme Nike shoes took a pretty interesting, and weird, spin in 2014. The victorian style patterns never looked this good with the awesome Foamposites! Supreme Nike shoes are pretty amazing, and this pair took it a step further. Although the pair should have been pretty ugly by all standards, these were a complete success! The Foamposites resell for around $1,100 on average today.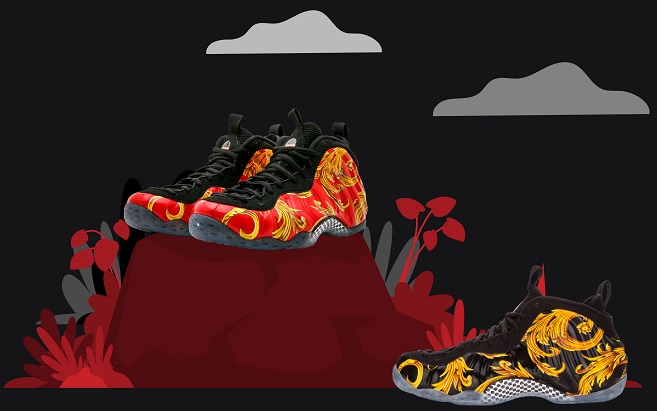 Supreme Uptempo "Suptempos"
Fast forward to 2017, and last but not least, the Uptempos came along. Maybe that's the biggest branding campaign by Supreme! The sneakers boasted the Supreme lettering instead of Uptempo. The Supreme Nike shoes dropped in red, black, and gold. Our favorite though is definitely the red pair. It mixes everything we love about the brand, the red, the name, and Nike shoes! A pair of red Suptempos goes for $1,000 on average!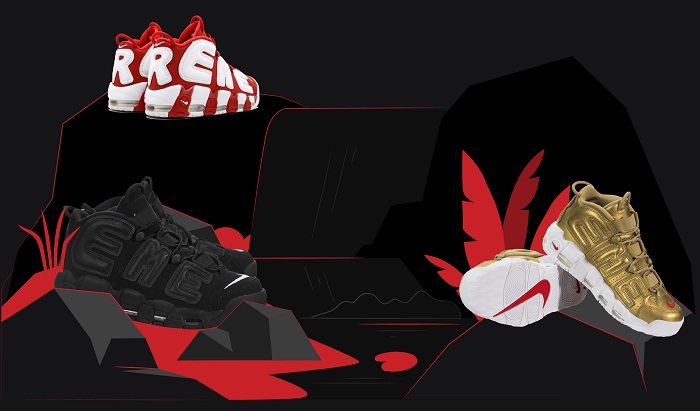 Supreme Nike Shoes FTW!
If you still don't feel satisfied with this list, you can always check out Complex's full list of Supreme Nike shoes! And if you're looking to flip one of these babies, you gotta know where to resell them kicks! The industry is changing, but that doesn't mean you should lose your money in the process. Godspeed 🔥