The sneaker industry is always changing, but one thing's always for sure. Sneakerheads will always go above and beyond to catch the hottest kicks and flex them. So, because we know the struggle of keeping up with everything, we're rounding up the coolest upcoming 2022 sneakers! And if you don't wanna hook yourself up to just one pair of kicks, check out 2022's sneaker trends. That way, you'll stay up to date with all the styles and drip! Let's check the kicks, shall we?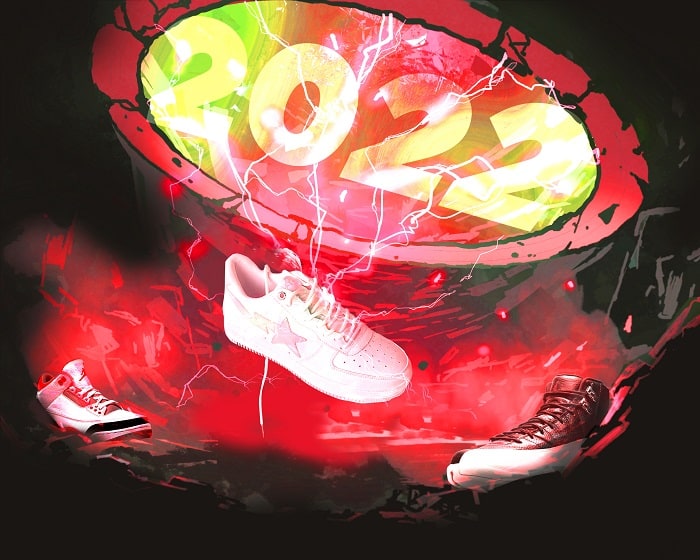 2022 Sneakers to Add to Your Shopping List!
Fear of God x Adidas
The brand is seriously beyond any introduction. Jerry Lorenzo founded a brand that reflects his beliefs with a minimalistic style. But when you collaborate with some of the biggest sneaker brands, it's a total win. And in 2020, after leaving Nike, we get the news that FOG is moving its work to Adidas! You can read more about that in detail right here.
BAPE Sneakers
So, some think that Bapesta is just an excuse for Adidas collaborators to wear Air Force 1s. And well, they're not really wrong? But still, the Japanese brand has some outstanding collabs under its belt. Moreover, 2022 looks like it's gonna be interesting in terms of BAPE collabs. If you wanna check out the history of the brand, some of its epic past and future releases, click here.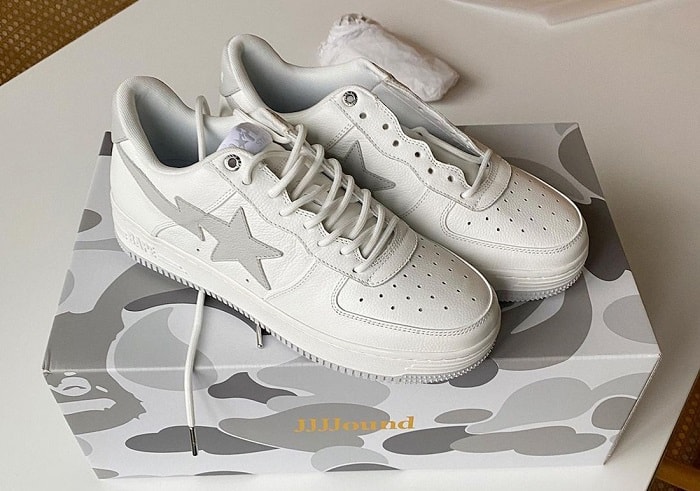 JJJJound Collabs
JJJJound is a digital mood board created by Justin R. Saunders. This "brand" lent its creativity to different other brands, including New Balance. And to be honest, it kinda added a missing spark to otherwise very ordinary kicks! But JJJJound seems to be getting busy this year with so many collabs. So far, we know that a New Balance and BAPE collab is cooking. What we can do is just wait for more release deets and prepare our sneaker bots!
Travis Scott Jordans
Now this, this is what so many people are waiting for this year. Rumor has it that there will be multiple colorways of the Travis Scott Jordan 1 Low. However, the only colorway that we really saw so far is the Reverse Mocha AJ1 Low. The pair features a mocha base with white overlays while the reverse Swoosh and laces come in sail. Now, this seems like a pretty interesting 2022 drop, don't you think? However, we still don't know if the repercussions of the Astroworld tragedy will cause a release cancelation. We'll have to see what the year holds for us!
Jordan 3 Fire Red
Although this is not the only amazing Air Jordan 3 we're getting in 2022, this is definitely the hottest. Jordan 3 Fire Red is coming back this year in its OG form, including the Nike Air heel tag! We certainly don't wanna miss a chance like that peeps. Now if you wanna know more about this release, and other 3s, read this.
Jordan 12 Playoffs
This is hands-down the highlight of this season's Jordans. Back in true OG everything, this drop puts 2022 sneakers into perspective. And well, kinda makes us feel like it's 1997 and everything is okay. We're kinda happy about this retro for many reasons, one of them is definitely the fact that it's an OG. Another reason is that Jordan Brand is focusing its energy on more than the usual AJ1 drops! If you wanna check out the release info, you can find them here.
Nostalgic Yeezy 350s
No, these are not the only Yeezys dropping this year, but definitely the most exciting! We really love it when Ye gets creative with his designs, but sometimes we crave some classics. Luckily, that's just what we're gonna get with the upcoming Yeezy 350 Onyx and Dazzling Blue! Both colorways are definitely worth every penny you're saving for them. But if you're looking for something a bit more out there, it's totally okay! Just keep it locked on our blog for the full list of Yeezy 2022 drops. 
Adidas x Prada… Again!
The collab that kickstarted in 2019 is still going strong! Their main focus was previously on remaking the classic Superstars. In 2022 though, this partnership's focus is shifting in a new direction. And this direction seems to be the underrated Adidas Forum! We're gonna get two monochromatic colorways, black and white because Prada seems to like their minimalism. However, each pair will come with a little detachable nylon pouch! Talk about being extra. Although we don't have an exact release date, we can expect the collab to drop soon.
How to Get Any of These Releases Though?
Any of these collabs are undoubtedly pretty cool, and so many sneakerheads wanna own at least one of them. So obviously, we're not alone in our sneaker craving. What you should do is try and get an edge over the other shoppers. How? Obviously by getting a sneaker bot! Pair it up with some trusted proxies and servers, and you're good to go. Also, make sure you check out this guide for some extra tips and tricks. Godspeed 🔥