I've officially joined the sneaker industry back in 2017. And since the day I first stepped foot in this whole game, I've heard the 3 words "Sneakers are dead" a few times. Back when the Yeezy frozen yellow was the most limited colorway ever. Again when Yeezys ditched boost with the 500 silhouette. Once more when the whole attention shifted to Nike Dunks. Way before that when Michael Jordan scored his final hoop. And most recently when NFTs took over the world and took down sneaker reselling. But every time the sneaker culture bounced back again. So this got us wondering, are sneakers really dead? Or are we witnessing a sneaker market correction?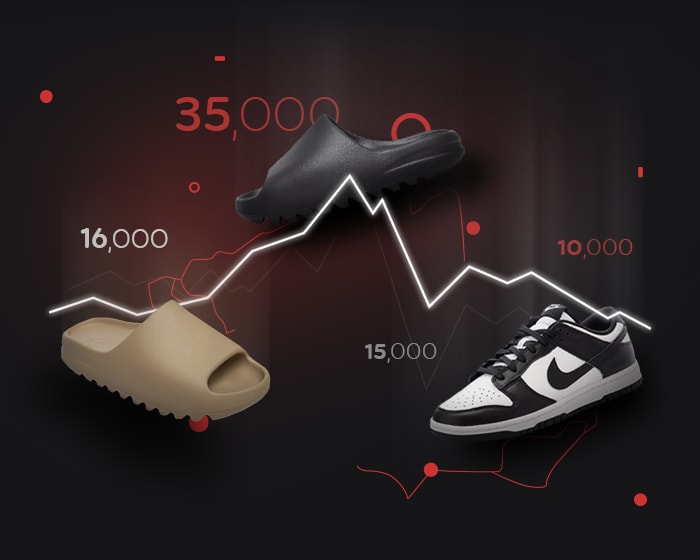 What's a Market Correction
Before we discuss the fluctuation in the sneaker market and decide whether or not sneaker reselling is dead, let's cover some basics.
Financial experts define a market correction as a 10% to 20% drop in value from a recent peak in a market. So, it's basically a "moderate decline in the value of a market index or the price of an individual asset".
Market corrections are a normal phase you'll go through as an investor. Possibly even more than once. Unlike a bear market, it's not a permanent or prominent decline, it's a mere correction in which values return to a previous normal. Forbes has recently covered this topic extensively, you can check out their post here.
What's This Sneaker Market Correction?
Similar to any market correction, the sneaker reselling industry, valued at over $6 billion, can undergo a sneaker market correction. And if you haven't noticed yet, it currently is, for many reasons. 
What happened during COVID-19 Takeover
2+ years later, we're still so keen on blaming most of our problems on the pandemic.
But to be real, COVID is to blame for the sneaker market correction. And the abnormal peak preceding it. Here's what happened in details:
Long lockdowns
Humans are social creatures, and long lockdowns hit us hard back in 2020 and 2021. Everyone was home, bored, with a ton of extra time and money to invest in side hustles and online ventures. No one was partying, socializing, or going out to eat. We got some real cash to spare back then. And sneaker reselling was and still is one of the most established niche markets. So, your neighbor, his dad, and nieces all hopped on the sneaker ride.
Governments stimulus paychecks
Believe it or not, many governments have indirectly caused this sneaker market correction. Times were tricky when the pandemic hit. So many governments, including the US, offered stimulus paychecks to support families and individuals. And with extra cash steadily coming in, many people thought, wisely so, of investing the cash. Again, stumbling upon sneaker reselling. After all, the ROI on some pairs is ridiculously high, anyone would be tempted to try their luck.
Sneaker Bots

Whenever you're starting a new business or hobby, or developing a skill, knowing you can automate any part of it, makes it more appealing. So, an industry full of bots seems so welcoming to newcomers. Demand for sneaker bots increased heavily, and we KNOW firsthand the big influx of amateur sneakerheads who joined the last 2 years. Of course other than sneaker bots, the sneaker industry is known to offer guides and sneaker news through cook groups, sneaker Twitter, on Reddit, making it easy for anyone to join.
Retail Therapy
What do you get when you mix free time, extra cash, and a bored human with an internet connection? Shopping! During the pandemic demand for luxury goods, was very high. Luxury, unnecessary goods that is! 
But it's understandable. Everyone was in a bad state of mind, actually wondering if that was the end of the world! And so, we all spent money like there was no tomorrow. Spent it on snacks, game consoles, athletic wear, cause we were gonna workout hard, and on sneakers! We needed that kind of retail therapy.

Mass layoffs
Unfortunately millions of people have lost their lives to COVID-19. And millions of others lost their means of making living. With lockdowns hitting repeatedly, thousands of businesses lost their edge, and ability to survive, resulting in mass layoffs all around the world. So the search began for online jobs or money-making hobbies. And a few weeks later it was like everyone was making customized clay jewelry, baking fancy cakes, and flipping sneakers for cash!
Post-COVID Nosedive or Market Correction
Ok, so, we got the market peak reasons covered. But what exactly caused this sneaker market correction to occur?
The complete opposite of everything we mentioned above.
As we slowly crawled out of lockdowns and home offices, things were bound to go back to normal. As normal as possible. So was the sneaker market.

Those who sought entertainment and money in sneaker reselling, had to go back to their jobs, and daily activities. Those who stocked up on sneakers enough to keep flipping until world's end, had to sell them again. And those who spent so much on cool kicks and overpriced slides realized they had way too pieces piling up in their closets.
So as a result,
Demand for sneakers decreased, not because the market is dead, but because we all had a little too many pairs than we need or can style!
Resale prices went down as you'd expect in a market correction, because those who became honorary sneaker resellers for a while, had to get rid of the stock they had stashed home. Many of which sold sneakers for under market price and sometimes even, below retail. One fun fact is that , during the pandemic demand for Jordan Mids went up, simply because amateurs couldn't tell the difference between a Mid and a high!
But what I think was the saddest outcome is new botters unsubscribing from sneaker bots, or could have been best tool they ever signed up for!
Will Sneaker Survive This Market Correction?
Yes!
The sneaker reselling industry is only going up. Insights and data show that we're looking at a $30 billion industry by 2030. Could this valuation drop? Yes, it could. After all, every single industry we know of, took a hit one way or another by the pandemic. But as long as new silhouettes keep popping up, as long as Kanye keeps releasing Yeezys, and as long as Michael Jordan is a legend, the sneaker market will survive. And you get to decide where you stand in this debate. Are you really a sneakerhead? Or do you just follow bubbles that'll pop!