Can you feel that? Love is already in the air! Now that the holiday season is over, we're looking forward to the new year's sneakers. The first stop we'll make is Valentine's Day 2022! From the pinks and reds to less popping colors, sneakerheads have a lot to celebrate this February. So if you're looking for nice Valentines Day sneakers, we're here for you. And if you're not, it's time to start saving up because 2022's Jordan and Yeezy lineups are crazy!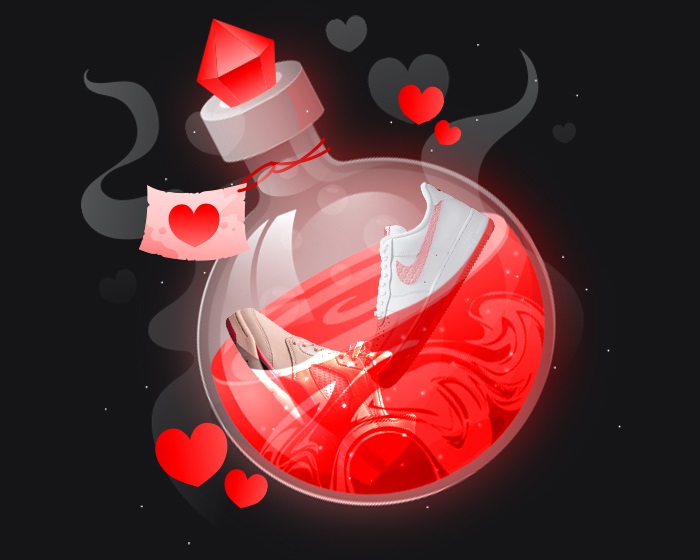 Valentines Day Sneakers Will Make Us Swoon!
Coming fresh out of the holiday season, most of us don't have enough money. But, if you invested in sneakers right, you probably made tons of cash-flipping sneakers and are ready to cop some more! 
But if you're still new here, let us help a bit. First off, you're gonna need a sneaker bot to get your game going. Without it, you'll be competing against well-equipped rivals and you're very likely to get nothing.
So why go through that pain when you can even the odds? Sneaker bots like NSB give you a good fighting chance, and will even help you try to get multiple pairs! If that sounds like a cool idea, then check this out. And finally, this guide has everything you need to know and will help you with your botting journey. So make sure you give it a read before you dive in. Now, let's jump into the world of love and celebratory kicks!
Jordan 1 Mid Valentine's Day (W)
We already established the reasons we need Jordan 1 Mids in our lives here. With that out of our way, Valentine's kicks are coming on hot this year with a Mid! The sneakers are everything fluff about the holiday. From the different shades of pink on the mesh and leather upper to the red swoosh, we got it all! It's a pretty cool colorway that doesn't say in-your-face, yet looks celebratory! We can expect the women-exclusive pair to drop sometime in February 2022. And since Valentines Day sneakers are usually very popular, we're sure these babies will be too!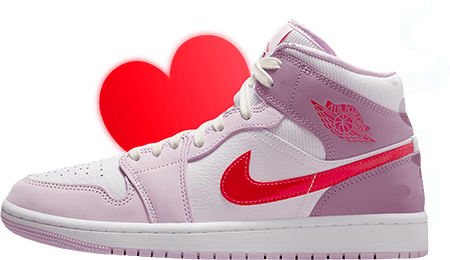 Nike Dunk Low Valentine's
Forget about being low-key, because this pair is totally taking Valentine seriously. No whites, no other colors, it's just a mix of crimson red and hot pink on leather, twill, and suede. But the icing on the cake is the lace-like material around the swooshes! When we said fluff, we weren't lying peeps. Of course, sneaker Twitter never misses a chance to come up with creative names. And this pair is now the "Lingerie Dunk"… and we kinda get it? Anyway, the Dunks will probably drop in February 2022, for $120. The pair is currently worth around $355 on the aftermarket which is a pretty good number for a flip!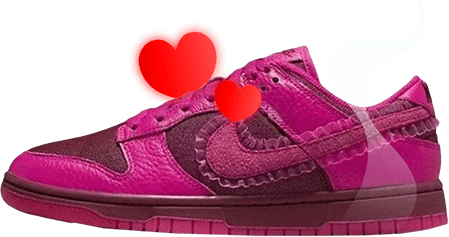 Air Force 1 Valentine's Day
Is it really Valentine's Day without an Air Force 1? Nike's take on these classics doesn't usually disappoint, and this year totally doesn't either! The Air Forces in 2022 are coming with a very cute color-blocking. A white leather upper sits on top of a light pink outsole. But beauty is in the details because the light pink swoosh features squared letter embossings. The embossings read "Nike" and "Love", which we can also find on the lace cube charms! This pair should also drop before Valentine's Day 2022 and will retail for $100.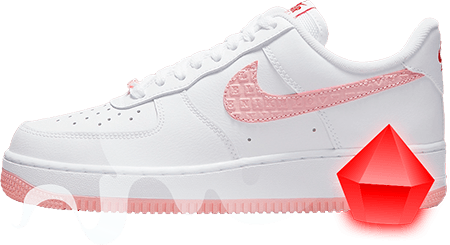 Jordan 5 Arctic Pink (W)
Although they're not official Valentines Day sneakers, they still look celebratory enough! We already discussed these babies here along with other Jordan 5s that you'll love. What you should know though is that these babies will drop on February 11, 2022, for $175! Or, if you miss out on the release for whatever reason, you can get it for about $225 in resale.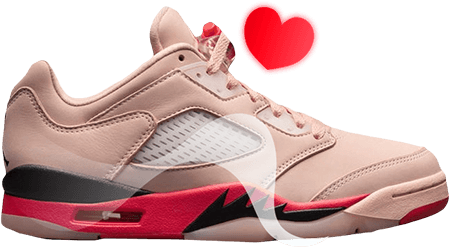 Nike GTS 97 Valentine's Day
If you're not into popping colors, we have the perfect pair for you! Nike's pushin' 🅿 with this release to satisfy every taste. The vintage-looking pair is pretty simple with the sail canvas upper and cute embroidery. But from here on, it gets interesting, because this upper is more than meets the eye. You can actually unleash your creativity on these babies with paint, markers, and dyes. The kicks just dropped on January 21, 2022, for $80.
Jordan 6 Red Oreo
Last but not least, these are not Valentines Day sneakers per se, but we kinda dig the colorway. Jordan 6 Red Oreo features an all-white leather upper with red midsole details, tongue, and heel tab. The red has white speckles all over, which kinda explains the name! If you like this, we're sorry to say that you're gonna have to wait for it. The Red Oreos won't drop till June 2022. But make sure you stay tuned on our blog till then!