We know our Air Jordan business, and we totally dig every silhouette. However, something about the fifth silhouette hits a little differently. And in 2022, we're getting 5 new Jordan 5s to fit every taste! Whether you're into ankle support, popping colors, or everyday basics, JB got it. If you don't have any 5s in your current rotation, then this list is for you. And if you already have one, then you definitely need more! However, if you're looking for some variety in your life, here are all the Jordans you can expect this year.
Get the Right Drip with These New Jordan 5s!
Before we check out the new kicks, we gotta talk about a couple of things. First, a pair of Jordan 5s need to pop when you wear them, so make sure you choose the right fit. If you're wondering how to do that, check this styling guide to help you get going! Second, if you wanna buy and flip, we got a list of the best places where you can do both. Now that we got that off of our chest, let's check out the new Jordan 5s!
Jordan 5 Low Arctic Pink (W)
We're kicking off the list with a women-exclusive release! Jordan 5 Arctic Pink will be the perfect pair for the ladies to rock on Valentine's day. Who needs high heels? Anyway, this pair is seriously the brightest on our list of new Jordan 5s. The upper comes in a cool arctic pink leather upper and a hot pink midsole. The pink translucent outsole and black shark teeth are also pretty cool. So all in all, we got nothing against these babies. Now, although the low-tops aren't usually that popular, we're willing to compromise because the colorway is lit!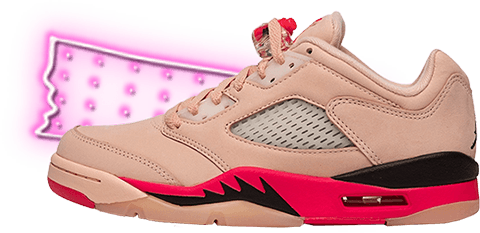 Release Date: February 11, 2022
Retail Price: $175
Avg. Resale Value: $245
Jordan 5 Racer Blue
Now, before the guys get jealous, we've got the perfect pair to go with the Arctic Pinks! Jordan 5 Racer Blue features a simple, yet cool black suede upper. The racer blue midsole and black shark teeth are the best detail and we're not complaining at all! Finally, the reflective tongue is there as usual because what are the 5s without them? Sadly, these babies will only come in men's sizing, so no GS or PS sizes.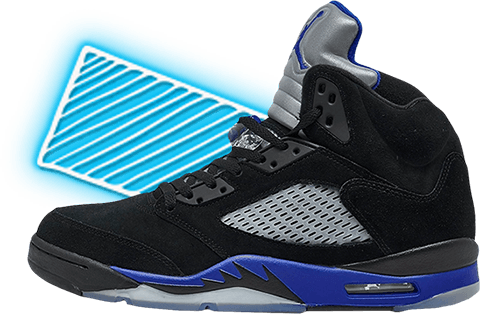 Release Date: February 22, 2022
Retail Price: $200
Avg. Resale Value: $450
Jordan 5 Jade Horizon
The pair that everyone waited for in 2021, but alas, we got a delay instead. But let's look at the bright side of things: we're eventually gonna get this colorway! It's not every day that we get to cop a colorful pair of new Jordan 5s. The kicks' upper features a very light shade of green, aka jade horizon, on top of grey midsoles. In addition to that, we get yellow-ish translucent outsoles and lace holes that give a vintage feel to the kicks. So we're totally copping because the kicks are cool and the resale value is totally worth it so far.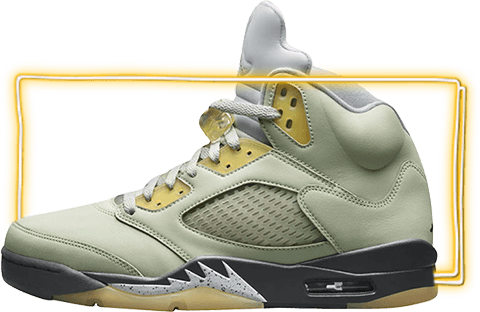 Release Date: March 25, 2022
Retail Price: $190
Avg. Resale Value: $900
Jordan 5 Easter
We just love it when Nike and Jordan Brand celebrate the holidays their way. And Easter certainly calls for some colorful pastels that JB perfectly delivered! The new Jordan 5s put on pretty shades of pastel pink and blue. But that's not the coolest bit about them, because the ice soles can actually glow in the dark. Rumor has it that the kicks will come in special packaging, but we gotta wait and see!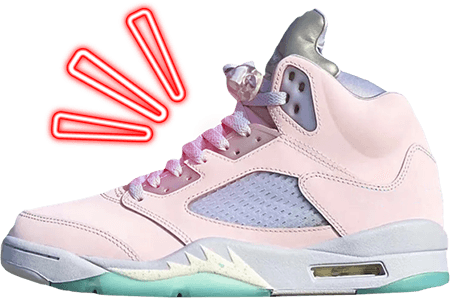 Release Date: April 2022
Retail Price: $210
Avg. Resale Value: N/A
Jordan 5 Green Bean
Coming all the way back from 2006, Jordan 5 Green Bean is certainly a classic-level colorway. The 2022 retro will reportedly be an exact replica of the 16-year-old colorway, although people on the internet kinda disagree. The kicks are pretty simple with their grey upper and popping green sock liners and shark teeth! We just gotta keep an eye out for the release date. It's also worth mentioning that the 2006 pair is worth around $500 today!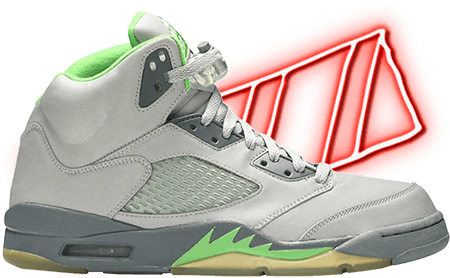 Release Date: May 7, 2022 (Potential June delay)
Retail Price: $200
Avg. Resale Value: N/A
Feel Like Copping Them All? Here's How!
So Jordans usually drop on Nike SNKRS and other retailer sites. So you can either get a Nike bot or go all in with an all-in-one sneaker bot! Sneaker bots like NSB enable you to try your luck on multiple websites which will increase your success chances. But if you really wanna take it seriously and get the most out of your botting experience, you'll need more. From proxies to sneaker servers, the perfect setup can push your chances higher. But of course, we go into more details in this cool botting guide, make sure you check it out! Godspeed 🔥