Best Nike Dunks and 2022 Rumors – A Combo that Never Hurts!
You know the drill. Every end of the year, we do a round-up of the industry's different favorite sneakers. And today, we're gonna check out the best Nike Dunks that dropped in 2021. From the most popular, to a subjective top 3, we have it all here! Moreover, we're gonna check out some 2022 release rumors because why not? And if you like that kinda thing, here are the top Yeezys of 2021, check them out before the end of the year! Now, let's get into our yearly ranking peeps!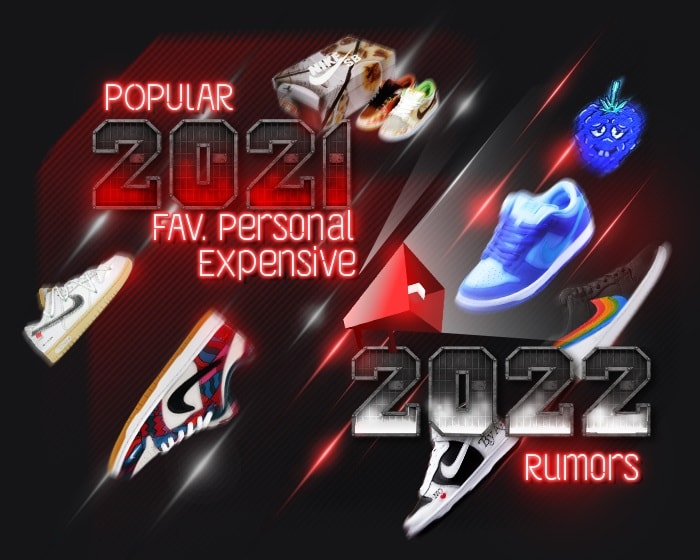 Best Nike Dunks of 2021
Most Popular
Heads up, the ranking we relied on is based on the total number of pairs sold on StockX in the last 12 months. And unsurprisingly, the top 3 Dunks are low tops that are very simple and easy to wear! First up we have the Black and White Dunk that everyone at this point should own. Next up we have the really nice Championship Red Dunk. In retrospect, these could pass as awesome Christmas sneakers with the white and red color blocking! Finally, the Nike Dunk Low Georgetown really left a nice mark before the end of the year.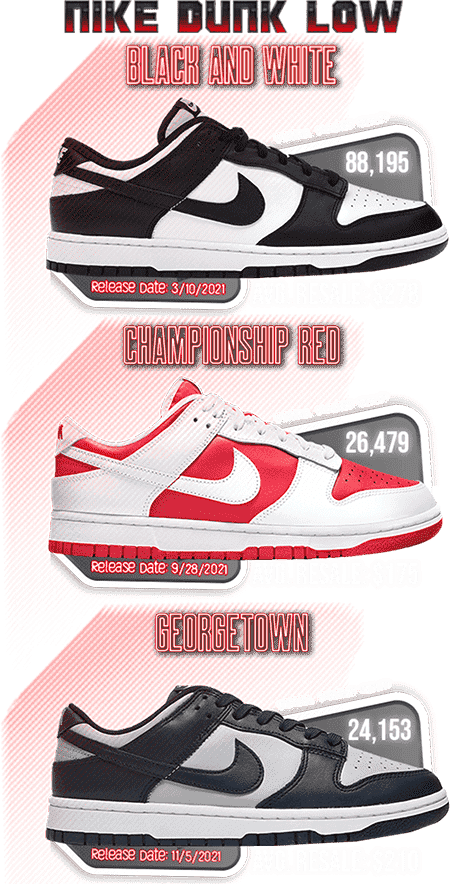 Most Expensive
Of course, it won't be a round-up list unless we talk about the most expensive sneakers. We all know that 2021 was full of crazy exclusive releases. They were pretty cool too because we all tried to get a pair… and sometimes even the best of us took the L! Anyway, on the top of our list, we have the starry Supreme Nike SB Dunk in its mean green colorway. In the second place, the Street Hawker Dunks in their special box are worth 1K+. And last but not least, we have Virgil Abloh's Off White Nike Dunk Lot 1 out of the 50 different colorways!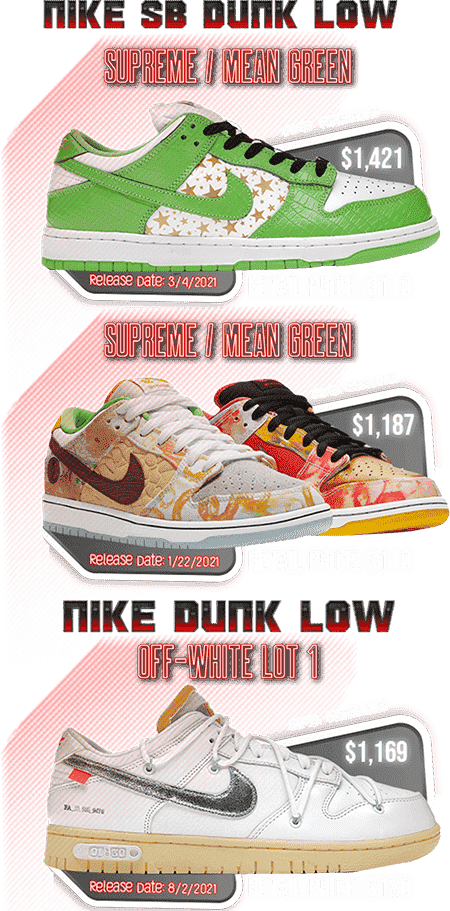 Personal Favorites!
Okay, this is low-key our favorite part of the yearly ranking because we get to debate our favorites. Now, after several debates and petty fights, we chose the personal best Nike Dunks! First, we've got the really cool Parra Nike SB Dunk that came in time with the Tokyo Olympics. Then, for all the Japanese science fiction geeks, we've got the awesome Gundam Dunks in their white colorway.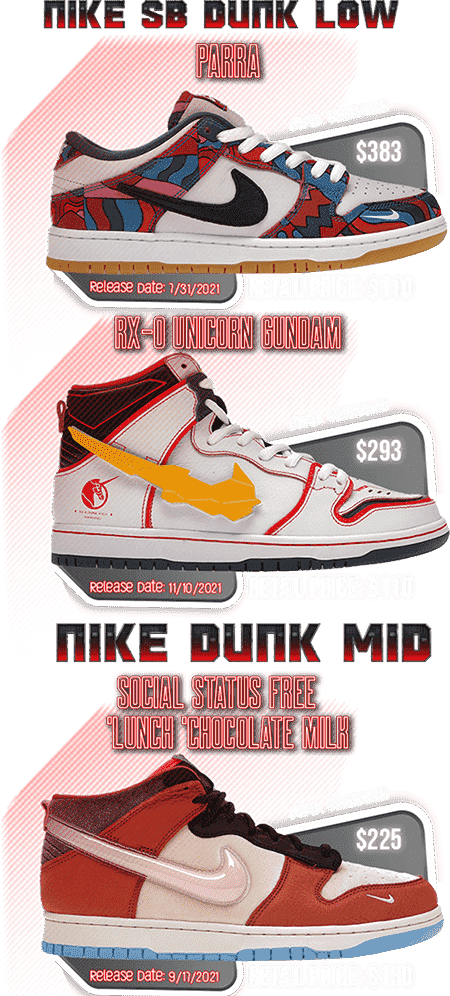 And the third pair is all about social issues. Social Status' Free Lunch Nike Dunk Mid is a nod to the free lunch and milkshakes that the government issues for underprivileged kids. The colorway we chose is Chocolate Milk, although the Strawberry Milk Dunks are awesome too! Fun fact: These Dunks aren't highs nor exactly mids, and the silhouette is specifically made for this collab!
Some 2022 Rumors Won't Hurt, Right?
How exciting! Who doesn't like a little sneak peek into some potential 2022 Nike Dunk releases? Although 2021 had some nice pairs, the year wasn't peak Dunk hype. So, will 2022 be the year we get the best Nike Dunks ever? Let's check these babies out!
Union Dunks – Three's the Charm
So at first we got two colorways and were pretty happy that we're getting an iconic collab! But then, we saw a new colorway emerge, and we can't say we're sad about this at all. The sneakers all feature the same grid-like design along with flight-inspired packages. However, we're getting three different colorways so far. First, we got a nice baby blue colorway, then blue with very very pale mint green. Now, the latest colorway comes in a mix of purple and pale yellow… and we're loving it! As for release details, we can expect the pairs to drop during 2022. We'll keep you updated when we know more.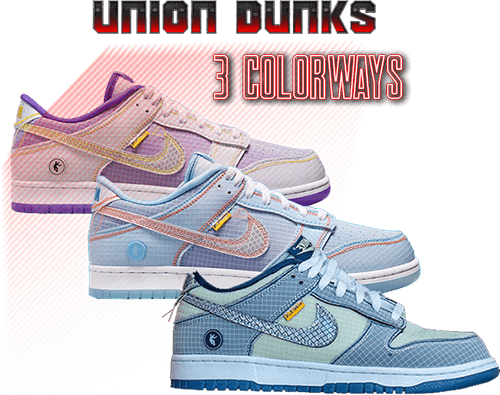 Nike SB Dunk Polaroid
Who didn't own the most famous instant camera at some point in their lives? This time, the colorful photography brand is coming to your kicks! The upper features a mix of black and white, a clear nod to the film before development. And then we have the tri-color swooshes the remind us of the company's logo! So all in all, the collaboration is pretty clean, and we'll totally keep it on our 2022 Dunk list.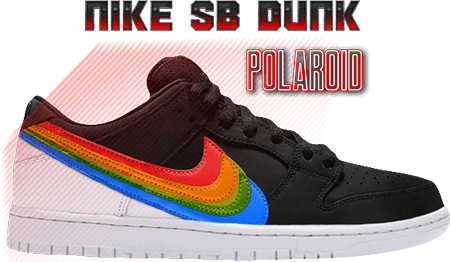 Supreme Nike SB Dunk High By Any Means
We kinda got our hopes up that we'll get these babies before the end of FW21. But alas, not all dreams come true, and we shall not dwell on that as Dumbledore would tell you. Anyway, we already covered these babies here, but since then, we got a new colorway leak! In addition to the black/white and navy/red colorways, we have a Brazil-inspired green and yellow colorway. Since 2022 is around the corner, let's cross our fingers and hope we get the best Nike Dunks during SS22!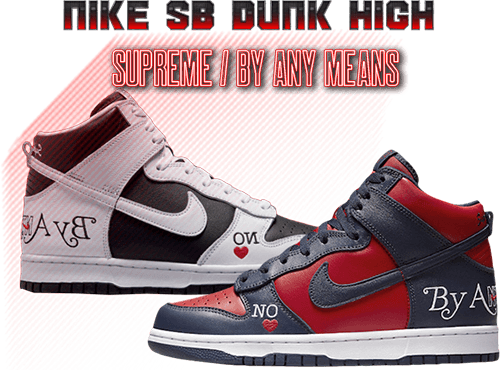 Nike SB Dunk Low Blue Raspberry
A stoned-looking raspberry on Nike SB Dunk Lows? That's totally 4/20 release material the classic way that Nike got us used to! Anyway, the kicks are pretty lit even if they drop at any other time in 2022. The upper features two shades of blue suede, in addition to the blue raspberries we already mentioned inside the tongues.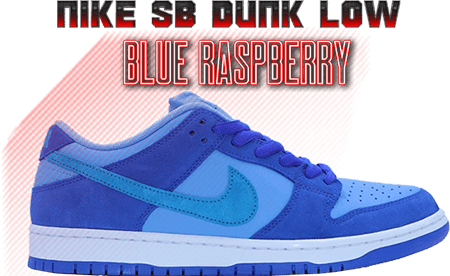 The List of Best Nike Dunks Doesn't End Here
Just because we chose these sneakers doesn't mean that the rest of the releases weren't cool. In fact, the best Nike Dunks you can have are the ones you think are the coolest. But of course, having a pair of really hype Dunks could add swag and cash to the owner. And the only way to catch hot Dunks and more is by having a sneaker bot! If you wanna get to know this awesome world of sneaker bots, check out this guide. It'll take you through everything you might need to score the hottest kicks! Godspeed 🔥
Posted in Uncategorized 0 comments