So when we talk about the sneaker industry, we lowkey only have a couple of brand names on our minds. One of these brands is Yeezy. Kanye "Ye" West built an empire out of his eccentric yet stylish-looking sneakers. Yeezy sneakers now have a long history of hype, success, and money! From Nike to Adidas, the line didn't lose any of its appeal. Even today, with pairs being more available to the public, we still have a soft spot for Yeezys. But how does that translate in Yeezy resale prices? Are the kicks still as valuable as they were a few years ago?
One resale platform that can answer our questions is StockX. So how are Yeezys doing there? Read on to find out which pair was worth the investments and can bring some good profit to the owner!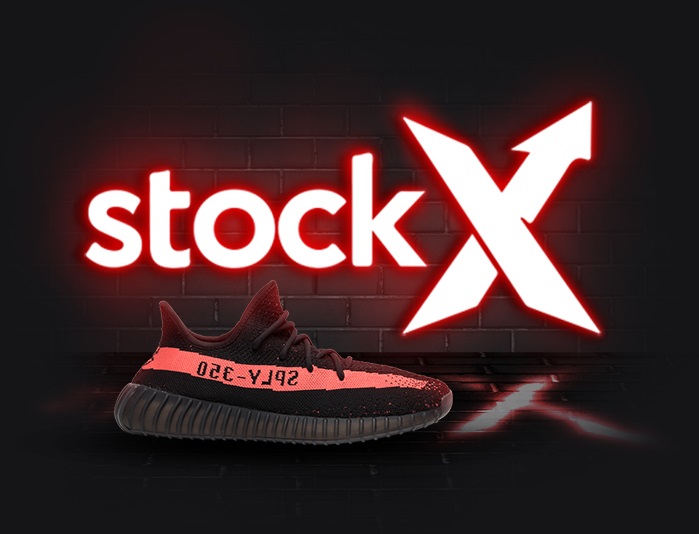 So How Was 2021 for the Yeezy Line?
If you wanna read about our personal opinions of Yeezys in 2021, click here. But if you're interested in numbers, read on! So 2021 was a very interesting year on so many levels. We got, and still are getting, so many new silhouettes and colorways. Ye is getting experimental with his releases, and classic silhouettes are getting a revamp. But which sneakers eventually came through and got the highest Yeezy resale prices? Read on to find out!
Yeezy Resale Prices – Top Performers of 2021
So naturally, we're using the StockX ranking as a reference here. The top 5 Yeezy resale prices of this year were pretty close but featured a pretty cool mix of silhouettes and colorways. On the top, we have Yeezy 700 Sun. That's a pretty interesting turn of events because the 350s usually hold the throne! (Pun intended) Next up, the weird Yeezy NSLTD BT and KNIT RNR take the second and third places. And finally, we got the alien-like Yeezy 450 Cloud White and Yeezy 700 V2 Cream.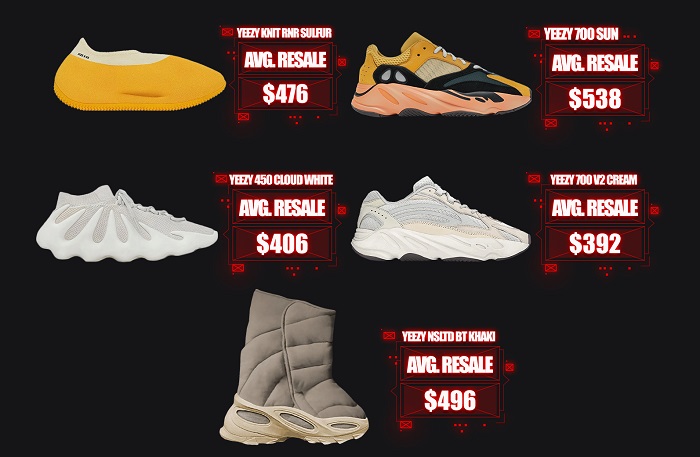 Top 5 Profitable Yeezys
Okay so here, we checked the price premium on Yeezys that dropped in 2021. You can easily calculate the price premium by subtracting the retail price from the average resale price. And then you divide that number by the original retail price and multiply the result by 100. That way you'll know how much profit you're making off your pair! And ironically, the best performers this year are none other than Slides and Yeezy Foam Runners. That could point to the fact that everyone is going for comfort and style (thanks to work from home and all). But if you're looking for some affordable alternatives for these babies, check this out.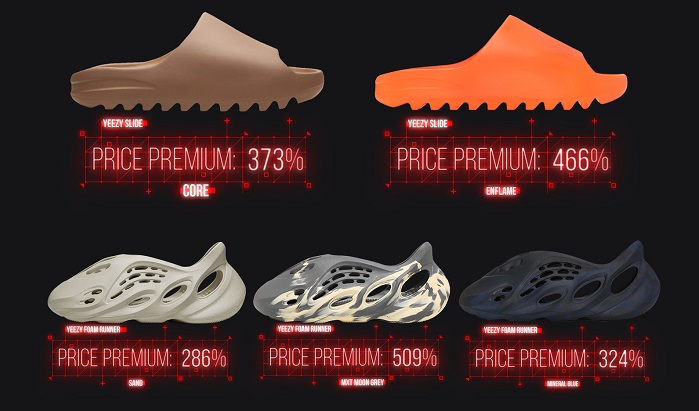 The Future of Yeezy Resale Prices
The last few years, and especially 2021, showed us that whatever Yeezus puts out to the world, it'll sell. And if you need further proof, you can check out the upcoming Yeezy KNIT RNR BT! In the meantime, keep an eye on StockX because they're preparing some serious Black Friday deals. And don't forget about all the Singles Day sneakers you can get this November. Godspeed 🔥