We're already on week 3 of Supreme's FW21! Can you even believe that? Well, we can because we thought last week was pretty boring. Anyway, before you @ us, this week is bringing some cop-worthy items. From the very classic Supreme Clarks to lollipop-looking car rims, we have it all this week! So, what will you be copping? Oh, and make sure you check out the winter sneakers we rounded up for you before it gets super cold!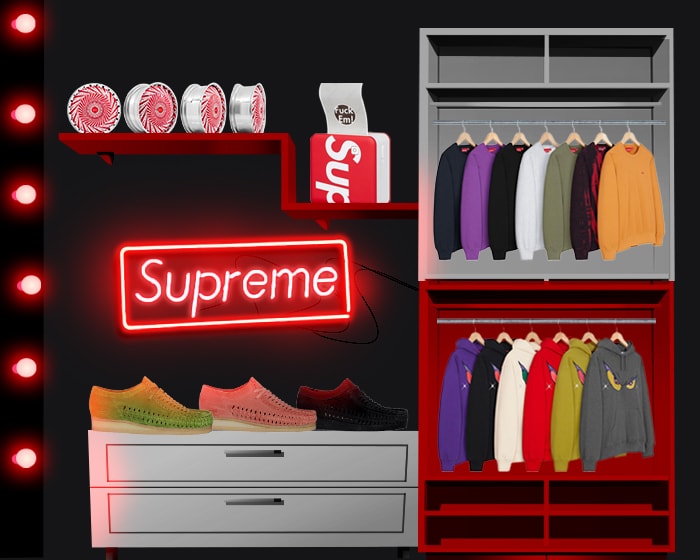 Supreme Clarks – Will the Dad Shoe Trend Ever Go Away?
There's a fine line between dad shoes being very cool and a flat-out embarrassment. And the Supreme Clarks totally annihilated that line. Are they pretty and hype-worthy? Heck no. Will they sell out? Definitely. I mean, it's Supreme after all, and anything with a bogo slapped on it sells. Of course, these won't get anywhere near the success of the Supreme Dunks, but many will be copping.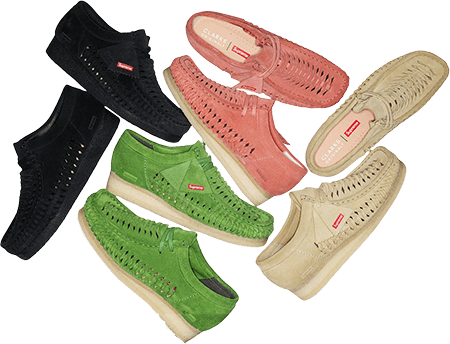 We gotta give it to the Supreme Clarks Wallabees, they are comfy comfy! It's also worth noting that the Supreme Clarks collab isn't new by any means. You can check out their previous releases and more right here. The FW21 edition of the Wallabees will be available in four different Supreme-exclusive colorways: pink, green, beige, and black!
Why Do You Need Supreme Car Rims?
The question should be "why not?" This is definitely not Supreme's weirdest collaboration, but it definitely is interesting. One thing's for sure, you're definitely fun at parties if you go for both Supreme Clarks and Dub Spinner rims! There are two ways to look at this collab. The first would be that this is a pretty crazy collector's item, especially if you're a car enthusiast. Another way would be knowing that this is some serious hypebeast level collab. The choice is yours fam.
PS: These would go awesome with the rest of the 'vehicle' collection like the Supreme bike!

A Crewneck to Go with Your Supreme Clarks
Okay, you gotta rock the full outfit if you're buying the Supreme Clarks Wallabees. And you gotta know that a Bogo crewneck will look absolutely perfect to complete the dad look. And we're not even being ironic here. So make sure you don't miss that drop because, well, it's cool. Also, we don't mean to brag about it, but we can help you style your kicks easily. Here's a Jordan styling guide, and one for Yeezys! You can thank us later.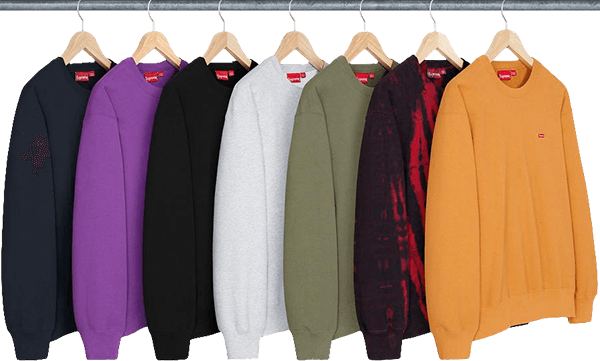 Who Doesn't Like Cool Cartoonish Eyes on Their Hoodie?
This hoodie made it to our list of must-haves just because it looks awesome. I mean, who doesn't like a hoodie with scary eyes embroidered on it? The "eyes" artwork on these hoodies is by AOI. AOI is a Japanese artist who collaborated with Supreme on multiple previous occasions. This time looks pretty cool though, and we're here for it! Honestly, we love anything animation, the Smurfs collab was proof enough.
How to Cop the Supreme Clarks and More…
Supreme sells, and that's a fact. The first-come-first-serve basis applies online, so you really really need to be fast about it. However, there's always gonna be someone faster than you. That's why you need to make sure you're on top of your game with a Supreme bot. But the bot alone is probably gonna fail if you don't provide the right setup. From the best Supreme proxies to some powerful servers, you'll even the playing ground a bit. Godspeed 🔥