On Week 6, Supreme Smurfs Is Totally Smurftastic!
Supreme is just not giving us any rest this season! Our bank account is screaming, but so are our envious friends. Who don't happen to have NSB to back them up on big drops! Last week's drop was mostly all about the accessories, but this week we go all in! We're moving through time and dimensions and visiting the Supreme Smurfs world. So if you're feeling blue, you're in the right place!
Disclaimer: The droplist is not complete yet. So keep checking our blog for the latest Supreme updates and more!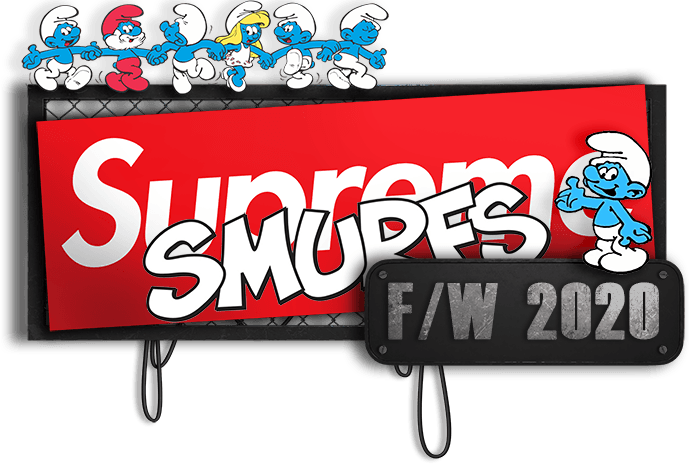 Supreme Smurfs Is All the Fun!
We all know this cartoon. Some of us grew up watching it, secretly wishing we lived in that upbeat village! However, things get all serious when the streetwear giant decides to collaborate. And it's no longer about fun and childhood memories. It's about Supreme resale and cashing in some big bucks. Although Supreme isn't a stranger to fun collabs, the Supreme Smurfs is definitely on the next level. So far, we officially have a beanie, a hoodie, and a crewneck.
However, the initial preview by Supreme gave us a lot more than this! In fact, the Gore-Tex jacket and pants were some of our top preview items! Moreover, we got a trucker jacket and matching pants which we're still waiting for to be confirmed.
Supreme Smurfs Crewneck
This item might be a bit controversial because it's kinda hard to style. But it can easily be a collectible or a resale item. So you don't really have to worry about styling it. Just a tip if you intend to wear them. Go for simple pants and kicks (black is the obvious option).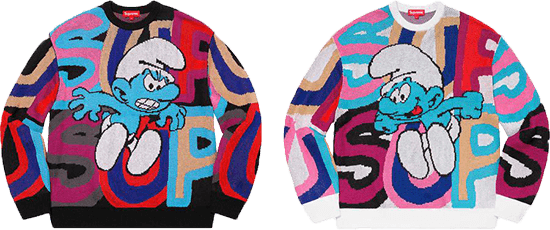 Supreme Smurfs Skateboard Decks
These will definitely be this week's bestsellers! Skater love some quirky skateboard decks. The weirder it is, the cooler. The decks will be available in black, purple, and red!
Supreme Smurfs Beanie
Wanna lowkey share your love for the cartoon? This Supreme Smurfs beanie is exactly what you need to do that without really going out of your way. The beanies will be available in white, black, yellow, and camo!
Supreme Smurfs Hoodie
Is it really an awesome collab without a hoodie? Supreme's hoodies are always awesome. Whether you're copping for the flip or the flex, they're worth the time and effort. Also, if you're looking for some cool gifts inspo for the Holiday season, this hoodie tops our list. So it should top yours.
The upcoming Supreme Smurfs hoodies will feature a blank front. However, the back will give us an awesome appliqué of Smurf and Smurfette with "Supreme" in Smurfs font! The hoodies will be available in black, white, red, blue, and yellow-green.
NSB Will Never Disappoint!
Are you looking for a good bot to cop Supreme with high consistency? Well, that sounds like NSB! We've been successful in the past 5 weeks, and before that all along Supreme SS20! And since Supreme FW20 is still young, you can always try your luck in the following weeks. So if you wanna stop these Ls, you know what you have to do.
We wrap up another successful Supreme Week with NSB2.0🍳

The release got surprisingly delayed by 7 minutes for the first time ever but NSB tasks were monitoring & users were able to COP as soon as they dropped⚡️ pic.twitter.com/YTLOu9ST9E

— NSB Bot (@NSB_Bot) September 24, 2020
Tags: FW20, supreme, supreme droplist
Posted in Supreme 0 comments