Some will argue that it's still too early to discuss winter sneakers. To those people, we say: Nope. You never know when it might go raining and you'll be stepping in mud. So why risk it? Now that we already have a September Yeezy lineup, and a Jordan lineup, we want more! We're ready to take the holiday season head-on. So let's check out what kicks should be in your winter sneaker collection this year!
The New Winter Sneakers of 2021 Hit Different!
So, winter is almost here, and we all know how snow, rain, and mud could affect your sneakers' life. And a pair of sneakers in bad shape is a bad look on any sneakerhead! But the new winter sneakers we're gonna discuss today are meant to help you bring heat in the cold.
Jordan 1 Low 'Sherpa Fleece'
Okay, I know what you're thinking. Who needs a hybrid of UGGs and Air Jordan 1s? But man do these look comfy. And really, what's so wrong with a pair of snug Air Jordans? The kicks come in a cool-looking beige suede upper and sherpa fleece sock liners. So if you're looking for a lit pair of kicks to match your loungewear, this pair is it!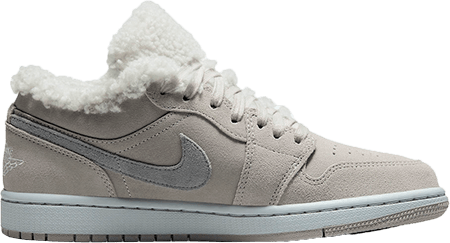 Jordan 1 High Acclimate 'Black'
Half boot, half drip. What more could a sneakerhead ask for? The winter sneakers will come in a weatherproof design that'll be helpful throughout the winter days. The upper comes in a cool black leather with a rubber-like feel to it. The perforations are also closed off to prevent water leaks and so on. The collar comes with AJ13-like pockmarks and eyestays like those we have on winter boots. Finally, the liners come in the same sherpa fleece as the Lows we just discussed.
Air Jordan 1 Acclimate 'Chocolate' – Winter Sneakers Can Look Yummy!
This pair lowkey reminds me of the ice cream sandwich. It features all the same technical weatherproof details as the all-black pair. However, the upper comes in a mix of brown and white, with a cool beige Nike swoosh. So if you thought that the black pair is a bit too grim, this is the perfect alternative for you!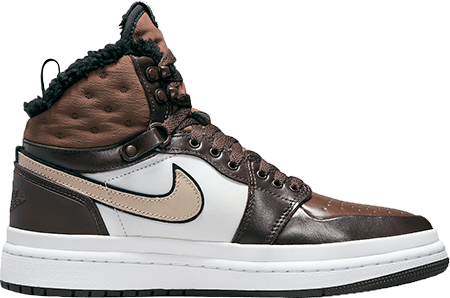 GORE-TEX and Air Jordan 1 Are a Win in Our Books
Although we still don't have clear deets about these kicks, we know we'll be enjoying winter in style. The new Jordan 1 High will probably come dressed in the weather-resistant Gore-Tex material. Rumor has it that the kicks will come in a black and grey colorway. Pretty basic, but we dig classic-looking sneakers.
Release Deets
So far, we don't have any release info about these babies. However, we expect that these winter sneakers will drop pretty soon. I mean, you don't drop things meant for winter during spring… do you? What we do know is that the kicks will be available on the Nike SNKRS app and at select retailers.
How to Score Them Winter Sneakers?
Now what we're gonna say applies to any sneaker you wanna cop, especially if they're hyped. You're gonna need a powerful bot, and you can check out your options here. You'll also need some awesome proxies, and sneaker servers that many forget. But we play the game right and hope for the best results: some major Ws!