What do we love more than one pair of new Air Jordans? A dozen or more of them! And this fall's lineup is pretty awesome, especially if you're building a sneaker collection. We all love us an amazing sneaker lineup because, well, who doesn't like fresh drip? So buckle up, and let's check out all the new kicks coming our way this fall. Trust us, you wouldn't wanna miss these drops, and will definitely need a sneaker bot for most of 'em!
New Air Jordans – For the Love of Ones!
Okay so, this season we're not just getting one colorway of Air Jordan 1, but four different ones! And honestly, we can never get enough of them no matter what. The first one on our list is the pretty fantastic "Pollen" yellow and black colorway. It will drop on July 8, 2021, for $170. The pair actually resells for $700, a must-have, right?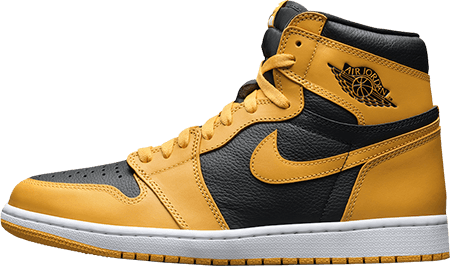 Next up, we got the pretty cool Jordan 1 Electro Orange. It's a mashup of orange, white, and black leather that can never go wrong! It'll drop on July 17, 2021, for the usual $170. And if you're looking for an easy flip, this pair will go for around $400!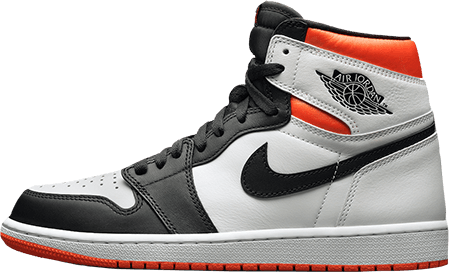 Now we're getting to some exciting news. The awesome Jordan 1 Prototype is a pair that will give you a feel of customizability! It comes with a collar that you can remove and bam! A new pair of Jordan 1 Lows. The kicks come in a mix of grey leather and nubuck with a dash of blue on the collar! The pair is set to drop on September 11, 2021, for $170!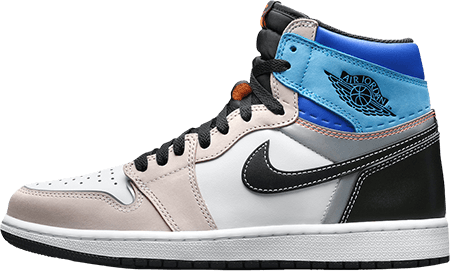 Last but not least, a women's exclusive pair is always welcome! The new colorway's inspiration, the very light green, is the sage herb. In addition to that, the laces come in a white/orange mix! Does that remind you of a certain pair of kicks? (Wink, wink Desert Sage 350s!) Anyway, Jordan 1 Seafoam will drop on August 12, 2021, for $170, so stay tuned!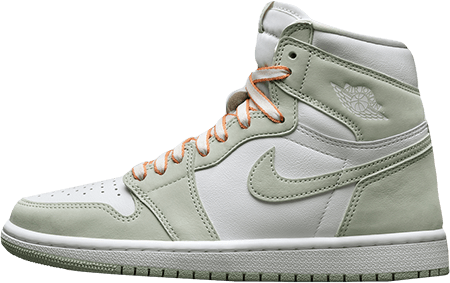 You Can Never Go Wrong With Blue Jordan 3s (and Some 4s)
Now, this pair is not only flip-worthy but flex-worthy too! It comes in awesome white leather, with the fan-favorite cement print. The only special thing about it is the royal blue midsole details. So, if our description floats your boat, then be ready to cop on July 10, 2021, for $190! The sneaker also resells for $450, so there's that!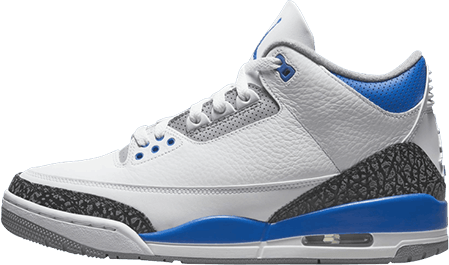 Another pair of 4s is pretty monochromatic, and a women's exclusive too! It features a neutral buttery leather upper. It's a pretty simple pair that you can easily style with anything. If you want in on that, Jordan 4 Shimmer drops on September 3, 2021!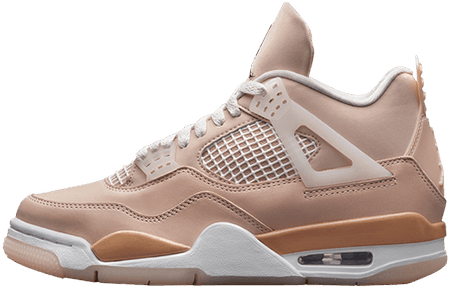 5s, 6s, All New Air Jordans!
The more kicks we're getting, the hotter the colorways. And first up, we got a classic, sentimental colorway, on an awesome silhouette! The Shattered Backboard has an awesome story behind it that you can read here. In 2021, Jordan 5 rocks the colorway with a white leather upper, and all the orange and black action in the midsole! Anyway, the kicks will drop on September 25, 2021.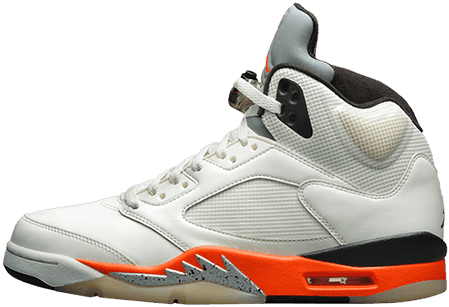 The next two kicks are a women's exclusive and an interesting color mix on the Air Jordan 6! First up, we got the Golden Hoops AJ6 dropping on July 1, 2021! The pair features a mix of white and an extremely light pink hue along with a golden hangtag. The pair resells for about $300, so pretty worth it in our opinion!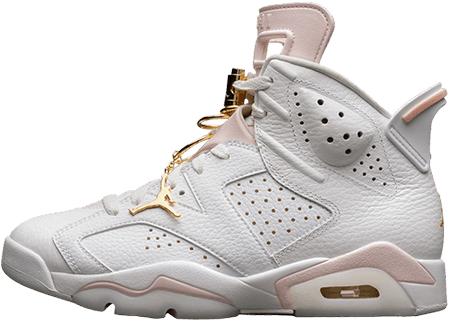 The last Jordan 6 on the list is a cool mashup of dark grey, light grey, purple, and poppin' orange! Air Jordan 6 Bordeaux is pretty lively and will drop on September 4, 2021, for $190. It's a pretty nice pair for the warm season yo!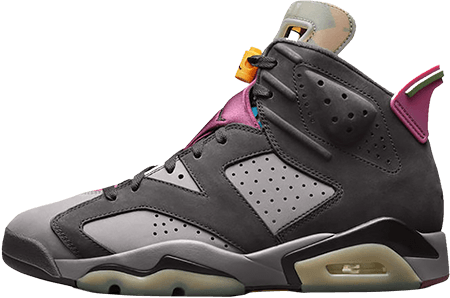 A Flashback from the 90s!
Now, last but not least, we have 5 more sneakers from 11s all through the 14s! First up, we got the interesting-looking Air Jordan 11 IE Bred. It features the classic bred colorway that makes any silhouette instantly awesome! In fact, this pair is specifically a 1996 retro, which adds to the cool factor. You can catch that drop on September 18, 2021, for $170. Stay tuned for more info about this pair!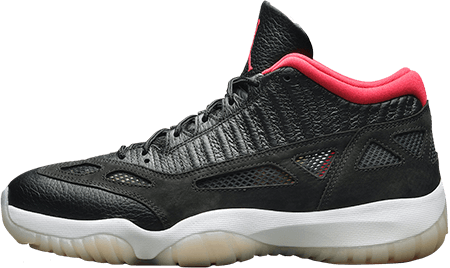 But Wait… We Ain't Done Yet!
Now we move on to the classic Air Jordan 12. It's pretty famous for things like the Flu Game, well who doesn't remember that? And now, we're gonna get two interesting colorways. One will come in a white leather upper and red metallic detailings. Jordan 12 Twist will drop on July 24 for $190.
The second colorway is a nod to Nike's sustainability movement. It features a black leather upper, but the action goes on in the outsole! Jordan 12 Utility's outsole is made of at least 3% Nike Grind! The kicks will drop on August 21 for $200. That's more expensive than usual, but maybe that's the cost of sustainability?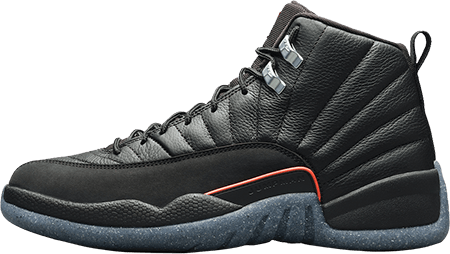 The second to last pair is a nice take of the obsidian palette on AJ XIII. We all know how successful this colorway is on the Air Jordan 1! So what stops it from being so on the 13s? With its very nice turquoise outsole, the pair will definitely be a banger! You can expect them to drop on August 14, 2021, for $190!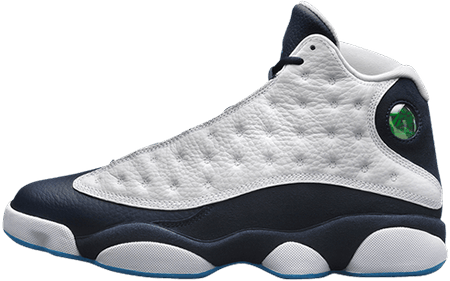 Finally, the last of new Air Jordans on our list is the AJ XIV, and it's a women's exclusive! So this colorway is technically a Bred, but the inspiration is actually red lipstick. Moreover, the black "packaging" with the popping red on the top don't leave much for the imagination! An extra bonus is also the tissue paper with lipstick stains that'll come with the packaging. The unique pair will drop on September 16, for $170! You better not miss that, especially that it's a pretty gender-neutral colorway.
How to Get the New Air Jordans?
Wow, that was an incredible trip to Jordan-land! However, that many releases will totally need more than luck to get them. So, what you will need? Well, first off, buy a sneaker bot, but not before you do these things! But when you do get your bot, you're gonna need to check out this cooking guide. Good luck fam!