Supreme Box Logo: The Streetwear Giant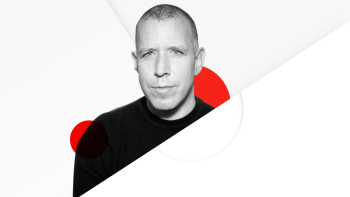 Supreme is a brand that you've never heard of before the 20th century. Twenty-five years later, after the British James Jebbia laid the foundation for streetwear in New York, it became one of the most influential giant brands worldwide. The Supreme box logo is the brand's signature, written in white on a red box logo, which basically turns any piece of limited edition streetwear and accessories into cash flow.
What's The Supreme Box Logo Story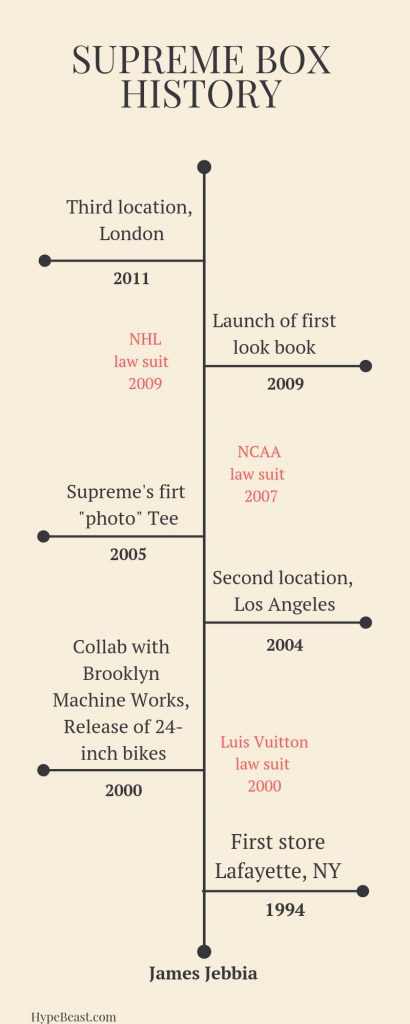 It was April 1994 when young James Jebbia opened his first store entirely dedicated to skaters, in the center of Manhattan, 274 Lafayette Street.
James had no idea his brand, going from a series of skate shops into a clothing line, would turn into undoubtedly a very hyped label for iconic streetwear nowadays. The Supreme box logo redefines what it means to be 'cool'.
Here's a timeline of the Supreme Box Logo showing the growth of this iconic brand from a single shop in 1994 to an expanding three locations and an in house look book by 2011. Supreme faced several lawsuits during that time, but none of them were able to pull it down.
Supreme Box Logo: Extra Shiny
What differentiates streetwear with the Supreme Box Logo is what makes people go crazy over the red block letter logo. Supreme Bogos are hyped for these reasons:
Exclusivity: Supreme clothes, accessories, and gears are very limited and you'd have to be very lucky to get your hands on supreme item releases. Today, it is extremely hard to get lucky with a Supreme bogo.
Resale prices: Supreme Bogos are worth around $1k on the resale market. You can check StockX and eBay to see how crazy the price jumps from the original retail price. 
Collaborations: By continuously collaborating with huge fashion brands like Luis Vuitton, the Supreme items maintain their hype which is worth your money. Over 50 collaborations have happened so far with skate brands, footwear brands, artists, tech brands, photographers, filmmakers, toy companies, furniture makers, motorcycle brands, celebrities (Michael Jackson, NY Yankees), and fashion lines (Rolex, Clarks) like: Nike, Vans, Louis Vuitton, Comme De Garçons, The North Face, Stone Island, and Dover Street Market. Supreme collaboration items are a must cop.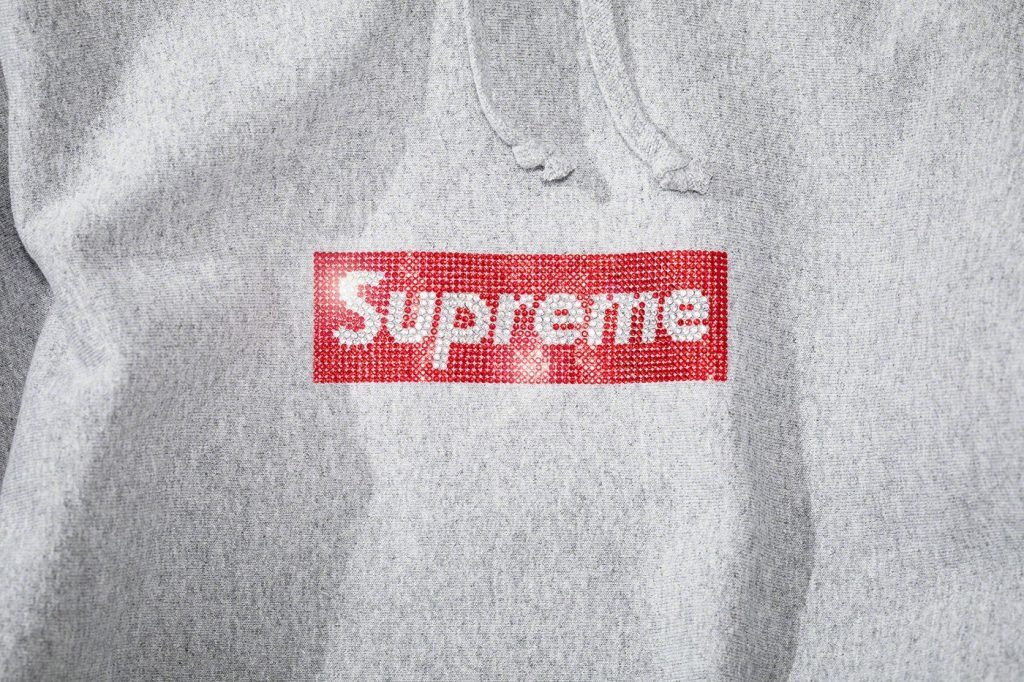 Supreme's Collab with Swarovski for its 25th Anniversary (1994-2019)
Besides all their previous knockout collaborations, this year's Supreme box logos and Supreme Bogos will be glammed up with Swarovski crystals. A series of tees and hoodies were released. Swarovski also blinged out the iconic Air Max 95 with crystals.
How To Score A Big W On Supreme Bogos
Thursdays have turned into the most important day of the week for Supreme fans. The day when sneakerheads and streetwear fans camp online hoping to cop a Tee or a hoodie.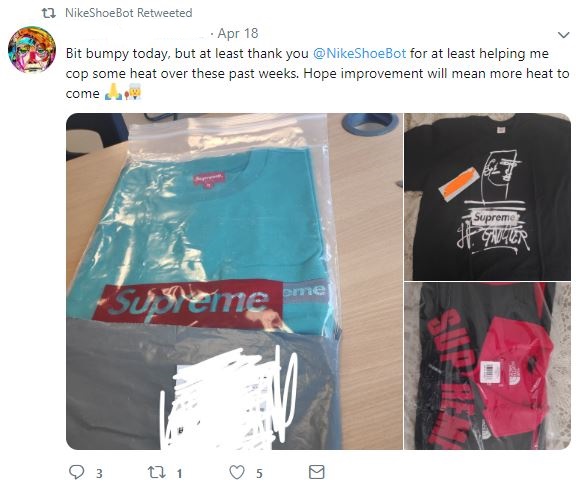 Their exclusivity and high resale prices have made Supreme Bogos a major target for those who are after a very rewarding investment. Whether you want to use, collect, flex, or flip Supreme items/accessories, you should cop at retail because Supreme prices are really high. Some Supreme items make more profit than others, for example, the fairly affordable face masks, the bogos, the decks, the beanies, and the bags.
When you have a big fish to catch, you have to be fully prepared with good bait. Of course, you can cop manually, but if you want to be on top of the game in the reselling business, you should have a powerful bait. You can use a Supreme bot that will guarantee your success in copping an item or two instead of depending on luck and end up paying the resale price. There's no fun in that whatsoever.
Plan Your Way To A Rich Lifestyle
With such a big win on Supreme items, there is a risk of getting banned and copping an L instead. Here are some of the precautions you can take to guarantee your success when using a Supreme bot:
Don't use the same billing and shipping info for two items

Don't use the same proxy for the same multiple orders

Don't purchase multiple pieces of the same item using the same payment methods

Don't try and cop a supreme item that's already expensive at retail
You can try copping manually either in-store or online but unless you're really really lucky, there's no guarantee it will meet up to your expectations. Having the speed and power of software would help you secure and check out your Supreme item in a matter of minutes. 
A variety of Supreme bots exist for you to choose the one that suits you best. The NikeShoeBot has been shown to be very successful in copping Supreme items, check them out on our twitter page @NikeShoeBot.

Posted in Sneaker Bot, Supreme 0 comments