Can you believe that we're halfway through the Supreme FW21 season? How time flies *dramatic sigh*. Anyway, this week we got another Supreme x TNF collab that prompted us to do a mini rating! But that's not all that's dropping this week. We actually have something that will kinda brand your Halloween by Supreme! If that sounds like an interesting idea, read on fam. If not, may we interest you with the upcoming Jordan 1 Rebellionaire?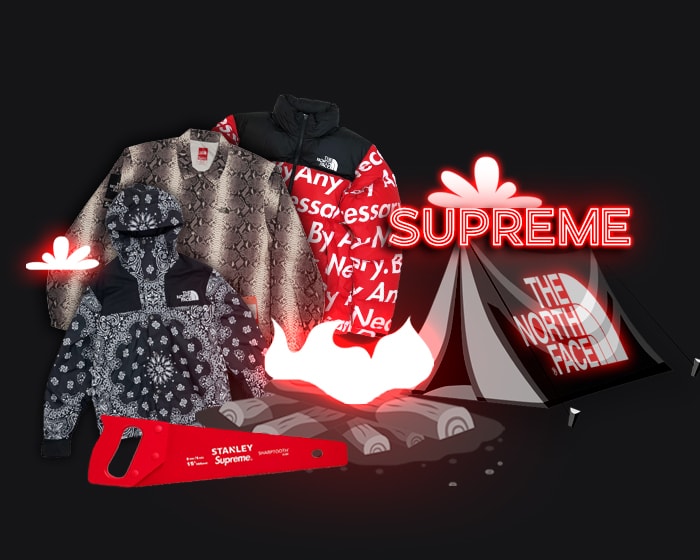 Supreme x TNF – FW21 Week 9!
Now that they're under the same parent organization, it's super easy for the brands to continue their collaborative streak. And this season, the collection is pretty cool with the variety of items it offers as usual! Although some people think the collab is underwhelming, we know that it'll probably sell out within minutes. It's worth noting that Supreme x TNF is bringing the Steep Tech back for this collab. Steep Tech dates back to 1991 and was the first collection designed by an athlete. You can read more about this here!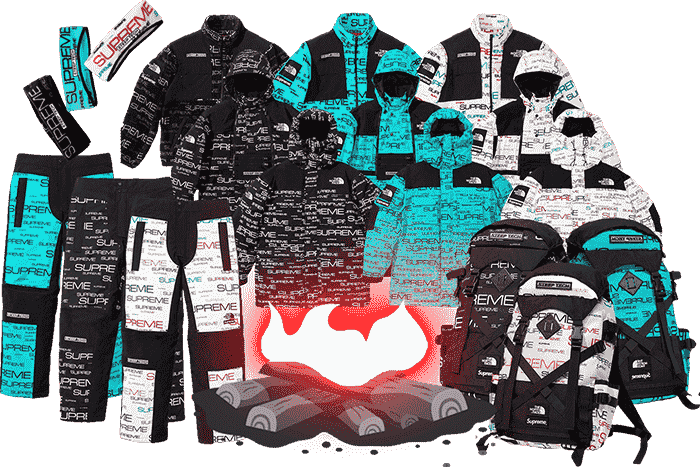 The FW21 collection will include parkas, fleece jackets, apogee jackets, pants, and headbands. These items will be available in black, white, and turquoise. But that's not all, because there will also be tees and hoodies with a mountain picture on them! The tees and hoodies will also be available in white, black, and turquoise. However, the tees will have an extra green colorway so one reason or another!
A Supreme Saw for the Handymen
Or if you're looking for some Halloween costume inspo you can go as a killer hypebeast. That pun is definitely intended. Anyway, we've seen so many weird Supreme accessories up to this point. We're not even surprised to see the Supreme x Stanley saw. And if you're all about branding, we definitely don't recommend getting serious business done with that.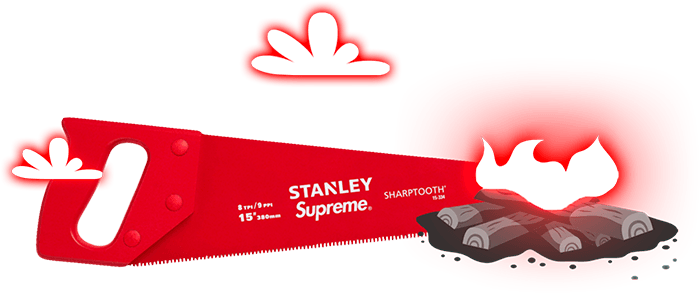 How to Catch the Drop?
If you're looking for a way to secure the Supreme x TNF collab, then you're in the right place! First off, you'll need a Supreme bot. Second, some good Supreme proxies and reliable servers are a must. Finally, check out this guide for some insight you'll need if you're new to the botting game!
And Now… Some Supreme x TNF Ratings!
We're gonna keep it short peeps. If we include all the Supreme x TNF collabs since day 1, it'll probably get dull. So we'll keep it exclusive to a list of top 5s! If you own some of these, then you're a real Supreme x TNF collector. Read on to find out what jacket you should own and how much each is worth!
Disclaimer: Some of these are purely personal opinions. Unless there's a number behind the opinion, then you know we talking facts.
The Not-So-Pretty
Okay, if you own this, there's no shame, it might become all the rage at some point in the future! But if we had to choose between this and any other Supreme x TNF item, we know it won't be it. You know, not anyone can easily pull off a snakeskin Coaches jacket. It's a pretty loud jacket that won't sit right with all tastes. But to each their own fam, and fashion is subjective after all.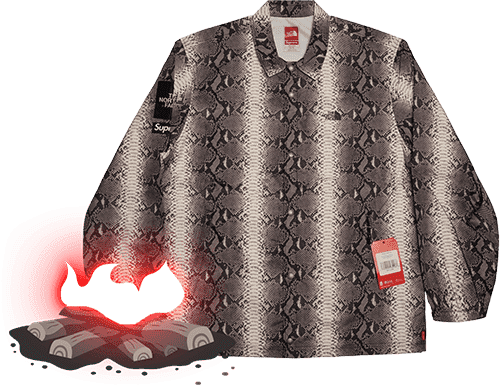 The Least Popular…
For good reason too! I mean, most Supreme fans will pay the extra bucks for that branding. Take away the branding, you take away the hype. And that's exactly what happened with the Supreme x TNF Venture Jacket from SS12. Many Supreme fans consider this jacket their least favorite despite not being completely hideous.
The Very Expensive
You know it's good when you got everyone looking for the jacket. The paisley print that is usually associated with royalty and gangsters alike came to life here! When the streetwear giant revealed this collab, it became an instant favorite. However, the parka got the most love during FW14. Today, the parka is worth $3,000 on average! Oh, and Supreme used that paisley print on lots of other stuff throughout the seasons.
The Most Interesting
Although the paisley parka is pretty interesting, it's not the most interesting on our list. That honor will go to the Malcolm X-inspired Supreme x TNF Nuptse jackets. The jackets dropped during FW15 and featured Malcolm X's motto "By Any Means Necessary" all over. You can find the jack today on the aftermarket for about $1,500 – $2,000.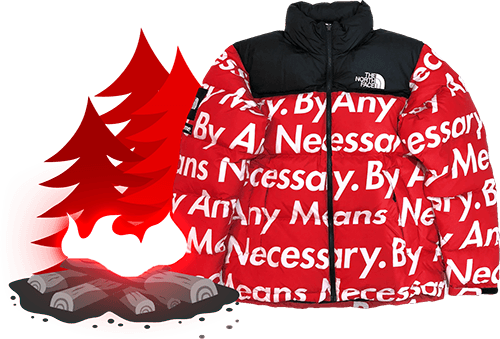 The Bogo-Level Grail
Last but not least, we have a jacket that goes back to the beginnings of Supreme x TNF. The "Day" and "Night" versions of the Summit Jacket show the New York National Library. These jackets are something like Supreme TNF lore, so if you have one of them, you're lucky! In fact, one of these babies sold on eBay for $14,000 and nothing less!