NSB 2019 Success Recap, Future Plans, and More!
The Sneaker Industry: Off To A New Decade
We're only a few days away from the beginning of a new decade!
And the deeper you dive into the sneaker game, the more you realize it's here to stay. What we consider to be Nike's jackpot deal with then-rookie Michael Jordan turned 35 in 2019 and we're still counting! The fact that Michael Jordan's sneakers, the same ones he wore on court, are available to the public made people go crazy over them! They're so addicted they buy and run savage sneaker bots like NSB to help them secure their shoes and dominate the sneaker industry.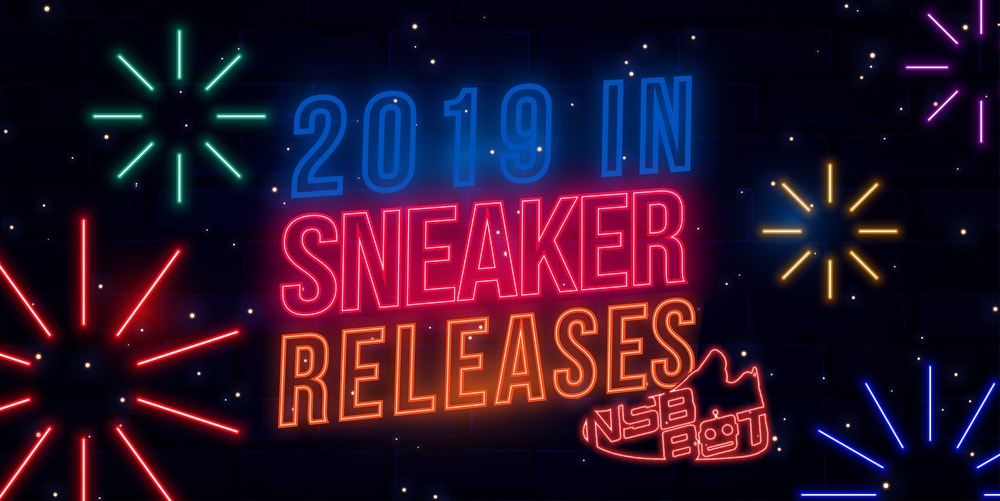 Sneaker Partnerships, Technologies, and More!
However, we can't overlook the major impact other partnerships have had on the sneaker industry and reselling market. Big Names like Kanye West, Pharrell Williams, Lebron James, Kyrie Irving, and many more helped in creating what's now one of the biggest collectors' communities ever! 
Aside from collabs and partnerships, innovation managed to take the sneaker collecting and reselling games to a different level. In 1995, online shopping became a thing with Amazon and eBay soon followed. But this evolution didn't reach the sneaker industry at that point. Sneaker fans still stood in line and waited, sometimes for days on end, for the limited sneakers. And with nerves on edge and long waits, people's patience started running out, which caused a lot of riots and violence! 
Later on, the waiting in line became too mainstream, because footwear brands like Adidas, Nike and others started selling sneakers and apparel online. This helped decrease the violence incidents rate and was a fairer method of selling sneakers. You'd get a chance to buy a pair even if you're living thousands of miles away.
Sneaker Bots
But the idea of sneakers being so easy to get appealed to too many fans, so much that competition grew fiercer on every release. And this increase in demand for limited sneakers meant you needed to seek the help of someone, or something to give you that extra push. And so we got Sneaker Bots and the rest is history!
Today, by the end of 2019, almost all sneakerheads have a bot or more to make sure they never miss out on any drop. So really, it's a bot war out there with the winners being the sneakerheads! And no one is showing any sign of slowing down. In fact, more and more people are getting into the industry that it stopped being a subculture and got acknowledged by the world! 
Finally, when you play the game of bots, you either win or you lose. That's why we're gonna go through everything NSB has done this year and you can decide for yourself whether you wanna have the best or not in 2020.
Introducing NSB2.0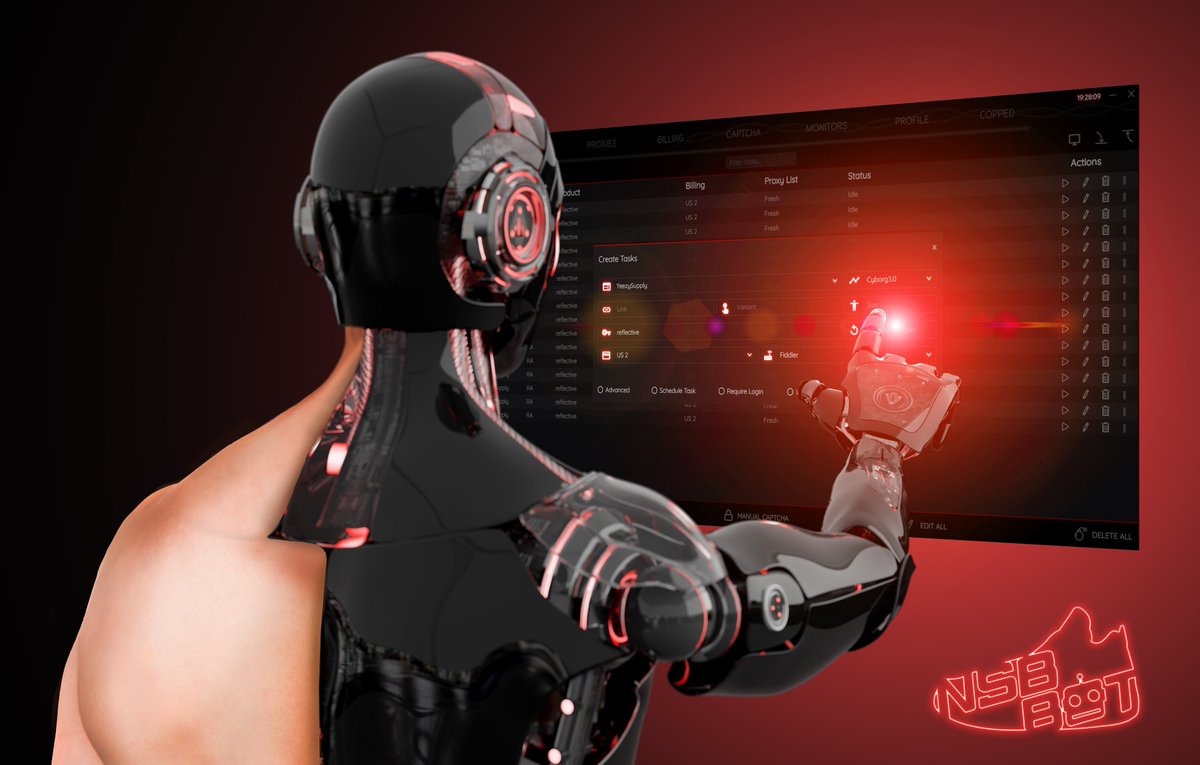 To keep up with the changes in the community and to cater to the needs of our users, NSB underwent some very big changes in 2019.
The first major event was NSB upgrading to NSB2.0 and along with this upgrade came some new features that helped NSB maintain its position as the #1 AIO Bot in the sneaker industry.
NSB2.0 was a breakthrough in the sneaker botting industry. But one feature that made all the difference was the Discord multi-monitor. Thanks to this new monitor NSB users got double the chance at copping limited items. Once on release time, and once again when an item restocks. And this helped our fam cop more than 2,500 restocks since the monitor was implemented. 
Adidas & Yeezysupply
One of the biggest additions to NSB2.0 was Adidas. Supporting Adidas and actually copping successfully on every release, gave our users a major advantage over other sneakerheads. Adidas has always been a tough cookie, but NSB is now one of the very few sneaker bots that cop off Adidas, let alone eat most of the stock. And so in 2019 alone, NSB has had over 6,000 successful cops on Adidas on major releases. 
If there was one big event that had the biggest impact on the community this year, it was Yeezysupply's shift from Shopify to Demandware. This move was a big hit to Shopify-only sneaker bots and their users who lost most of their chance to buy the most exclusive reflective Yeezys this year. However, NSB's users remained safe and sound. Soon after this shift, NSB2.0 supported the new Yeezysupply on Demandware, and nailed it! 
The result was more than 22,000 checkouts, out of which 1,550 were reflective Yeezys. And here it's not just the number of checkouts that counts, it's how much profit our fam made flipping those reflectives. In this case, we're looking at an average reselling profit of over $700.000!
Supreme Success FW19
https://twitter.com/NSB_Bot/status/1205195630693486594
NSB wouldn't really be an All-in-one bot if it didn't support Supreme, would it?
Well, after facing several technical difficulties, NSB2.0 is now one of the most successful Supreme bots you could ever run! But the most successful weeks this season were the most important ones.
NSB users scored more than 1,300 Supreme Box logo Hoodies, Tees, and Beanies rounding up to a potential profit of more than $350K on only 3 weeks of the Supreme FW19 season.
The Best Drops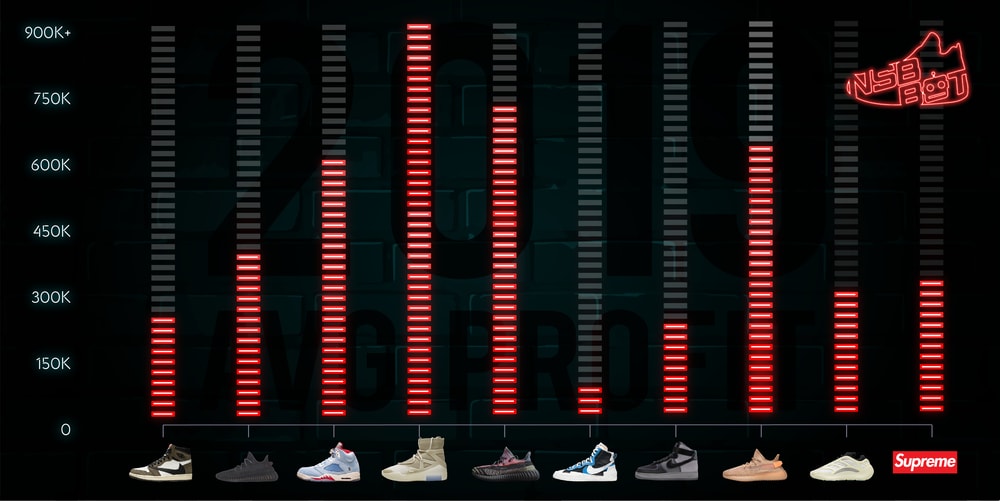 Although you can cop any item with NSB2.0, not everything you like is guaranteed to make you money. But 2019 featured many money-making releases that our users scored on and cashed in millions of dollars reselling them.
By reselling only several of the biggest releases of 2019, NSB users could make an average profit of over $4.5 Million, making NSB one of the most valuable investments you can make.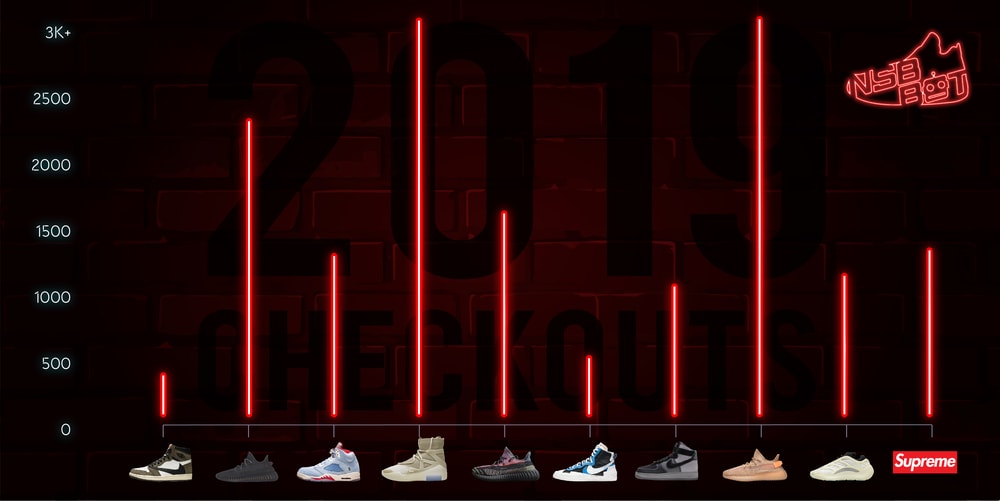 Checkout Numbers
In terms of success, NSB got the biggest slice of that cake in 2019. NSB's performance was the most consistent among all bots in the community. Scoring on almost every single release. In addition to copping big time on the biggest Supreme weeks this season.
To sum up 2019, NSB2.0 copped its users over 130.000 items, from sneakers to Supreme, Funko, and much more. 
Why NSB is the Best Investment to make in 2020
After all the success NSB users got in 2019, there's no stopping now!
2020 will be the year of major updates, great success, and big surprises. First on our list is implementing auto-checkout on Yeezysupply and Adidas (Demandware).
As for now, we can't reveal what's in the works, but we're taking cooking to a whole new level in 2020. So if you're not a part of our fam yet, this is the best time to join. Our users make hundreds and even thousands of dollars reselling sneakers they copped using NSB2.0, and you could enjoy that yourself. 
Posted in Sneaker Bot, Sneakers 0 comments