Today, we're taking the time to appreciate an iconic silhouette and shed the light on its latest hot colorways! Jordan 6s are by all means classics in the industry. And it's the day MJ wore the Infrareds and won his first ring with the Chicago Bulls that AJ6s when down in sneaker history. But besides the OGs, some colorways hands down stole the show when they dropped. And even in 2022, we're gonna get some hot drops that will keep the Jordanhead in us satisfied. You can also check out the 5 2022 Jordan 5s you'll really want to cop! Now, let's get down to business, shall we?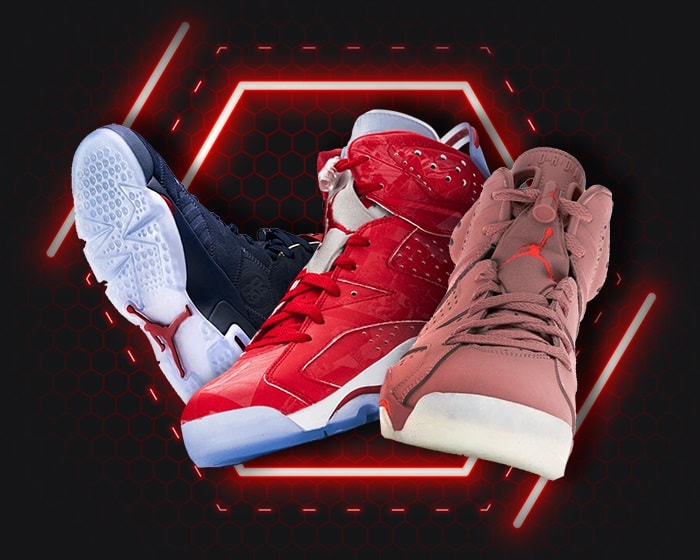 Jordan 6s That Every Sneakerhead Should Know and Own!
Before we get on with our listing, we gotta mention that we didn't include PEs. Why? Because they're extremely hard to come by. Not only that but these kicks are usually made for players and/or the family & friends. So we're sticking to the public releases that are pretty interesting on their own!
Jordan 6 Doernbecher 15th Anniversary
The Doernbecher Freestyle program is a partnership that started in 2004 between Nike and OHSU Doernbecher Children's Hospital. Every year several patients get to design their own sneakers, and boy the creativity is real. But that's not all, because some kicks end up becoming such bangers that they get a restock!  And that's exactly what happened with this colorway. The Doernbecher Jordans 6s initially dropped back in 2009 and everyone loved them. 10 years later, Nike decided to celebrate the 15th anniversary of the Freestyle program by retroing these babies! If you ask us, their hype is well-deserved.
Release Date (Retro): 2/23/2019
Retail Price: $190
Avg. Resale Value: $1,133
Jordan 6 Travis Scott Olive
After the humongous success of the Travis Scott Jordan 1, the partnership between them was only going up! So 5 months after the 1s, we got the very cool Jordan 6 Travis Scott in a military olive colorway. Signature details like the pouch and branding made the kicks even better. Although they weren't as profitable as the Jordan 1s, the collaborative Jordan 6s were still a big success.
Release Date: 10/11/2019
Retail Price: $250
Avg. Resale Value: $630
Jordan 6 Slam Dunk
Are you really an 90s kid if you didn't watch Slam Dunk at some point? Or maybe you were a die-hard fan who read the manga! If you're not familiar though, Slam Dunk is a Japanese anime series. It follows the story of a teenager who joins the high school basketball team to attract a girl but ends up loving the game! Anyway, the comic came to life in 2014 thanks to the epic Jordan x Slam Dunk capsule. The highlight of that capsule though was hands down the red Jordan 6 Slam Dunk!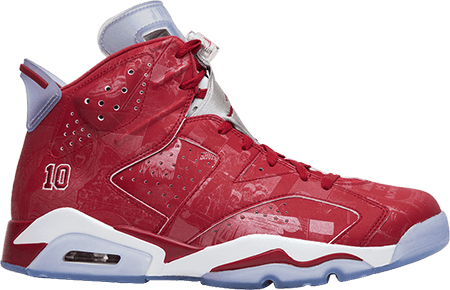 Release Date: 11/1/2014
Retail Price: $250
Avg. Resale Value: $624
Jordan 6 Aleali May (W)
Of course, the ladies have a share in the list of the best Jordan 6s thanks to Aleali May! Honestly, May didn't go wrong with any of her collabs so far because they're all cool as heck. Although they're not all equally hype, the looks of them are unmatched. It's only fitting to include the rust pink Jordan 6s here because they deserve it! In fact, they're pretty valuable today, especially if you're looking to buy a pair.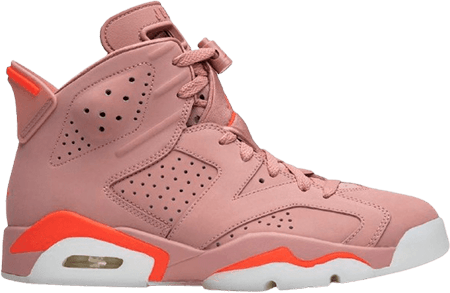 Release Date: 3/15/2019
Retail Price: $190
Avg. Resale Value: $527
Jordan 6 Travis Scott British Khaki
If one colorway was successful, why not go for another? And that's exactly the strategy that Travis and Jordan Brand went with… Why fix something that isn't broken? It kinda worked too, or else the pair wouldn't be on our top 6 list! The British khaki colorway was a hit, although it's not more popular than the olives. However, we won't be sad to own one of either pair!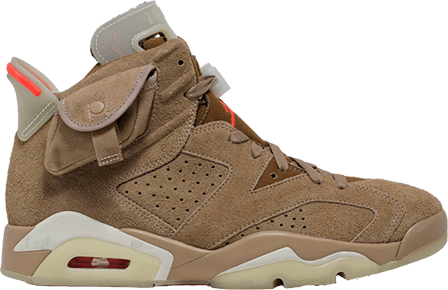 Release Date: 4/30/2021
Retail Price: $250
Avg. Resale Value: $522
Jordan 6 Midnight Navy (2000)
A pair that dropped in 2000 and we haven't seen since… until now, but we'll talk more about that later! The kicks are simple and clean with the white leather upper and midnight navy details. If you weren't around to get that pair back then, you'll wanna keep on reading!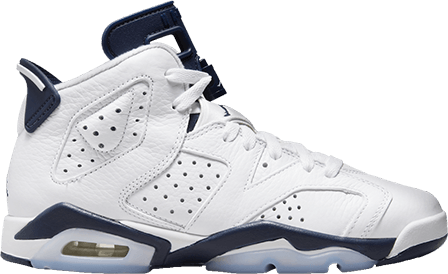 Release Date: 10/4/2000
Retail Price: $120
Avg. Resale Value: $492
What Jordan 6s Should We Expect in 2022?
Don't feel bad about not having any of these kicks, because 2022 has something juicy in store! The first pair is the beautiful Jordan 6 UNC. University blue suede and white leather make the kicks a treat to the eyes! The best thing about this all is that the kicks will drop on March 5, 2022, for $210. And for $474 in resale, we'd totally go sneaker shopping that day!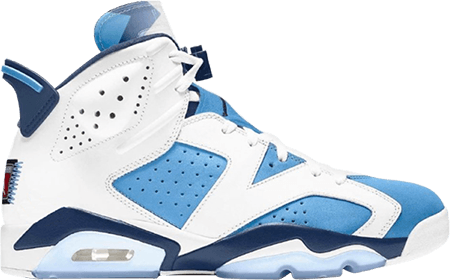 Now, we're gonna go into the rumors and speculations! The first pair that we really want to drop in 2022 is the Jordan 6 Red Oreo. An all-white upper with red speckled heel tabs and midsoles is definitely a pair worth having. Although nothing's for sure, the potential release date for these babies is June 2022!
And finally, we have the Jordan Midnight Navy that we just talked about. It's making its first comeback since 2000, 22 years later! Originally, rumor had it that the kicks will drop in April 2022. However, the release got a pushback to May 2022. The upside is you have lots of time to get ready for drop day because it's definitely worth it!
Wanna Cop the New Js? Here's How!
The year holds a lot of potential for you. Whether it's Jordan 6s or any other silhouette, you can make a lot of cash in 2022 through sneaker copping and reselling. So what you have to do is try to get on the winning side of things! In order to do that, you'll need a good all-in-one bot like NSB. It's successful, affordable, easy to use, and long-standing in a fast-paced industry! But before you get too excited, there's a whole setup that you need to plan your budget for. From proxies to servers, this guide will give you the essentials for a successful cooking experience!
And if you're going in to start a sneaker reselling business, you should know if you're the person for it! If you're not, here's what you need to do to become a reseller! After all, the resale industry is just like any other business and it had its requirements. Luckily, we also have a sneaker reselling guide that can come in handy if you're serious about it all. Godspeed 🔥