Sneakers in the Metaverse – Beyond the Real World's Limits!
Just as everything is going digital, you'd think that the sneaker industry would go out of pace. Welp, we're so wrong about that. The digital world is up and booming with lots of new ideas, currencies, and stuff we still don't have a grasp on. But let's stick to the things we know and talk about sneakers and the sneaker industry. How will sneakers in the metaverse affect the industry? And what are brands doing to infiltrate this "new world"? Let's find out together right now!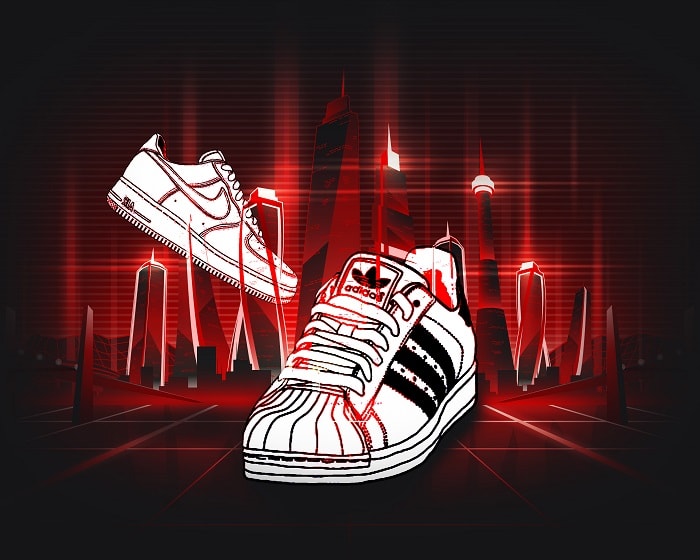 What's the Metaverse?
Put simply; the metaverse is a digital world where you can do everything you usually do. Social events, shopping, doing outdoor activities, and even going to work; it's all there. You'd think that something like that already exists in places like Fortnite, Roblox, and others, but it's bigger than that. For example, your Fortnite avatar is limited to Fortnite itself and so on. Metaverse is a big step towards virtual reality and could technically be the future of the internet.
On the other hand, in the metaverse, you can move your "avatar" from place to place like you usually do with media. Although it's still in its early stages, we're pretty sure that the metaverse is gonna be something great! But how does the sneaker industry come into all of this?
Sneakers in the Metaverse – How Will That Work?
So, we've already seen NFT sneakers and people paying bucketloads of money to own some. But how about sneakers in the metaverse, and what are brands doing to transition to the metaverse smoothly? Well, each brand is handling it differently, so let's check out what each brand is doing.
Nike Launches Nikeland on Roblox
Speaking of avatars, virtual reality, and activities, we've got the incredible Roblox universe! And if you're not familiar, Roblox is a platform where you can find different games. You can design your own or play games that other programmers made. You can read more about why Roblox is a big thing here.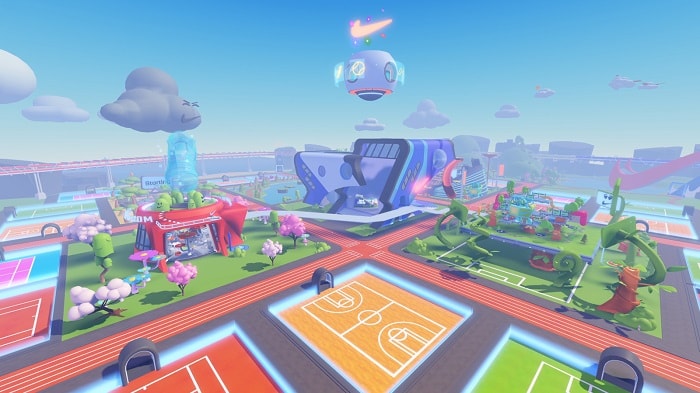 Anyway, Nike created a great space that they called Nikeland. You can go in, build your court and customize it, as well as go into pre-built places. You can host games for you and other to play on like tag, dodgeball, the floor is lava, and more! Not only that, but you can also dress your avatar up with Nike gear. Entry to Nikeland is free, but you have to pay game money for the apparel! If you want to read more about the whole Nikeland project, check this out. But this proves that Nike is making a serious move to the virtual world.
Adidas, NFTs, and the Sandbox!
Now, this is where it gets interesting. Why? Because Adidas is taking NFTs and their metaverse presence seriously. First off, Adidas Originals' profile picture became an NFT of an ape wearing Adidas gear. The NFT is in collaboration with the Bored Ape Yacht Club, and together, they're jumping into the metaverse! That's not all, though, because sneakers in the metaverse are more than the NFTs.
Adidas bought a piece of "land" in The Sandbox blockchain game. And unlike Roblox, you'll need a crypto-wallet to be able to sign in! Although we still don't know what the trefoil is going to build, we're sure it's going to be exciting. So we'll keep a close watch on any news that comes our way!
Today we leap Into The Metaverse with @BoredApeYC, @gmoneyNFT & @punkscomic.

It's time to enter a world of limitless possibilities.https://t.co/LmgtrRn20c pic.twitter.com/40kU8tayrS

— adidas Originals (@adidasoriginals) December 2, 2021
Are Sneakers in the Metaverse the Future of the Industry?
They totally can be if the metaverse becomes a sure thing. But virtual sneakers will never replace real ones. We will always need sneakers to flex at work, casual footwear options, and hype Jordans to flip for cash. And to own tangible, real sneakers, you need a sneaker bot.  
So, if you're also new to the botting game, we say you take it step by step! First off, you need to learn what a sneaker bot is and what it does. And then just take a moment to read this guide; it'll show you what you need to make the best out of your botting experience. But mainly, you'll need sneaker proxies and reliable servers. But always remember, a sneaker bot won't guarantee a successful sneaker purchase! Godspeed 🔥
Posted in Sneakers 0 comments