Jordan 4 Lightning – An Electrifying Pair Since 2006!
2021 is just the gift that keeps on giving, isn't it? Classic 00's and 90's colorways are making strong comebacks like there's no tomorrow. And don't get us wrong, new and old sneakerheads alike are grateful for this. And if Air Jordan has anything to offer, it's hot classics. Jordan 4 Lightning is exactly that, and it's finally coming back after being MIA for 15 years! If you're ready for this release, read on for all the deets.
Jordan 4 Lightning – 2006 vs 2021
Okay, the excitement is real. However, when Jordan Brand retros something, something is almost always different about it. That's why we're going to analyze the Air Jordan 4 Lightning and compare the 2006s to the 2021s. Surprisingly, Jordan Brand is keeping the 2021 edition true to the 2006 OG.
But why is Jordan 4 Lightning a grail for so many people even to this day? Well, when it dropped back then, it was a Jumpman23 exclusive online drop. You also got a matching tee back then. Unfortunately, we won't be getting a tee this year, we're still happy about the retro though! Can you imagine styling these Jordans? It will be totally bomb, and you know it.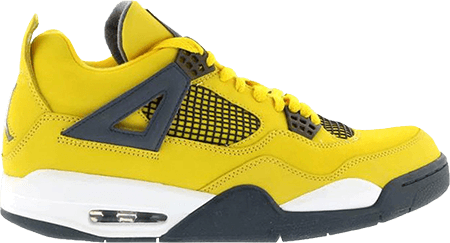 Jordan 4 Lightning Features
Since we established that bot kicks are almost the same, let's see what we'll be copping. Jordan 4 Lightning features a tour yellow nubuck upper with hits of dark blue-grey on the eyelets wings. The midsole comes in a mix of white and the same shade of dark blue-grey. The 2021 pair stays true to the 2006 pair by the Jumpman on the heels and the "flight" tongue tag! So all in all, it's like a second chance from heaven to complete your Jordan sneaker collection.
Release Deets
If you're big on matching your kicks with the fam, then this release is definitely for you. 2021's Jordan 4 Lightning will drop in full family sizing! They'll drop on August 28, 2021, and the men's pair will retail for $220. It's a must-have because, besides the bragging rights, you can flip the kicks for $360 on average! So imagine copping in bulk with $100+ profit? We be making cash baby!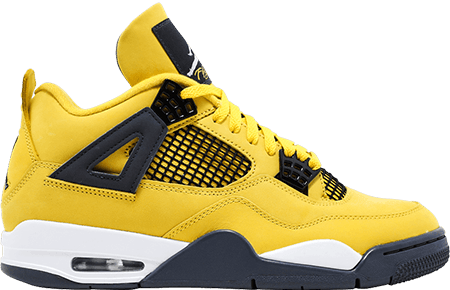 It's also worth mentioning that the OG Jordan 4 Lightning resells for $1,675 on average on the aftermarket. But that comes down to the fact that the kicks were pretty exclusive back then. Maybe that, along with the kicka$$ colorway, that elevated them to grail level, amirite?
How to Not Flop on Drop Day?
If you really think about it, Jordan 4 Lightning is one of the highlights of general sneaker drops in 2021. But just as you want it, so do lots and lots of sneakerheads. So the kicks will be dropping on Footsites and Nike SNKRS. And if you want a real chance at an actual cop, you're gonna need a sneaker bot. You can either go for the best all-in-one sneaker bots or dig into the world of Nike bots.
Whichever way you go, you're gonna need to provide the right setup for your bot. Luckily, we have just the guide you need here! But some of the most important things you can get your bot are sneaker proxies and servers. Oh, and being up-to-date is a must, so keep it locked on our blog for the latest sneaker news! Godspeed 🔥
Tags: air jordan 4, Air Jordans, Jordan, Michael Jordan
Posted in Jordans, Sneakers 0 comments