The Black Jordan 12 Utility Merges Sustainability With Drip!
Jordan's fall lineup for 2021 is certainly living up to our expectations. And the brand is famous for taking things further and going the extra mile. So how did they do that with the upcoming black Jordan 12 Utility? We'll find out in a bit. In the meantime, you can check out the upcoming Air Jordan 1 Pollen and Jordan 13 Obsidian! You know, August Jordans just hit differently. Anyway, let's get to business!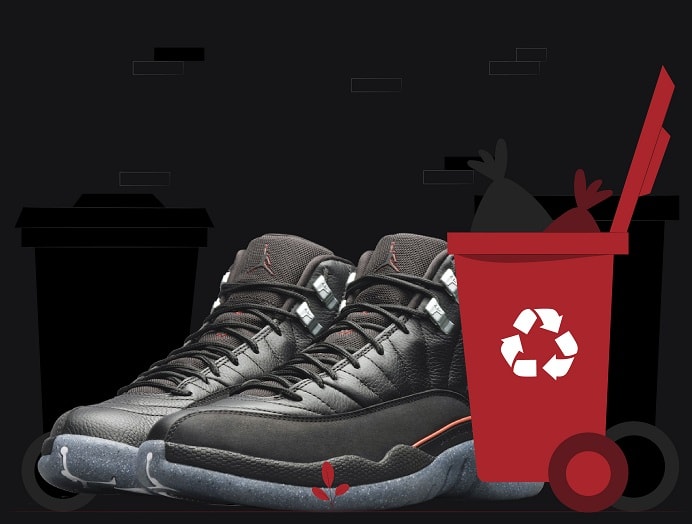 We All Need a Black Jordan 12 in Our Lives
So if you're looking for an everyday pair of kicks that will keep the drip going, we got it. And if you're looking for a pair to add to your Jordan sneaker collection, it's here too! But first, we're gonna do a recap on our favorite black Jordan 12s that are always worth owning.
Black Jordan 12 OVO (2017)
One of Drake's awesome collabs. And peaking on Champagne Papi, did you check out his upcoming Air Force 1? Anyway, the black Jordan 12 comes in a mix of nubuck and faux stingray leather. Even the eyelets are black on this one, which makes it very easy to style! Anyway, the pair is worth an average of $507 on the aftermarket!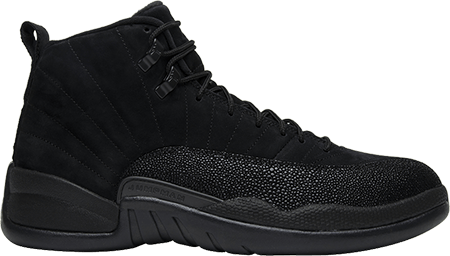 Jordan 12 The Master (2016)
This pair was a direct tribute to one of MJ's famous posters: The Master (1997). The kicks feature a black leather upper and a touch of white. But the eyelets come in a gold fit for GOATs! If you wanna vibe wearing this, then you're gonna have to pay around $382 on the resale market.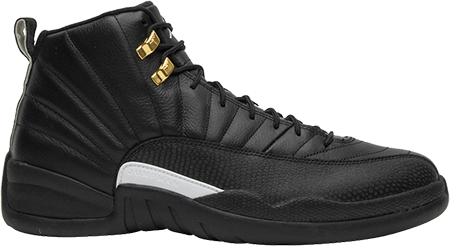 Air Jordan 12 Winter Black (2018)
Although it's scorching hot in the northern hemisphere, we gotta send some love to sneakerheads in the south! The Winter Black Jordan 12 is a must-have for them cold winter days. The kicks are literally all-black with cozy plush-like sock liners! You can get the winter Black Jordan 12 today for $337 on average.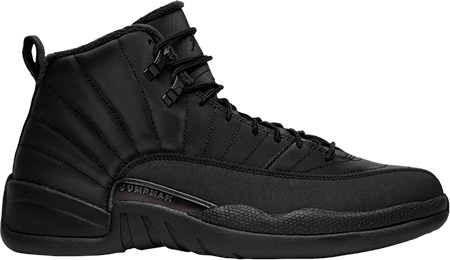 Air Jordan 12 Utility – Sustainability Is Key!
The upcoming black Jordan 12 Utility features an awesome black leather and nubuck upper with a dash of crimson. But the real action goes on in the midsole! It actually comes in a cool bluish gray grind material. Now, Nike Grind is a mix of recycled materials that come from old kicks, manufacturing materials, and more. So this pair has sustainability in mind!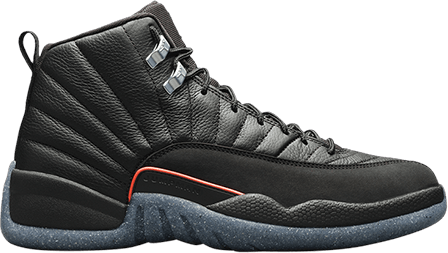 Black Jordan 12 Utility – The Deets
The cool black Jordan 12 Utility will drop on August 28, 2021, for the usual $190. And you'll definitely wanna cop in bulk because you can flip them for $346 on average! But to do that, you're gonna need to have a great sneaker bot. However, a bot alone won't do the trick without the right setup! So make sure you get the right proxies and servers before drop day. If you wanna know more, check out this guide we made! Godspeed 🔥
Tags: Air Jordan 12, Air Jordans, Jordan, Michael Jordan
Posted in Jordans, Sneakers 0 comments