The sneaker industry is growing bigger and bigger by the minute. But with big industries come big controversies… Or at least some really weird incidents. Although some of the biggest controversies revolve around how and where sneakers are made, we got more interesting and fun ones! Even more fun than all the weird Yeezy names and overpriced clogs! But nothing really tops the backdooring scandals occurring very often in this game! So here are our favorite weird sneakers stories and what went down with them! Just kick back and enjoy the ride.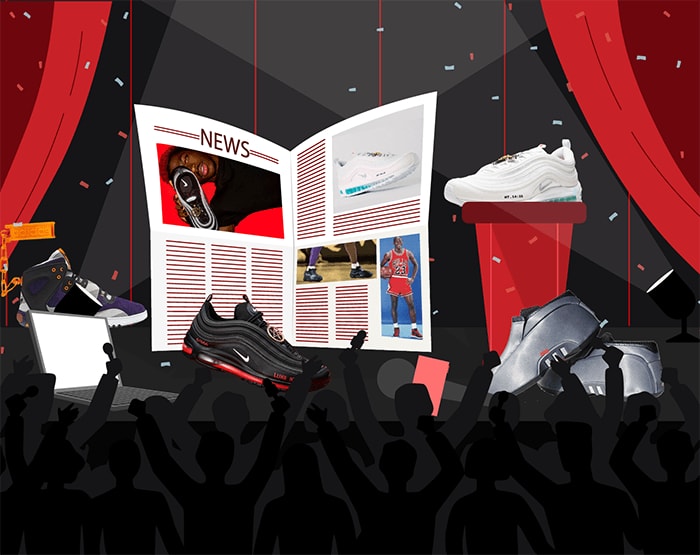 MSCHF's Weird Sneakers Spark Controversy TWICE!
2021's Satan Shoes
So this one is pretty fresh off 2021! So it all started with Lil Nas X's latest music video, which was controversial on its own without any kicks. People are still split, some are loving the song, and some are pretty against it. But the real sh*tshow started when MSCHF and Lil Nas X partnered up!
So a little background on MSCHF; they're there for the chaos! No, but seriously, it's a brand the operates randomly and goes viral for it. In the CEO's own words: "They're making light of how much everything sucks"! So you won't really get what MSCHF really is, and that's where the magic happens. I mean, they made artwork from medical bills, and used the revenues to pay off those same bills!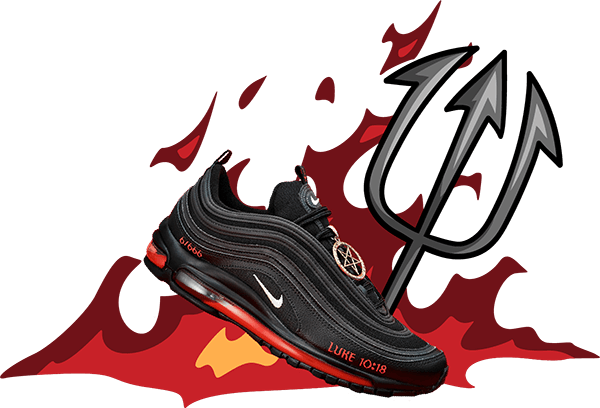 Their latest shenanigan was a partnership with Lil Nas X over a custom Nike Air Max 97. Or what everyone is calling "Satan Shoes"! The pairs featured a pentagram, and the number 666. They made 666 pairs only, all numbered. Oh, and the kicks contained one drop of human blood… yep. But soon enough, Nike fired up with a court case and the court ruled in favor of the swoosh. They banned the 666th pair which was gonna be the prize of a giveaway, indefinitely. Naturally, MSCHF had something to say about it, and you can read what they said here.
2019's Jesus Shoes
Although Satan's shoes got lots of publicity, MSCHF hit the controversy jackpot two years ago too! A custom Air Max 97, dubbed "Jesus shoes" kinda has this effect. MSCHF actually filled the air unit of an Air Max 97 with holy water from the Jordan River. So that way, you're actually walking on water. The brand also added a golden crucifix as a lace charm. Interestingly enough, Nike didn't sue the company back then! And if these aren't weird sneakers, we don't know what is.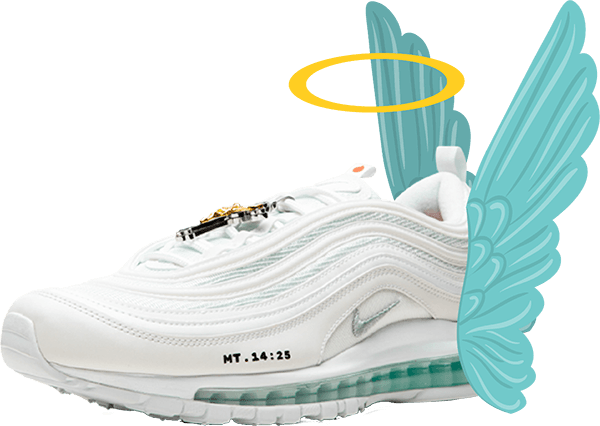 Air Jordan 1 Banned
Not really weird sneakers, but these kicks sparked one of the biggest controversies in the history of the industry. In fact, it's arguably the pair that kickstarted the industry in the first place! So as the legend goes, in 1985, Michael Jordan showed up in kicks that violated the NBA regulations. These allegedly were the "Banned" Air Jordan 1s. Further investigation shows that it was the Nike Air Ship! You can read more about that and the full Air Jordan history right here.
2003: Converse "Loaded Weapon"
Okay, this one is old news, but we had to include it because it had a pretty atrocious name. It might not have been this controversial on any day. However, it was pretty inappropriate since the murder of Patrick Dennehy, a basketball player at Baylor University. He was killed by his teammate who's still in prison to date. However, this year, he'll be eligible for parole. So anyway, you can see how Converse didn't really read the room with that one huh?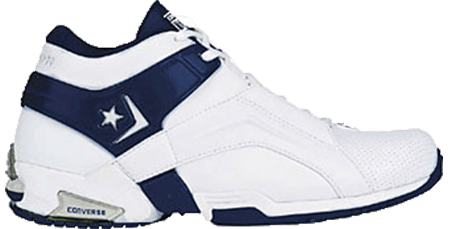 Kobe 2: If Weird Sneakers Needed a King
We're not even kidding, that's a pretty ugly pair of sneakers. In fact, it's so ugly that it actually made it to sneaker culture. Why? Because even the player who endorsed it dropped it… Kobe Bryant showed up for his final Lakers game of season 01-02 in the Kobe 1! And that was lowkey a factor that led Kobe to buy out of his Adidas contract and move to Nike. Now we don't fault him for doing that, that pair was… well, very ugly. Despite that though, the pair is as memorable as the coolest looking sneakers! And seriously, the transition from Adidas to Nike was a step up for the Black Mamba kicks. So the Kobe 2s are weird sneakers that we'll probably not forget anytime soon. Kobe 1 and 2 today are called Crazy 1 and 2 since they can't use Kobe's name anymore. It's a game of nostalgia now!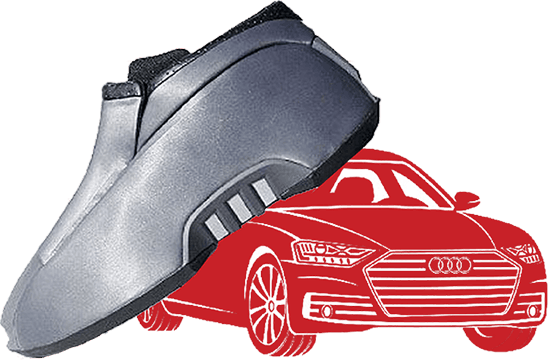 Adidas Roundhouse's Weird Sneakers… Handcuffed!
Now we'll fast forward to 2012, where controversy erupted over Jeremy Scott's design. The purple and orange pair itself isn't problematic, the accessory on it is. The Roundhouse Mids came with orange handcuffs for the ankles. Now, we just gotta put this into perspective. Jeremy Scott is a pretty eccentric designer, so you gotta be open-minded when looking at his designs. The first time images of the weird sneakers were leaked they didn't really stir up a lot of trouble. Later on, though, the controversy erupted on the internet, and the press picked up on it! People connected the cuffs to slavery and accused the pair of being pretty racist. But apparently, the actual inspiration behind the pair is My Pet Monster. Now whatever the inspiration behind them is, Adidas pulled the plug on the design.
However, those weren't the only handcuffs we've seen in this whole sneakers/streetwear scene. In FW17 Supreme dropped a handcuffs keychain for $18. But as Supreme is just the epitome of controversies, THOSE handcuffs didn't receive as much backlash as those by Jeremy. If anything, they're flipping now for over $50 USD!
Beyond Weird Sneakers: Warren Lotas and Nike
Do you remember what went down in 2020? Nike seems to have served a couple of copyright infringement lawsuits in 2020 and 2021! 2020's famous lawsuit was for the notorious Warren Lotas. Although the designer is famous for awesome tees which NBA players rock on multiple occasions. But it got pretty controversial when Lotas announced that he's dropping his version of the Pigeon Dunks. He technically just swapped the swoosh with Jason Voorhees' mask. And that wasn't enough to save him from the lawsuit!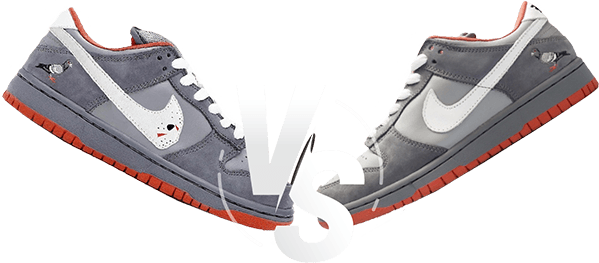 What Controversial Sneakers Will 2021 Have in Store?
So far, Lil Nas X takes the *figurative* throne of controversy. But the year is still young, and we'll be waiting for any and every release of the sort! So make sure you keep it locked on our blog for the latest sneaker news and awesome releases. And if you'll attempt to cop, make sure you've got NSB by your side. After all, it's the best AIO bot in the game!
RT = WIN NSB2.0

Our Supreme success continues today with Week 6!

Users cooked the Swarovski Hooded Sweatshirts, Beanies & the Supreme Wheaties

Who's excited for next week?! pic.twitter.com/FH4EIcCnVm

— NSB Bot (@NSB_Bot) April 1, 2021