When It All Began
The all-time Nike swoosh along with the slogan "Just Do It" has undergone a series of changes with time to become the iconic logo we see today. The Nike swoosh we see today is not the initial swoosh that was created. Starting from the 1970s, when the graphic designer Carolyn Davidson created the first mockups of the logo, but they didn't quite get a thumbs up from Phil Knight, Nike founder and accounting professor back in the day. His actual words were "Well, I don't love it, but maybe it will grow on me." 

After a series of font changes from a cursive serif font to Futura Bold and even placing the logo in a red square for a short time. After that, it was around mid-80s when the Nike slogan "Just Do It" was inspired by the last words of the serial killer Utah killer Gary Gilmore, and the endorsement of major athletes and above all Michael Jordan. In 1995 Nike logo became the final one that we all know today. And Nike sneakers and Jordans are great targets for worldwide sneaker resellers too. 
The Nike Swoosh Meaning
The worldwide brand combines complexity and simplicity and so does its logo. The Nike swoosh borrows the wing shape of the Greek goddess of Victory. This symbolizes the sound of speed, movement, power, and motivation. And so these swoosh characteristics would transfer to and inspire every person wearing Nike kicks or sportswear.
Altered Nike Swooshes
Who would've thought that the $35 logo design which was rejected repeatedly, would turn into the symbol of speed, athleticism, and quality in apparel design for sneakers and sportswear? In order to stay on top of the game, Nike strives for innovation, style, and comfort. With most sneaker brands adding a fashionable sense style to the strictly sports sneakers,  The Nike brand along with its collab, the Jordan brand, are creating alterations of the Nike Swoosh. Here are several design alterations that we can see on newly and previously designed Nike and Jordan sneakers. 
Removable Swooshes
Nike decided to add removable swooshes for change to the Nike Air Max Plus and Air Force 1 Low. The latter is dressed up with two swooshes of greatly divergent material swatches.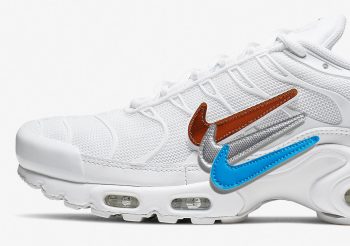 Nike Air Max Plus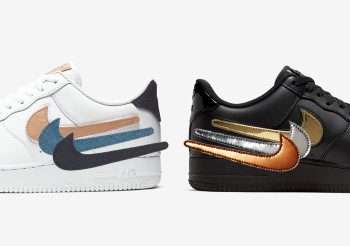 Nike Air Force 1 Low
Jewel Swoosh
Jewel swooshes seem to be liked and used more often in the sneaker market. Up to date, we have the Air Jordan 1 Mid "Fearless" and preceded by the Air Jordan 1 Mid "Quai 54" featuring jewel swooshes.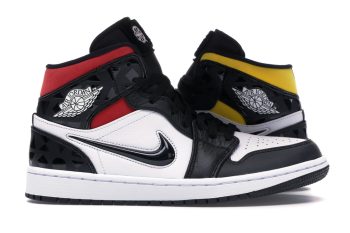 Air Jordan 1 Mid "Quai 54"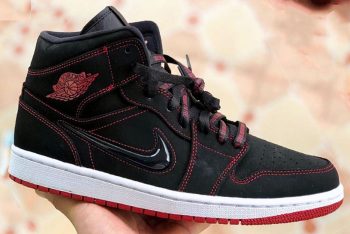 Air Jordan 1 Mid "Fearless"
Stripped Swoosh 
The first of its kind, the stripped Nike swoosh is primarily featured on the Nike Air Max 1. Appearing in a form we haven't seen before, the usual Nike swoosh is ending with three strips in the swoosh's ending.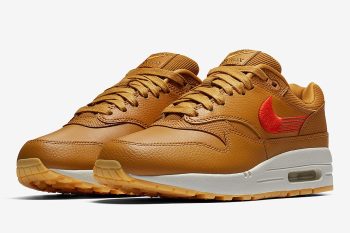 Nike Air Max 1
3D Swoosh 
The Nike SB Dunk Low features a 3D and colorful Nike swoosh. Such a vibrant swoosh would be very appealing especially to the targeted females. It is not new that we see new and cool colors when it comes to the women's collection. The 3D effect surely gives the swoosh the power and motivation it transfers.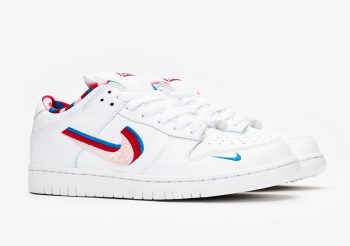 Para x Nike SB Dunk Low
What could future alterations of the Nike Swoosh look like? Could any alteration inspire fixed logo changes?  
If you're interested in adding variety to your sneaker collection and try copping using NSB.
IT'S YOUR WAY TO A GREAT BIG W