Scandals are everywhere, even -especially- in the sneaker industry! If you've been around since forever, then you probably already know what backdoor shoes are. You also probably know a few backdooring scandals, the most notable one was the Yeezy Frozen Yellow backdooring! But anyway, what passed is past, and new scandals are always there to discuss. So what's new in 2021? And why is Jordan 1 Trophy Room the talk of the town?
But First, What Are Backdoor Sneakers?
Let's say you're a sneakerhead, and you got lots of friends in the industry. Now one of those friends works at a Nike Tier 0 store. This friend might be able to give you a pair of the highly anticipated pair before release day. So technically, he backdoored that pair to you, and that's what backdoor shoes are! It's getting hold of a pair that hasn't dropped yet! And this has been the subject of many debates ever since hype sneakers became a thing.
Jordan 1 Trophy Room Are 2021's Biggest Backdoor Shoes
Yep, sneakerheads waited for a lot of time for this release only for most of them to get Ls. But let's go back to the start. Hype sneaker releases, especially exclusive ones, can make or break a store's rep. So when pairs of Jordan 1 Trophy Room started to appear on the aftermarket before release day… You got the gist. Stuff like that doesn't go unnoticed by sneakerheads. And according to leaks, Trophy Room sold pairs before release day for way more than $190. A very public proof than Benjamin Kickz! Surprisingly, so many pairs landed with him. Naturally, that didn't sit well with people, and in a way, they don't really trust the store anymore. 
View this post on Instagram
Another rumor was that Kickz bought these on resale in hopes that the value would increase. But it's kind of a long shot with such a number of pairs, isn't it? So the backdoor shoes sort of make the most sense for now. What we know is that 12,000 pairs of exclusive kicks shouldn't go into reseller hands BEFORE release. Although we love the resale game, it should be a clean one!
Backdoor Shoes Aren't the Only Problem!
The newest gossip material is Nike's North America VP Ann Hebert and her son! And somehow, it all comes back to sneaker reselling. You probably know West Coast Joe if you're into reselling and buying off the aftermarket. Well, Bloomberg Businessweek released an article about him, and they exposed the fact that Joe is Ann Hebert's son. This news, just like Trophy Room's backdoor shoes, didn't go smoothly with the industry. 
View this post on Instagram
Even though Joe denied any connection between his business and his mother, that wasn't enough. In fact, the scandal started when Joe used his mom's credit card to purchase kicks to resell! You can see what people really think on Instagram and Twitter if you look closely. The crowds are also requesting that Nike goes through an investigation. People with some SNKRS L salt won't be very forgiving after this news. Oh, we also got an interesting bit. Did you know that he happened to find the guy who sold him the storage unit Air Mags? Man these stories did not age well. Who knows, maybe he benefited from backdoor shoes at shoe point too. What we really know is that this news leaves A LOT of room for speculation.
Nike's Reaction?
Well, following the latest news, Ann Hebert stepped down from her position as Vice President/General Manager. It's worth noting that Ann worked at Nike for 25 years, but has only been VP for 10 months. That's why some people are wondering whether the clout was worth losing her job.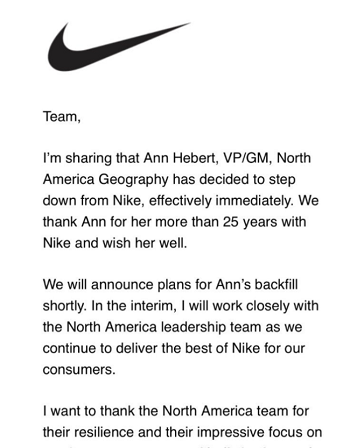 2021 Sure Isn't Taking Any Rest
We're still at the beginning of March 2021, and we sure as heck are getting entertained well. The sneaker industry doesn't rest, and we don't either! From backdoor shoes to scandals that affect sneaker companies, we have it all. And if we know anything about this industry, it's that we always have some tea to pour. So stay tuned on our blog, and we'll deliver the best sneaker news your way!