Worst Shoe Fails – Ever Felt Okay with Some Sneaker Creases?
Nobody likes to see their kicks creasing, especially if they're still fresh. But sometimes, a little crease is okay if you compare it to other disasters. So, because we want you to feel better about using your kicks, we're gonna check out the worst shoe fails! They're not your usual fails, but some will cause physical pain and occasionally injuries. So let's check out the top 5 worst shoe accidents we've seen so far! And in case you're gonna stay worried about your sneakers, here's how to uncrease them and keep them fresh.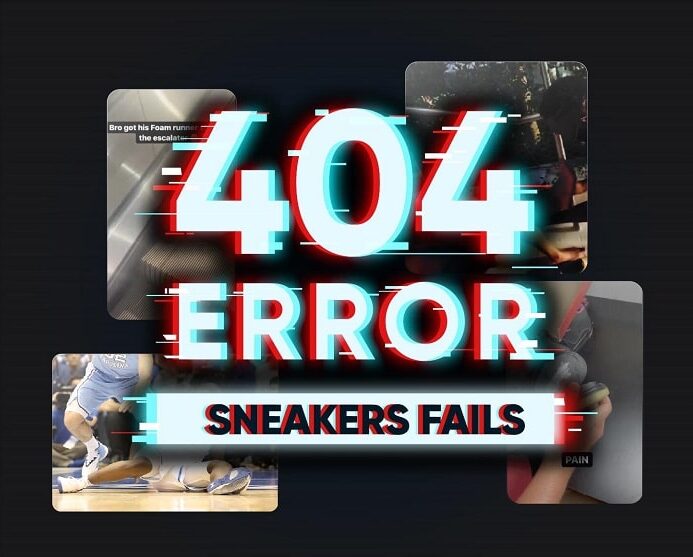 Top 5 Shoe Fails – Making Every Sneakerhead's Heart Hurt
Disclaimer: These videos are not for the weak of the heart! We're just kidding, they're just gonna hurt the sneakerhead in us a bit. But don't worry, there's a moral that each of us will learn today, so let's check them out!
Escalators Have a Foam Runner Appetite
So we all know how Yeezy Foam Runners became one of the most popular foamies around along with Crocs. And apparently, both shoes have a knack for getting stuck in the escalator! So in this video, the escalator managed to swallow a guy's Foam Runner Vermillion and the sock too. Now imagine telling people that an escalator eating your shoes is the reason you're walking barefoot… Yikes.
Yeezy Slides Become Anklets?
We can't even begin to imagine how this went down. We're gonna assume that it includes wet feet and ill-fitting Slides. You see, at that point, you might as well get the scissors because the Slides are done for! Anyway, if you wanna prevent shoe fails like this one, you should know how your Yeezys fit. And you can even take it a step further by learning the tips and tricks of styling Yeezys right!
Zion Williamson and the Conspiracy Theory!
Okay, we may be a bit dramatic because this became a meme-ish moment among college basketball fans and sneakerheads! So in February 2019, the Dukes and UNC teams went head to head. However, the star player of the Dukes time on the hardwood was cut short! Zion Williamson was wearing Nike kicks that broke a minute into the game. UNC naturally won that game after this sad turn of events.
Durham police should be looking for someone who could get Nike to make Zion's shoe explode. Suspect is 6-foot-6, 210, answers to GOAT, has rings on six fingers, and has a dossier that shows a former Chapel Hill address.

— Tim Reynolds (@ByTimReynolds) February 21, 2019
Of course, the internet is a wonderful place to find sarcasm. And everyone started ironically blaming MJ and Nike for being in on the shoe breaking to help UNC win. Of course, that wasn't true, but it got all the conspiracy theory fans thinking!
The Forbidden Jordan 4 Cake
Now this one has another lesson for us to learn. When you add a pair of sneakers to your collection, you gotta wear it if you are not flipping it! Otherwise, the kicks will crumble, especially if you poorly stored them. You see, the soles won't stay in great shape forever, no matter what you do. And in case you wanna extend a pair's lifespan, make sure you know how to create the best sneaker storage for it!
Nike Air Yeezy Falling Apart Is Spain with a Silent S…
Last but not least on our list is probably the one that hurts the most. So if you're familiar with Yeezy history, you know how Nike and Kanye fell apart. This means the Nike Air Yeezys are no longer in production. And this also means that if a pair worth thousands of dollars crumbles, it's gonna hurt. And it did… Good thing restorers exist to fix messes like that and keep on showcasing the kicks.
Get the Right Kicks Using a Sneaker Bot!
Okay, we really didn't mean to give you sneaker PTSD, but shoe fails are always interesting and most times funny! In other words, we highly recommend you get a sneaker bot like NSB for your next release. But make sure you always have the right proxies hooked up to give yourself the highest success changes. And finally, here's a botting guide to get you going if you're new to the botting game! Godspeed 🔥
Posted in Sneakers 0 comments