It's drop day, and you're ready to buy those Dunks you've had your eyes on for a while. You successfully copped a pair that you wanna keep for personal wear. However, you just got hit with the reality; the kicks are too tight or too big. Now, you might manage to stretch the kicks out a bit, but it's not gonna do a drastic change! But why go through all that pain when you can ask how do Dunks fit? After all, when you choose the right fit, you'll save your kicks from creasing! And you're in luck today because we're just about to answer that question!
And if you wanna know how Jordans fit, check this out. Yeezy heads, your size guide is here!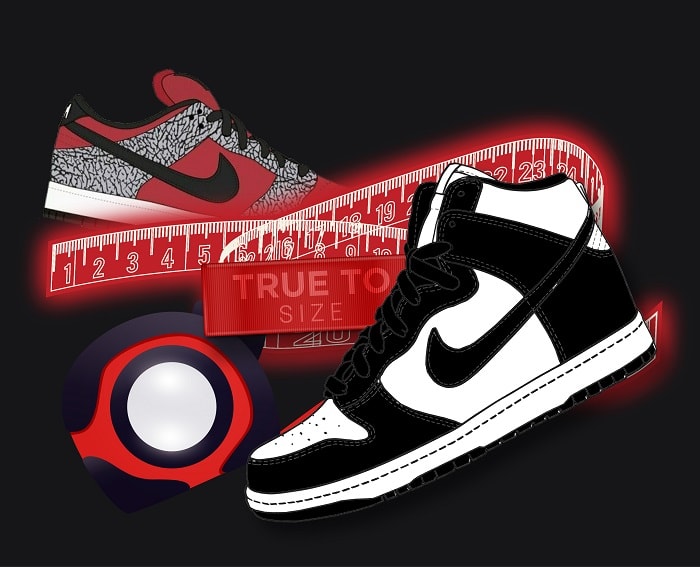 How Do Dunks Fit – The OG Nike Dunks
Before we get into the sizing, we gotta tell you the story of the Dunks! You can skip to the juicy part if you're already familiar with the tale. However, we wouldn't wanna miss a tribute to the legendary Peter Moore, do we now? So back in 1985, the Air Jordan 1 was still fresh on Michael Jordan's feet and still pretty exclusive. Air Jordans were still a new concept that everyone was excited about. But since not everyone had access to them, they needed an alternative! That's where the idea of the Nike Dunks came from.
The most attractive thing about the Dunks was the choice of colorways. They were all inspired, and to a point exclusive to, NCAA teams. And if you're big on fun facts, here's another one! The Dunks' name was gonna be something else. However, the 40th anniversary of the Slam Dunk contest was in 1985, and it seemed like a no-brainer. After all, the Dunks are basketball shoes! If you wanna know more about the history of Nike Dunks, check this out.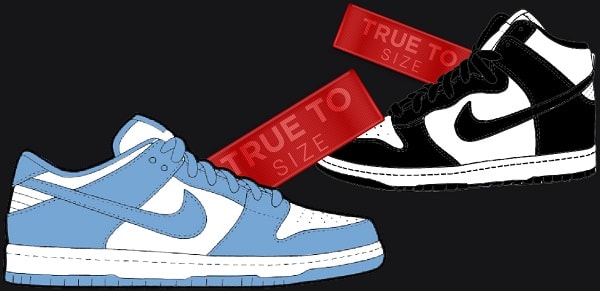 So How Do They Fit?
Generally, you should get your Dunks true to size since they're naturally roomy, whether high or low. You know, the Dunk toe box is bigger than your average pair of kicks. However, if you want a tighter fit or have slimmer feet, you can go half a size down.
Nike SB Dunk – A Different Sport Needs Different Support!
People absolutely loved the Dunks, but not just for hooping. Times were changing, and so were basketball kicks, but Nike Dunks stayed… Why? Because their appeal extended beyond the basketball circle. Skaters found that a Dunk is a pretty good choice for skateboarding. It's sturdy and doesn't break off easily. So years later, in 2002, Nike gave the skaters an upgraded version of the Dunks: the Nike SB Dunk. The Swoosh introduced extra padding in the tongue, forefoot, and heels to protect the feet.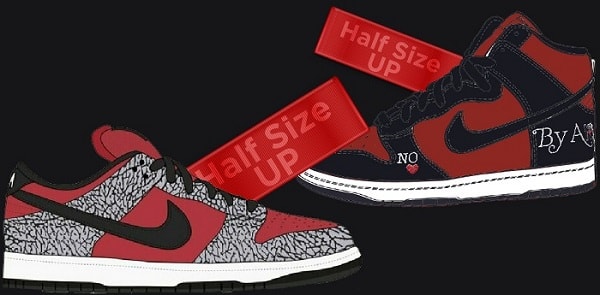 The extra padding means a tighter fit, though. So if you want a good fit, you should go half a size up. But if you have skinnier feet and want a tighter fit, you should stay true to size. And when we say true to size, it's according to Nike's size chart that you can find here.
Now That You Know How Do Dunks Fit…
You're definitely gonna go on a shopping spree with your sneaker bot! You might wanna cop to get into sneaker reselling, but it never hurts to keep some pairs for the flex. And if you wanna do that, you gotta know how to style your Dunks! So here's a styling guide to get you going. And if you wanna keep your A-game going, keep checking our blog for the best kicks to invest in!