Concepts Nike Is Back at It Again with a Colorful Collab!
2022 is just getting started, and that calls for some new collabs and sneaker releases! Luckily, we got so much going on, including a new Concepts Nike collaboration. The two brands aren't really strangers, with several epic releases that we still talk about to this day. However, in 2022 seems to be getting ready to kill it with all the new kicks. So, let's check out these new Concepts Nike Air Max 1s, and why we need them in our lives! In the meantime, here are some more 2022 sneakers that you should keep an eye out for.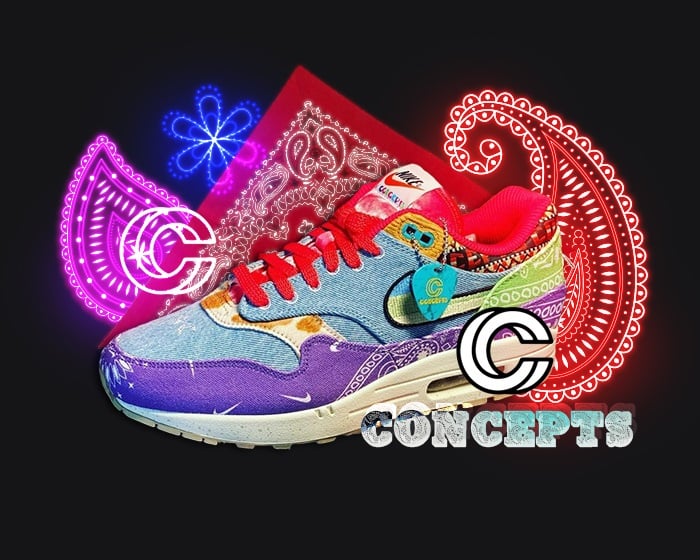 Concepts Nike Air Max 1 – Paisley Your Way Through the Year!
When you think about crazy collabs that you know you're gonna rock anyway, you think about Concepts Nike! You know, nothing hits better than a pair of funky kicks. And in 2022, retro/vintage styles seem to be all the rage. However, we can't talk about vintage without having paisley in the conversation. The 70s print made a comeback in the early 2000s and then disappeared. However, the 2020s brought new life to this print and we can actually count multiple hype kicks that featured it.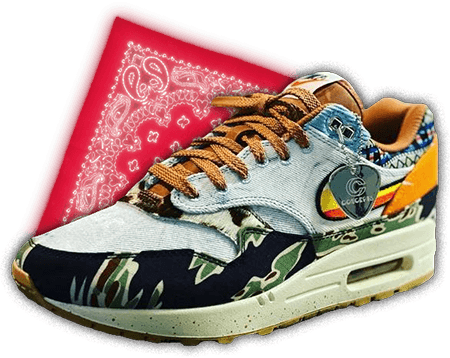 And now, 2022 is hitting hard with two different Air Max 1 colorways! We already established that this could be the year of the AM1 renaissance, and this collab proves this theory right. So, what do these kicks bring to the table? The first colorway comes in a spring-ish mix of green, purple, blue, and red paisley, denim, and tie-dye! The second colorway goes a bit darker with a dark navy and green camo print on top of blue denim. We also have a hint of orange on the back and a cow print on the lowest lace holes! So all in all, it's a case of mix and match, and it works surprisingly well in both cases.
Release Deets
Now that we have the first look at the kicks, we need the tea. Sneakers like these are definitely gonna do well, especially if the stock is low. Moreover, kicks like that will need a sneaker bot to have a fair copping chance! So make sure you get yourself a Nike bot or a top-tier all-in-one bot like NSB to kickstart 2022 with. Our users cooked tens of thousands of exclusive kicks in 2021 and made some good cash flipping them! You know, who doesn't want the best ROI in the industry?
https://twitter.com/NSB_Bot/status/1471886684585439252
Finally, if you want to spice up your botting game, check out this guide for some pretty useful tips! As for an exact release date, it's still up in the air, but keep it locked on our blog for the latest updates.
Some Concepts Nike Favorites!
Since we're on the subject, it's always awesome to check out previous collaborations we have or wish we did. These babies would make a pretty amazing addition to every sneaker collection! Of course, collecting sneakers is a whole other discussion that we had here, make sure you check it out. Anyway, here are our personal top 3 Concepts Nike collabs!
Concepts Nike SB Dunk Low OG Lobster
Release Date: 5/31/2008
Retail Price: $125
Avg. Resale Value: $2,446
Concepts Nike Kyrie 4 Yellow Lobster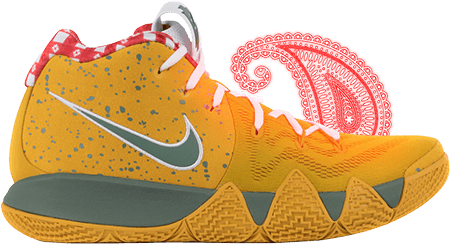 Release Date: 2018 PE
Avg. Resale Value: $3,875
Concepts Nike SB Dunk Low Purple Lobster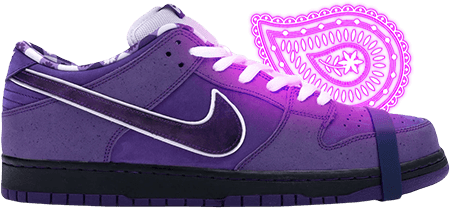 Release Date: 12/14/2018
Retail Price: $130
Avg. Resale Value: $1,336
Concepts Nike SB Dunk Low Green Lobster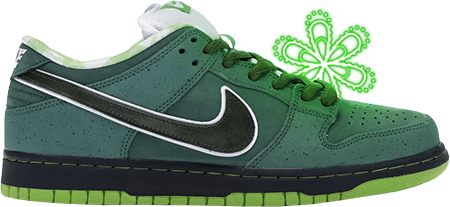 Release Date: 12/14/2018
Retail Price: $100
Avg. Resale Value: $1,136
Concepts Nike SB Dunk High Turdunken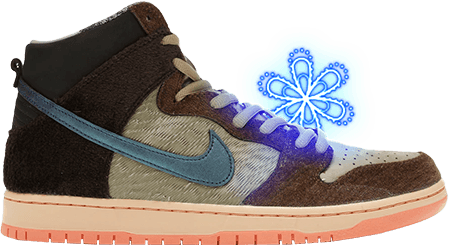 Release Date: 11/21/2020
Retail Price: $250
Avg. Resale Value: $332