Don't say it isn't fair, you clearly weren't aware that you made me miserable. That would be us after every L we take on Nike SNKRS and Air Jordan releases. But we gotta keep on hoping and grinding, especially with the new Billie Eilish shoes news! Let's check out everything we know about the new collaborative Jordan 1s and why you need them. So if you're an avocado, pirate, or eyelash, you gotta read on.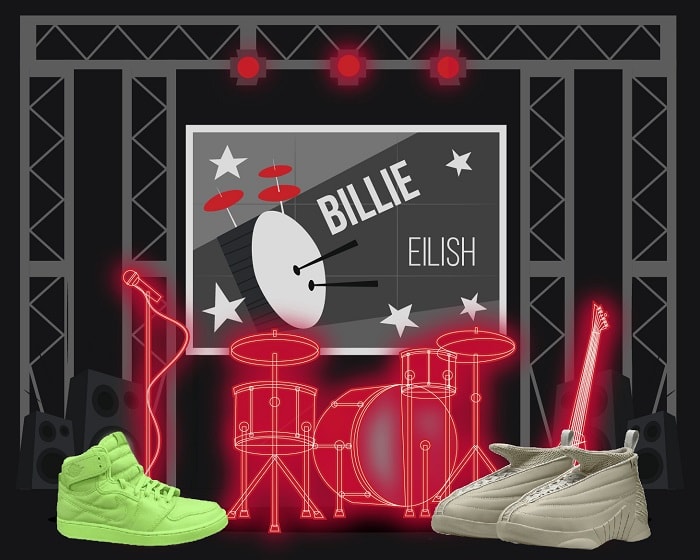 Music and Sneakers – The Match Made in Heaven
You know, music has always been a crucial part of our lives. It inspires us, pushes us to move on, gets us out of bad places. So it's only normal to become a fan of an artist who gave you life-changing jams. Or you can simply dig the music too, no need to be emotionally invested. But how do sneakers come in? Well, merch is a big thing in the world of artists. I mean, who doesn't remember the 2000s Britney merch or is at least familiar with it?
Anyway, the sneaker industry in the last two decades exponentially grew. And sneaker collabs became a very big thing, and still are. But the era of athlete-only collabs ended a long time ago, and artists came in. Some didn't get the hype they deserved while others killed it. From Kanye West, Travis Scott, to Drake and Eminem, they all gave us memorable kicks. Some, like Kanye, turned it into a fashion empire! So it's only normal for us to get Billie Eilish shoes in 2021. She's pretty influential to the newer generation. If you wanna read more about the topic, check this out.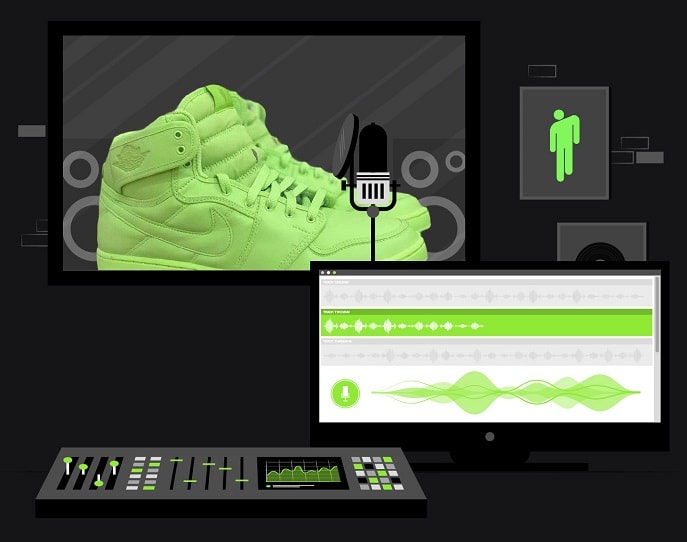 Billie Eilish Shoes – A Very Smart Marketing Stunt?
We already know that the 'Ocean Eyes' artist has a humongous fan base. And with a collaboration like this, Nike and Jordan Brand might be opening themselves up to what could be new markets! On the other hand, this collab could open the door to new fans of her music. Win-win for both I guess?
So the kicks are pretty straightforward: all neon green leather all the way. However, it's not your usual Air Jordan 1, but the AJKO! Are we really surprised tho? Billie is an unusual artist, so the Billie Eilish shoes will definitely be that too. Although some think that KO refers to the boxing term 'knock out', that may not be the case. And somebody made a strong case about why KO means 'knock off', and we might just go along with it.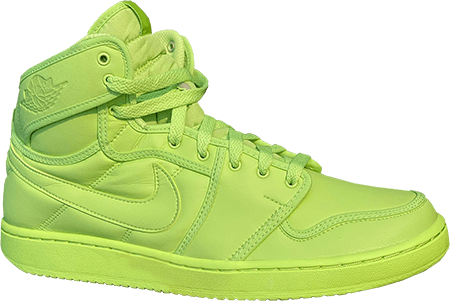 In addition to the awesome colors, Eilish's signature Blohsh replaces the Nike logo on the tongue. And 'Billie Eilish' replaces Jordan on the JB logo on the insoles. But that's not all, instead of the usual merch, you'll get a notebook with your kicks! An odd thing to flex, but we're down for that.
A Happier Than Ever Jordan 15!
Just when we thought that we'll only get a Jordan 1, we now officially have bomb news about the collab. We're not getting just one pair of Billie Eilish shoes, but two! The second pair comes in a monochromatic light tan colorway. But our favorite detail is the Blohsh on the inner of the tongue. It's also worth the mention that AJ15 is Billie's favorite silhouette. Is that surprising with the singer's eccentric style? Finally, both sneakers are vegan, just like the artist herself.
The kicks also feature 20% recycled materials, making JB on the road to Move to Zero! We also have the awesome Nike Toasty collection to vouch for Nike's sustainability plan. Check out the upcoming collection here!
Billie Eilish Shoes Release Deets
So far, we got no confirmation whatsoever. However, rumor has it that the new Billie Eilish shoes will drop on September 9, 2021. We don't have any retail/resale info, but a drop like that should come with a nice resale price tag. And beware, because not only sneakerhead will be lining up for that one; you should factor in the die-hard fans! So the only sane way to go about this is to get a sneaker bot.
If the kicks will be Nike SNKRS exclusive, you'll need a powerful Nike bot. But if it's dropping on your usual sites, you'll need an all-in-one bot. Don't worry homie, we got the best sneaker bots of 2021 listed right here. Just make sure you get some practice in before you run your bot and add the right ingredients! Godspeed 🔥