Yeezy Reselling Prices – A GOAT Aftermarket Guide!
The sneaker and reselling industries have been booming for a while now. And if you want in on the game, then you gotta step up your own! And one treasure chest we'd all like to dig into is Yeezy resale. The first step is to know where to flip Yeezys, and then how much they're worth. So today, we're gonna check out how some pairs are doing on GOAT! Oh, and if you wanna check out our lists of Yeezy reselling prices on StockX, click here.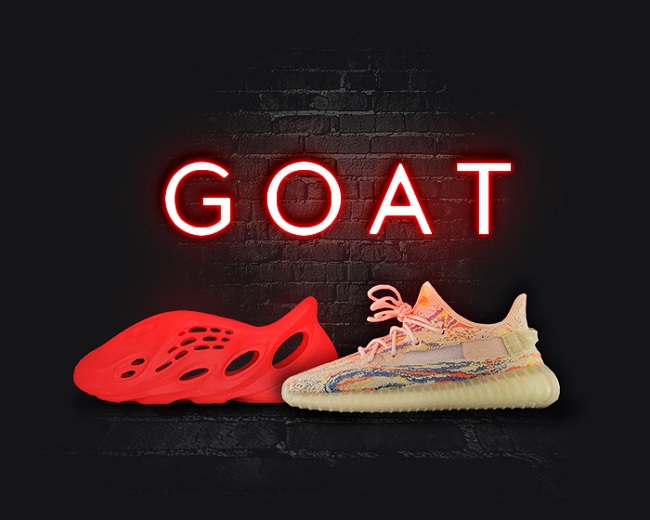 A Little GOAT Background
To those who don't know it, GOAT is short for "greatest of all time". You probably heard that nickname when you looked up Michael Jordan or Lebron James or, or, or… Anyway, we're not gonna get into this debate now because we wanna know more about GOAT itself! So GOAT is a reselling platform that started in 2015 where you can flip kicks, streetwear, and more.
Although relatively new, the GOAT Group managed to expand and become the parent company of Flight Club. However, this is background talk, because customers and sellers still see both sites independently. But if that means anything, it's that GOAT is a pretty legit app/website!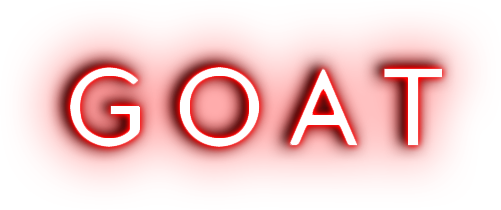 Yeezy Reselling Prices on Goat… and More
So Yeezy reselling prices vary depending on the platform, but they're generally close. And you can find pairs for thousands of dollars if you look for super-exclusive ones. However, today we're gonna check out what 2021's most popular Yeezys were. That's not all though, because we looked up some pairs that you can snag for under retail if you're lucky!
Top 5 Most Popular Yeezys!
So this year had the pretty, the cool, the ugly, and many more Yeezys! But in 2021, comfort prevailed. And the proof of that is that 2 of the top 5 popular Yeezys are Foam Runners! Yeezy Foam Runner Vermillion and Ochre have the swag with the colors and the comfort since they're slip-ons. And if you don't think they're your jam, here are some amazing alternatives you can flex. And speaking of comfort, Yeezy Slides Pure is also on the most popular list!
The next silhouette we have on our list is underrated in terms of Yeezy reselling prices. However, it's pretty good-looking on feet and we'd rock it any day of the week! Luckily, lots of people think Yeezy 350 MX Oat is cool too, that's why it made it here. Finally, we got the pretty controversial Yeezy NSLTD BT on the list. Whether they'll stay this popular remains to be seen!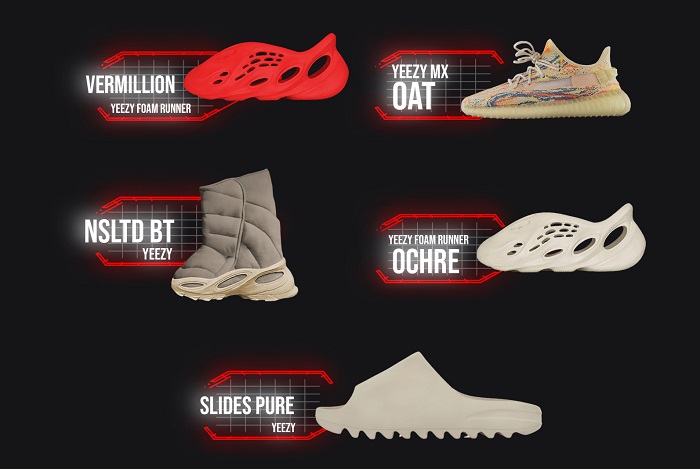 Top 5 Under Retail You Say?
We usually talk about the highest Yeezy reselling prices, but today we're going the opposite way! Who doesn't like to own a pair of Yeezys on a budget? A pretty dope pair at that peeps. Here are all the pairs you can get if you're running tight on money. And speaking of awesome deals, make sure you check out these Black Friday sneaker deals!
Disclaimer: Not all sizes are available for under retail, so make sure you check your shoe size. Are you lucky enough to get these Yeezys for a good value?
Yeezy 350 V2 MX Oat $216

Yeezy 350 V2 Carbon $208

Adidas Yeezy 700 MNVN Honey Flux $195

Yeezy 380 Pyrite $220

Yeezy 350 V2 Mono Cinder $219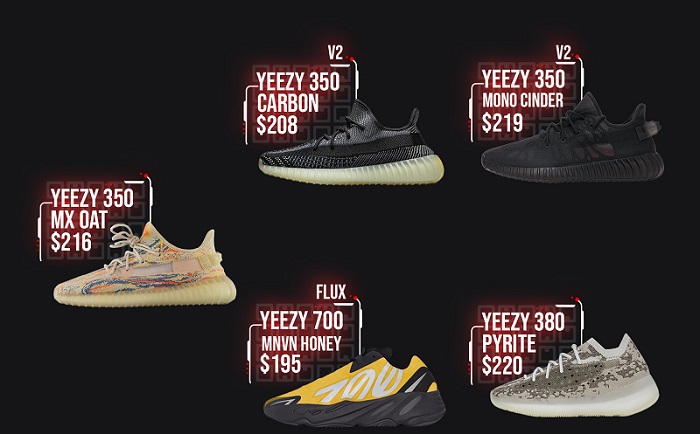 Will Yeezy Reselling Prices Change?
Well, despite some pairs not doing as well as others, Yeezys will always be an attraction for sneakerheads. And as long as the sneaker industry exists, Yeezys will be here! So make sure you have a good sneaker bot to cop Yeezys for retail on drop day. Godspeed 🔥