Who's the GOAT? The Michael Jordan vs LeBron James debate is never-ending and always stirred trouble among basketball fans. While Michael Jordan revolutionized the game in many aspects, we can't ignore the fact that Lebron James is here to break numbers and create a legacy of his own! So today, we're going to do a full comparison of different parts of the careers of both LeBron James and Michael Jordan. Brace yourselves, grab a cup a coffee because it's going to be one heck of a ride!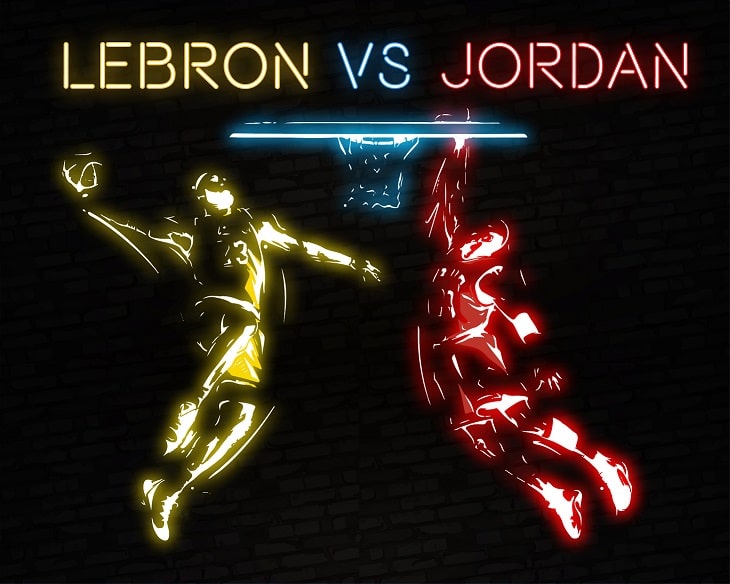 Jordan vs LeBron: Team History, Stats, and Achievements
Team History
Let's take a moment to remember where LeBron James and Michael Jordan played!
During his career, Jordan played for the Chicago Bulls and Washington Wizards. Meanwhile, James played for the Cleveland Cavaliers, Miami Heat and currently Los Angeles Lakers. Both players share the same number: 23! However, we must mention that both of them had different numbers at some point.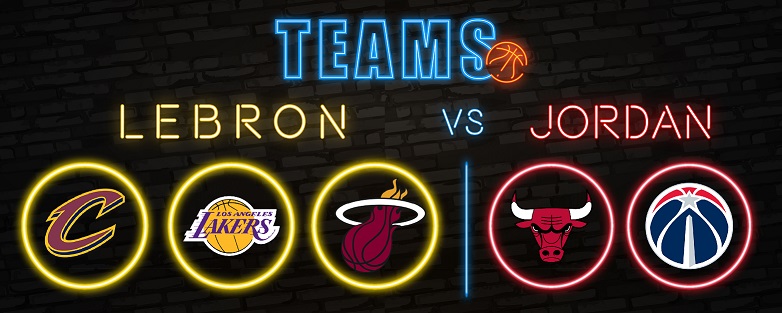 Stats
We must admit to ourselves that LeBron James and Michael Jordan both have amazing stats no matter what. However, we should also keep in mind that MJ played for 14 years while LeBron has been in the game for 16 years. And hopefully stays for several more!


We should also mention that LeBron moved past Jordan in March of 2019 as the 4th in career scoring. But he did so as he wrote on his kicks "Thank You MJ" to commemorate his idol. To sum it up, Michael Jordan retired with a total of 32,292 points and 1,072 games played. On the other hand, LeBron is a position ahead of him with 33532 points and 1,237 games played to date.
Achievements and Awards
Lebron James and Michael Jordan both have accomplishments and awards that every rookie and basketball player hopes to achieve! That's why we're going to list some of them for you.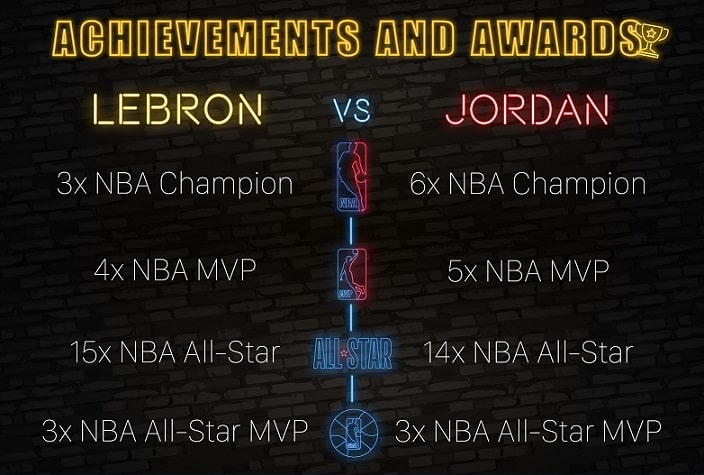 In addition to the multiple awards he earned, Michael Jordan made it to the Basketball HoF and the FIBA HoF and was awarded the Presidential Medal of Freedom. LeBron, on the other hand, got the J. Walter Kennedy Citizenship Award. He's not a Hall of Famer yet since he's still an active player. However, we're sure he'll be immediately enshrined once he meets the criteria!
Lebron James and Michael Jordan: The Humanitarians
With fame come responsibilities. People always look up to celebrities, especially if they are a cultural icon! LeBron James and Michael Jordan are idols for a lot of people from different generations, and that's where their job starts outside the court.
We can proudly say that both of them honored that responsibility.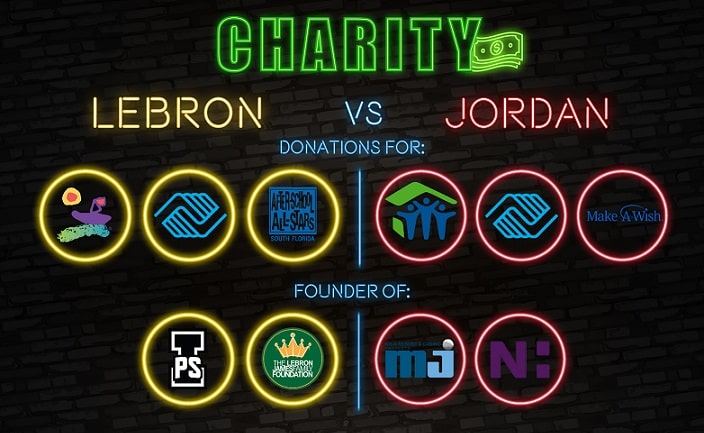 MJ made a lot of donations and participated in a lot of causes and organizations like Habitat for Humanity, Boys & Girls Clubs of America and the Make-A-Wish foundation. From 2001 to 2014 he hosted the Michael Jordan Celebrity Invitational golf tournament to raise money for charities. Finally, Jordan funded the Novant Health Michael Jordan Family Clinics that aim to serve patients with little or no health insurance! 
As for LeBron, he's also an activist and supports non-profit organizations like After-School All-Stars, Boys & Girls Clubs of America and Children's Defense Fund. He also founded the LeBron James Family Foundation and the "I Promise School". 
Michael Jordan vs LeBron James: The Collaborations
All companies considered the basketball stars as must-have deals! That's why both NBA champs have a long list of endorsements and advertisements up their sleeves!

Sneaker Talk
And now we're finally going to discuss Michael Jordan's and LeBron James' impact on the sneaker industry.
Nike Signs LeBron James And Michael Jordan
Nike is a sneaker giant, that much we can admit. It's one of the best and is always in the lead with innovative technologies and interesting campaigns. However, the company hit the jackpot in 1984 when they signed Jordan. Although Jordan was a big fan of Adidas kicks, Nike managed to seal the deal and the rest is history! Not only did they sign him as a collaborator though, but he also became a partner and managed to have a stand-alone brand within Nike: Jordan Brand. The Brand actually signs and collaborates with players now like Zion Williamson, and artists like Travis Scott! Meanwhile, LeBron James also signed with Nike in 2003. However, Nike was also not his first choice! Reebok and Adidas had an advantage over the Oregon-based company, but just like Jordan's case, Nike managed to attract James with their great marketing skills.
How Much Are The Sneaker Deals Worth?
In terms of worth, Lebron James and Michael Jordan don't even compare. At $130 million, MJ's deal is the most expensive sneaker deal to date! So LeBron, at $32 million, is still almost $100 million short of Jordan's deal. However, in 2015, Maverick Carter -LeBron's business partner- said that his lifetime deal is worth $1 billion!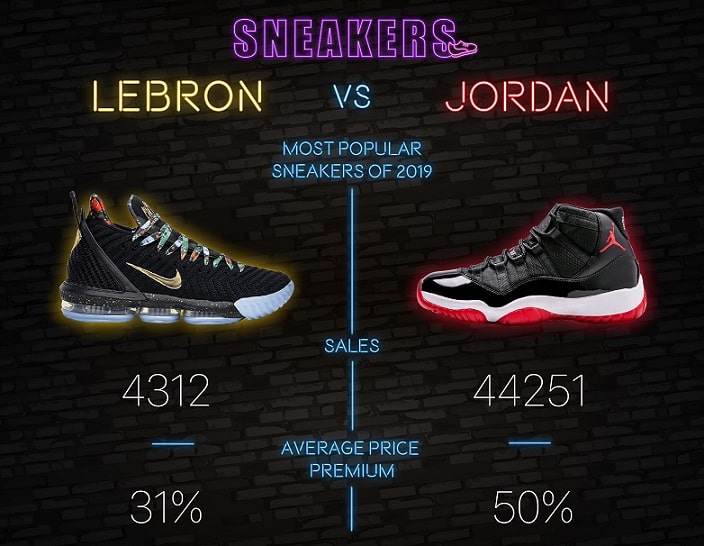 Jordan vs LeBron: The 2019 Homecoming Queen!
We will not go into the details of counting and calculating everything because Jordan Brand has been in the market for almost 20 years more than the LeBron line. However, we are going to compare this year's most popular Jordans and Lebrons!
The Air Jordan 11 Retro "Bred" in its 2019 edition was the most coveted sneakers in 2019 with 44251 sales to date! On the other hand, LeBron 16 "Watch the Throne" is the best selling pair of kicks in 2019 with 4312 pairs sold so far.
Resale Wise: What's Worth How Much?
Before getting to the numbers, we must mention that we're including OGs and Retros. Collabs with celebrities, PEs, F&F releases are excluded because they are always worth a lot more than regular releases.
So, in terms of resale, Jordans resell with an average price premium* of 50% while LeBrons trail behind with an average of 31%.
*To anyone wondering, the price premium is how high the resale value goes over the retail price in percentage.
In terms of sneakers, it's evident that Jordans have been and still are a huge part of the sneaker culture and sneakerheads consider some of the releases as grails. This impact is relatively due to the print Michael Jordan has left on and off the basketball court.
Meanwhile, LeBron is still an active player with no line of his own yet. But who knows? Maybe Nike will surprise us with a second stand-alone brand in the future!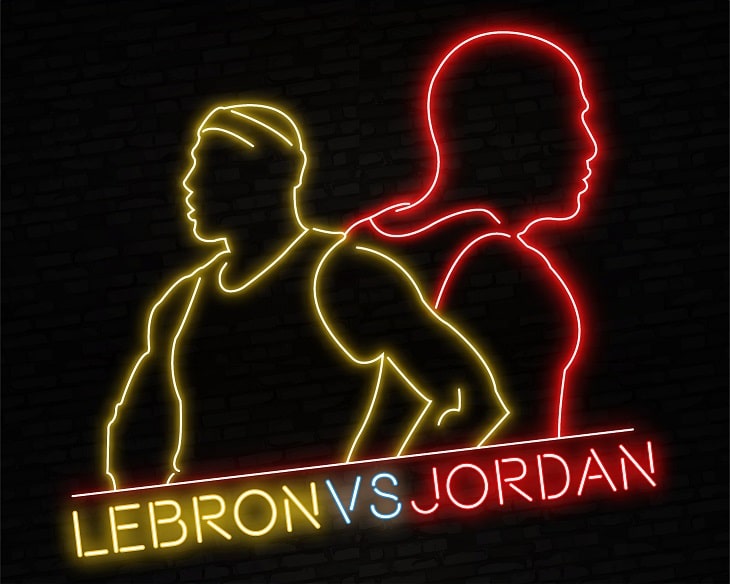 Michael Jordan vs LeBron James: The Final Score
Did you really think you'd get a satisfying answer? This Michael Jordan vs LeBron James debate has been up since LeBron's career started, and will probably stay for years after his retirement. LeBron James and Michael Jordan are both icons of different generations and it's hard to compare them objectively. No numbers can give you a definitive answer, it's a matter of personal opinion. But if we had to choose, we'd choose NSB!