Still grieving over all those precious Off White sneakers you missed in 2019? Well, we've got good news for you! Forget all the Ls and start getting ready because we've got some saucy rumors for you. Let's just break them down and hope they're all going to be true! But if they're not, Yeezy Yeshaya is releasing soon, so it's not a total loss!
Off White Sneakers Rumors
Off White Air Jordan 1 "Canary Yellow"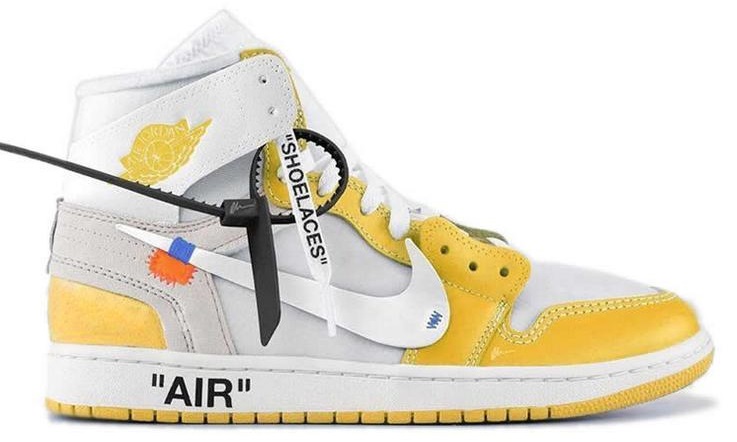 Update: It's 2021, and the canary yellows didn't drop yet. However, maybe this year will finally be it thanks to the new website we got! It's got all the old and potentially new Off-White sneakers! So make sure you check out our latest news right here.
The Off White Air Jordan 1 was first spotted in Virgil Abloh's "Figures of Speech" exhibition at the Museum of Contemporary Art, Chicago. If it ends up getting an actual release date, the Off White Air Jordan 1 in the bright yellow colorway will definitely be one of the hottest and hype-worthy Off White sneakers! However, nothing is confirmed yet and the kicks are still a sample. But let's keep our hopes up!
Off White Air Jordan 5 
The Off White sneakers that created a whole lot of controversy among sneakerheads. With a textile mesh upper and Virgil's trademarks, the kicks make an interesting sight. But what really catches our attention are the yellow soles that give the Off White sneakers a really worn-out look. Some people are enjoying this while others flat out hate it! That does not mean that it won't sell out when it releases though!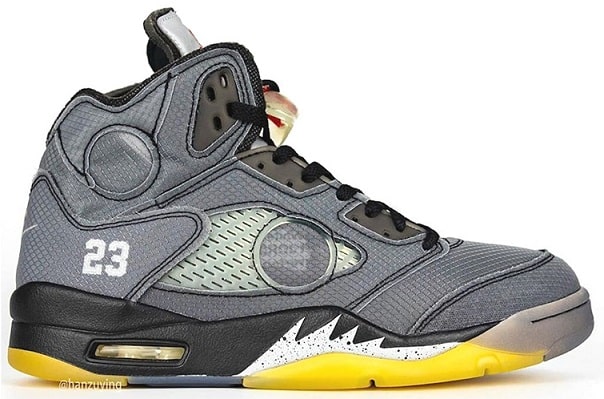 Release Date: February 2020
Style Code: CT8480-001
Retail Price: $225
Update: Well, if you're wondering, this pair did drop, not just in grey, but also in sail! The grey pair dropped on February 15, 2020, and today it resells for around $1,000. The sail, or Fire Red, pair dropped 8 months later, on October 29, 2020. However, this pair wasn't as successful as the first colorway. It actually averages $600 on the aftermarket! Pretty affordable for Off-White sneakers.
Off White Air Rubber Nike Dunk
One of the Off White sneakers that are still in their early rumor stages. Unlike The Off White Air Jordan 1 and 5, we didn't have any pictures or even mockups of the OW Nike Dunk! But after the New York Fashion Show, Virgil showed us the upcoming kicks, so it's safe to say that they might not be rumors after all!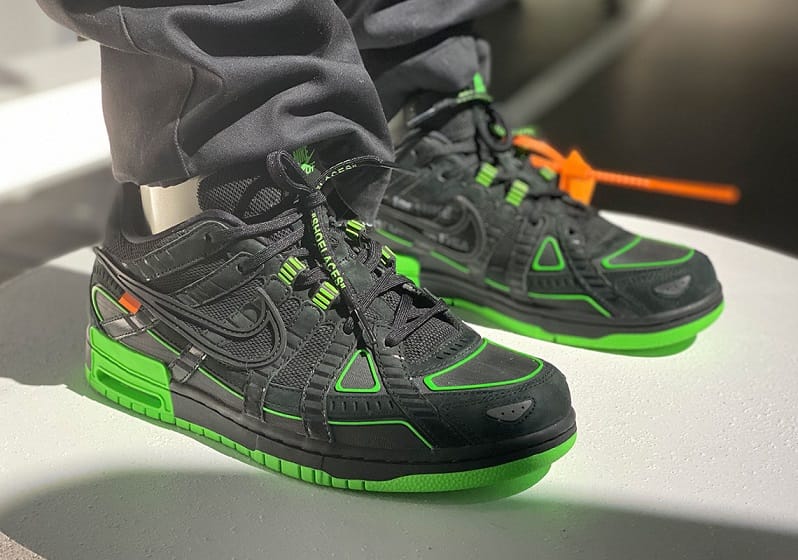 Update: Rubber Dunks is also another rumor that ended up hitting the shelves! Virgil Abloh totally does right by the rumors. Although these are arguably the least hype Nike Off White sneakers, they're still kinda profitable on the aftermarket! 
What About Other Kicks?
Well, aside from all the Off White sneakers, Travis Scott apparently has a lot to give this year! The most notable releases are going to be:
Travis Scott x Air Jordan 6 Yellow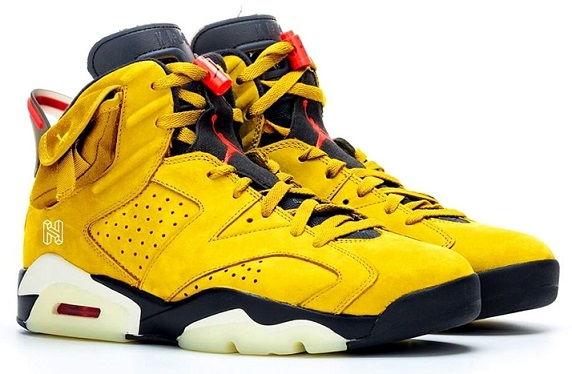 No sneakerhead in the world can ignore the fact that the first Travis Scott AJ6 that released in 2019 was one of the best looking and most profitable sneakers of the year. That's exactly why it's coming back in 2020 in a new colorway! The mustard yellow version of the kicks might not be as pretty, but it's definitely as hyped! However, Nike declared that unfortunately, we will not be getting them in March! Let's keep our fingers crossed though.
Travis Scott x Nike Dunk SB Low
The first teaser in his "JACKBOYS" music video took the sneaker industry by storm! The unreleased Nike Dunk features the paisley print that turned out to be tearable according to Travis' Instagram post. These teasers are hyping both sneakerheads and Travis' fans. However, no release date has been set to date. Keep it locked on our blog for the latest Travis Nike Dunk SB news!
https://www.instagram.com/p/B7CgB4jJJrz/
Update: This was probably one of the highlight of 2020's SB Dunks. After all, it really was their year. And if Travis is a pretty famous fan of the line. So getting a collab was a no-brainer, it was just a matter of time. Some of the kicks came in special packaging, while others came in a regular box. Either way though, the kicks are worth at least 10x the OG retail price!
Final Thoughts
Well, seems like it could be a good year for some Off White sneakers shopping! But let's not get our hopes too high. They might turn out to be rumors after all. We're familiar with previous cancellations and postpones. However, it's never a bad idea to have your bot up and running. Having NSB by your side in 2020 is the best idea after the great 2019 update.