Nike Sneaker Releases On Fire: Ending the Year With Blasts of Nike x Off White!
Who still hasn't heard of Virgil Abloh or Off White in 2019? Off White is an Italy based luxury brand, founded in 2012 by Virgil Abloh. The brand quickly gained a reputation as an eccentric luxury brand. Finally, sneakerheads were brought into the equation when the Nike x Off White collaboration started in 2017. When Off White x Nike kicks hit the market, they instantly became crowd favorites. A great indicator of this success is the resale prices of their sneaker releases.
Now that we're almost at the end of 2019, will Nike and Off White run out of collab ideas? The answer is a definitive no. In fact, many sneaker releases are happening in November and December. Let's go through all of them!
Off White x Nike Vapor Street
Vapor Street is a casual version of the Nike Vaporfly Elite which resells for a crazy price on the resale market. That doesn't mean you can't do some running in it, in fact it's a very good replacement of Vaporfly Elite if you don't want to break the bank purchasing it.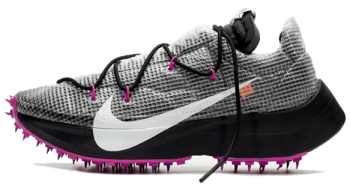 And now, the Off White x Nike Vapor Street is the first on our list of sneaker releases. Virgil Abloh is blessing lady sneakerheads exclusively with his take on Vapor Street! But this doesn't mean men can't also flex these. It only means there won't be any large men's shoe sizes.
The kicks look way different than the originals. The only parts that remain the same are the swoosh that drops down to the midsole, which also hasn't changed. The sneakers will drop in three different colorways: Black/Pink, Blue/Yellow, Yellow/Black. A synthetic material wraps the upper to give it an edgy look, an extra pair of laces zigzag across the original laces. The most striking parts about the shoes are the large foam tongue and the spikes on the outsole.
The kicks will drop on November 14th and retail for $190. As for resale values, the regular Vapor Street doesn't resell for much. However, the Off White x Nike edition actually could resell for a very good average!
Average Resale value for:
Black/Pink colorway: $435
Blue/Yellow colorway: $382
Yellow/Black colorway: $372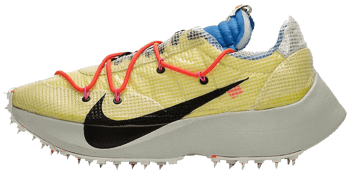 Off White x Nike Waffle Racer
Nike and Off White are just the gift that keeps on giving! Another women's exclusive is next on the list of sneaker releases. If you missed the Off White Vapor Street release but loved the aesthetics, Nike x Off White Waffle Racer is just for you! The uppers went through a complete makeover just like the Vapor Street with the synthetic wrap, text print and extra laces. Spikes are also an addition to the outsoles. Which hints off at cleats. But these aren't cleats. The Off White Waffle Racers are also dropping in three different colorways: Black/Pink, Blue/Neon Green, White/White.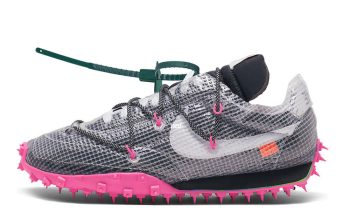 Retailing for $150, the Nike x Off White collab will drop on December 12, 2019. Resale values for the shoes are not available yet, but will surely be in the coming weeks.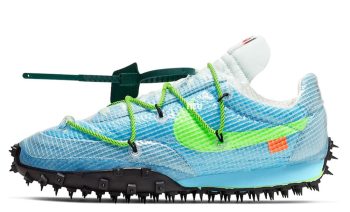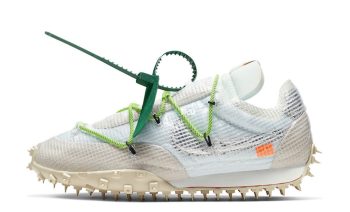 Off White x Nike Dunk Low 
What was part of October's most awaited sneaker releases is one of the best pairs to cop in December! If there's one thing for sure, it's the hype. The hype is real. The Dunks are one of the best looking Nike x Off White collabs. They're are dropping in three colorways: University Red, Pine Green and Michigan (Yellow/Navy).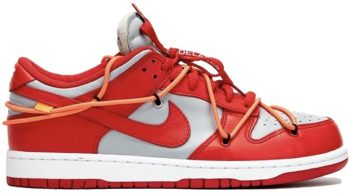 The silhouette and material remain the same. However, some tweaks help these kicks stand out from other Dunk Low colorways. First, asymmetrical neon orange laces zigzag across the usual lacing system. Second, the famous Off White text print is on the side of the kicks. Finally, the larger than usual tongue which became a norm whenever Virgil works on Nike sneakers.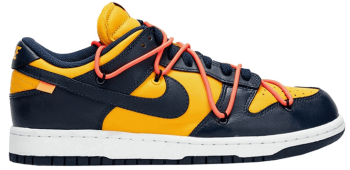 The shoes will be available to cop on December 20, 2019 and will retail for $170. The average resale values of the kicks are high because they're that hyped, they go as follows:
University Red: $1,900
Pine Green: $1,340
Michigan (Yellow/Navy): $1,069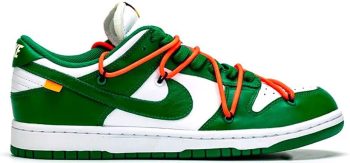 Speaking of Dunks, did you see the Halloween themed Nike SB dunks?
Off White x Nike Air Rubber Dunk 
No, it's not rubber duck. It's Rubber Dunk. The Nike x Off White collaboration is not ending with 2019. In fact, the Off White x Nike Air Rubber Dunk is rumored to release in the Spring/Summer of 2020. The kicks will be available in three different colorways: Black/White, Gold/Gold, White/Blue. They will retail for $180. No additional info is available to date. 
Off White Air Jordan 5
This release is also a rumor till now and the brands haven't confirmed anything about this collab. Speculations state that the kicks will release sometime in 2020 in two new colorways.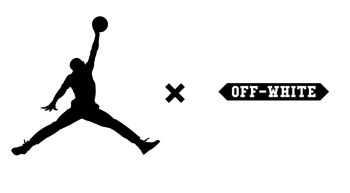 Conclusion
All the off white Nike sneaker releases have been successes till now. The new ones will be too, especially the long-awaited dunks. So rev your bots because every sneakerhead will be getting ready to cop all of these pairs! Honestly, for such a resale value who wouldn't want to cop them?
While you wait for the latest Off White x Nike collabs, check out the upcoming Yeezy releases and Travis Scott collabs, you might find something you'd add to your list!