Off white Futura Dunks – Celebrating Virgil Abloh's Birthday
Virgil's passing last year was one of the biggest and most shocking news the industry had to process. The news was as big as Virgil's contribution to the fashion and sneaker industries. And as this happened quite suddenly, a lot of his work was left unfinished. And one of the drops Virgil was working on last was the Off White Futura Dunks.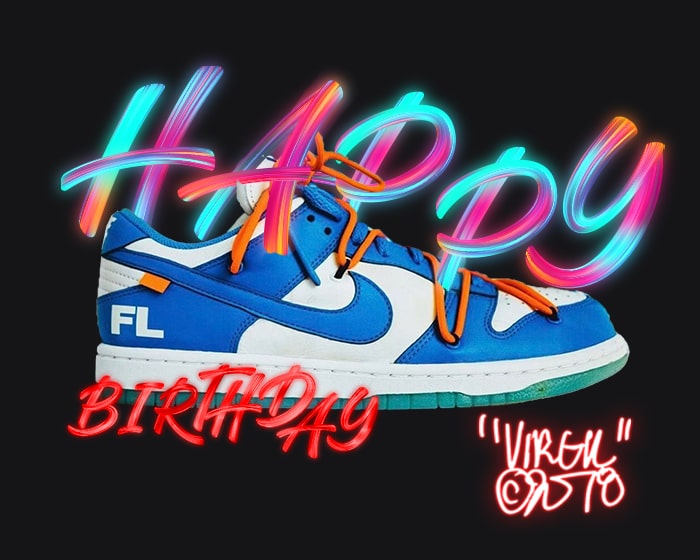 Nike X Off-white History
Virgil Abloh's creations are among the most coveted and sought-after items ever. Whatever Virgil signs turn into an expensive masterpiece. His designs are ones for the book and runways. But aside from his highly successful brand, "Off-white", Virgil's "The Ten" collection was what placed him at the top alongside Yeezys and Air Jordans.
What is the story behind Off-White?
Virgil Abloh, an American fashion designer, created the off-white brand, which he described as "the grey area between black and white." Abloh's brand is now amongst the most famous brands in the fashion industry. 
For starters, famous brands knowingly always collaborate with each other to create hype, strengthen their market presence, and eventually drive more sales. Nike and Off-White collaborated at first in 2017 to work on "The Ten" collection. The latest we've heard from this partnership is the upcoming Nike Off White Futura. Which first appeared last year at the Paris Fashion week and involved a new distinguished member -the famous artist Futura! 
Introducing the Off White Futura Nike Dunk Lows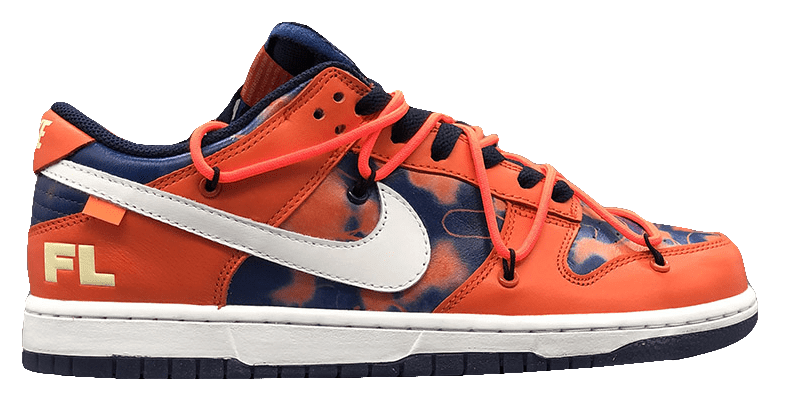 To begin with, you'll have the option to choose from two colorways. Each showcasing branding of Futura, Off white, and Nike. The first pair is a UNC-inspired iteration while the second is a Syracuse combo of Fluro Orange, Syracuse, and Royal. 
Off-white's signature double laces and medial c/o text overlay the new release, while the ankle sides hold the embroidery of Futura Laboratories signature "FL," which has been the norm for various SB Dunks. The insoles and outsoles also hold Futura's signature.
The blue pair consists of a light blue and white color scheme, topping it off with bold orange shoelaces, with the outsole consisting of a darker blue color and the midsole a white color. The other pair is Syracuse with a mixture of white, while both the shoelaces and outsoles are dark blue. 
The outsoles of each pair have the signature of both collaborators in graffiti-like writing, adding an extra touch of streetwear to these pairs. giving it a special value. 
A Special Yet Melancholic Release Date?
Although the Off White Futura Nike Dunks have been the talk of the industry for quite a while, Virgil Abloh will sadly not witness the success of his creation. But he will most definitely be there in spirit, celebrating his birthday with thousands of his fans. 
The Off white Futura Dunk lows are dropping on September 30, 2022, marking the late Abloh's 42nd birthday. 
Abloh passed last year leaving behind a remarkable touch on both the fashion and sneakers industries. 
Why Should You Buy the Upcoming Dunks?

For the sake of the industry! Virgil's influence and work are one for the books. His dedication and creativity were unmatched, and owning a piece of his art is a massive win, to say the least.
But if you needed an extra push to run a sneaker bot and cop the dunks, here's the deal. Nike Off-white sneakers are the IT sneakers of the game. There isn't a single Off white drop that hasn't sold out on Nike or any other retailer.
This turned Nike Off Whites into small investments in the shape of sneakers. Thousands of sneakerheads and sneaker resellers fight over them every drop. And if the Off White Futura Dunks are nearly as profitable as any previous Off white sneakers, you're in for a fortune. Seriously, you could make hundreds of dollars reselling a single pair of these babies!
But here's the catch! You ain't copping nothing without a sneaker bot. One that kills it on Shopify and has had a fair amount of success on previous Off-white drops. Something as powerful and successful as NSB. The best and most affordable sneaker bot in the game!
Click here to know all about NSB and what makes it the perfect option to cop Off Whites. And just in case you're new to the reselling scene, check this guide. It'll let you in on how to make money from sneakers.
Where to purchase Off White Futura Nike Dunk Lows?
You can find the new Off White Futura Nike Dunk Lows at Nike.com and various sneaker retailers for $180. Buy them either for your personal use or as an investment that'll definitely grow your reselling business. But in that case, you gotta buy in bulk using a top-notch sneaker bot. In order to do so, you must check this post on copping in bulk which applies to retail sites and sneaker sites. It'll change your life!
For more news on new releases and more information about your recent sneaker obsession, keep an eye out for our blog!