Nike SB Dunk Supreme – By All Means the Highlight of Week 2!
Now we can say that SS22 is officially on! 1st week was just a warm-up when you compare it to what's coming this season. With Supreme giving us a special Air Force 1 drop last Thursday, this week is definitely gonna be fire. So if you weren't paying attention, we got hot sneakers, hoodies, and more to cop this week! And if you've been around the industry for a while, you'll know that the Nike SB Dunk Supreme relationship is priceless. That's why this week hits different, now let's check out what it has to offer!
Nike SB Dunk Supreme "By Any Means"
So Supreme Nike sneakers don't really need an introduction. After all, one of the most epic SB Dunks out there was a Supreme collab. And it seems like SS22 is gonna add one more collab to the great lineup! The new Nike SB Dunk Supreme trio is gonna take us all the way back to the 2008 "By Any Means" releases.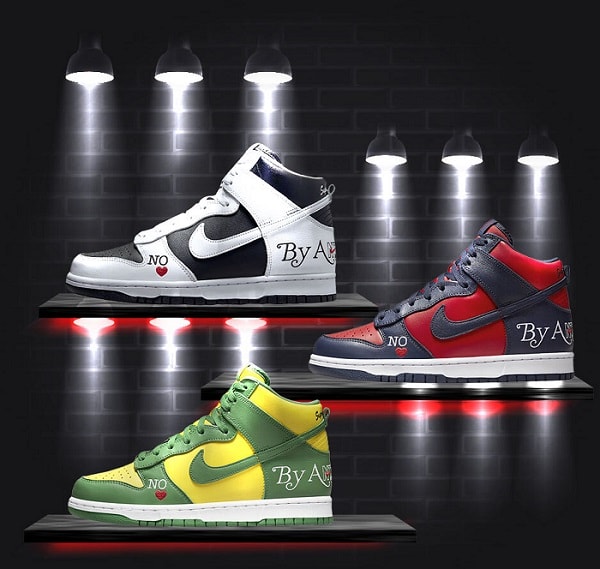 Now, the kicks will come in three different two-tone colorways: black/white, navy/red, and yellow/green. This kinda gives a BTTYS OG Nike Dunks vibe with a twist! What actually makes the kicks cool is the embroidery we're getting on them. Besides the obvious "By Any Means", we have "No ❤", and "Supreme Team" embroidery on the kicks. So naturally, these are worth the cop this week! Although we don't have a retail price, the kicks are available for $400+ in resale. But if the stock is very low on these, we can expect the kicks' value to go higher in time!
B.B. Simon Supreme – Fashion Statement x2!
Basically, wearing Supreme should be enough statement. But you know how the brand loves being extra. That's why we're getting a collab with a trendsetter brand that makes some bold fashion statements! If you're not familiar with it, B.B. Simon brand turns classic belts and accessories into works of art. Their most famous item is the Swarovski B.B. Simon belt, which Supreme dropped back in SS20! And now, in SS22 week 2, we're gonna get a fancy dog leash, collar, and studded puffer jacket.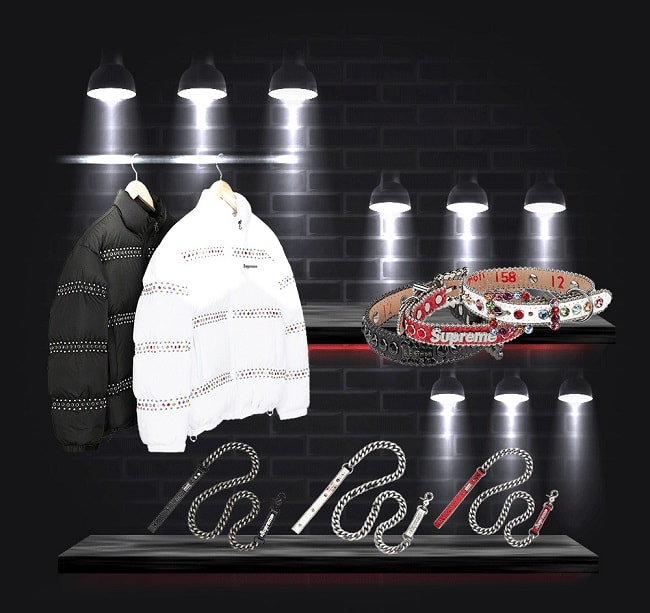 And a Hoodie, Because Why Not?
It's no bogo by any means (pun intended), but it's definitely worth copping this Thursday! The hoodie features a handwritten "Supreme" at the front, so nobody will doubt if it's Supreme anymore. The hoodie will be available in black, red, grey, purple, green, and tan. You could actually match some of these to the Nike SB Dunk Supreme "By All Means".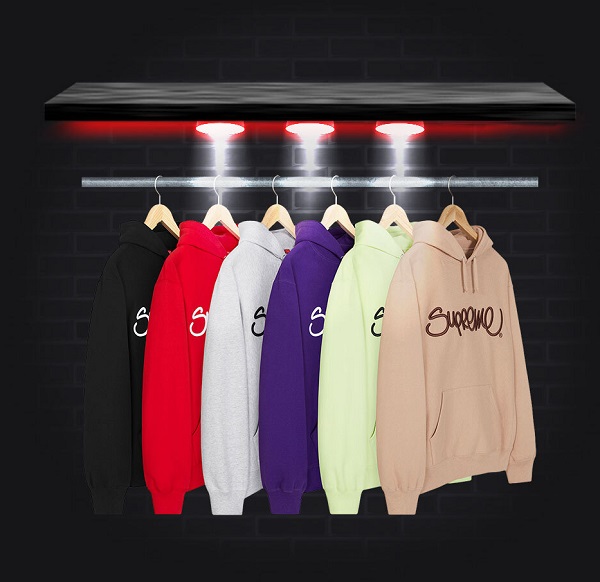 How to Catch the Nike SB Dunk Supreme Collab, and More!
So obviously, the second week is bringing some serious drip to the game. But man, it's gonna be hard to score a W! If you wanna make your life a bit easier, we recommend going for a Supreme bot. Or even better, an all-in-one bot that supports Supreme! But you'll be doing half the work if you don't pair it with the right proxies for Supreme. Finally, sneaker servers will complete the botting trinity! And if you wanna know more about that, check out this easy botting guide. Godspeed 🔥