Update: We kinda hoped we'd get the new Nike Lakers Dunks, but you know how it is with Nike releases! Is it really a pair of Nikes if we didn't wait for it? Anyway, the Dunks will be dropping on May 28, 2021. Too bad we didn't get an April release though!
With the news that the Kobe Bryant Nike partnership is coming to an end, Lakers & Black Mamba fans are sad. But for every bad news, we have good news! Michael Jordan is presenting Kobe into the Naismith Hall of Fame. The induction will happen next month, so make sure you don't miss it. We also have an interesting pair of kicks to honor the Los Angeles Lakers with a pair of Dunks! So here's everything you need to know about the upcoming Nike Lakers Dunks EMB.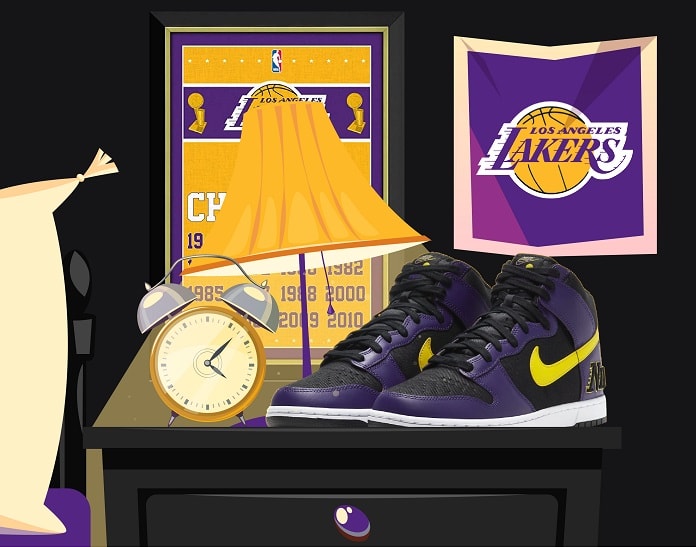 Nike Lakers Dunk EMB: The Dunk Every Fan Needs
If you're a die-hard Lakers fan, then you'll totally be in love with collecting memorabilia. Even better, wearing Lakers-inspired garments is a no-brainer! Luckily, the new Nike Lakers Dunk is the perfect pair for that. Why? Because the kicks come in a mix of a black canvas base and purple leather overlays. A yellow leather Nike Swoosh pops on the side panel and gives life to the kicks. But the best bit about the Nike Lakers Dunk? It's hands-down the embroidery of Nike branding in Lakers font on the heels. After all, EMB stands for embroidery in the sneakers' name, so that makes sense!
Release Information
The upcoming Nike Lakers Dunk EMB will drop on April 29, 2021, for $110! The pair will drop on Nike, Footsites, and other select retailers. So far, we know that the pair will drop in the US and EU. After all, US citizens are probably the most interested in the LA Lakers' garments! Either way, that's a pair you shouldn't miss out on, and we'll explain why in just a moment.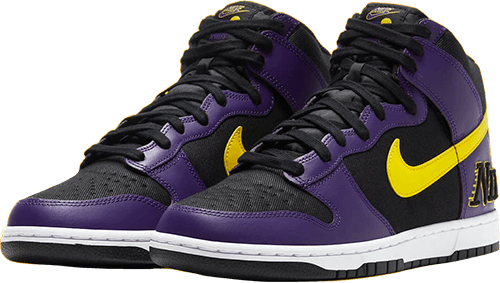 You see, one reason to cop the upcoming Nike Lakers Dunk is definitely the sentimental value. A Lakers fan will love owning this pair, just like a Michael Jordan fan loves their Air Jordans! However, another reason that has nothing to do with feelings is resale. If you're looking for some big bucks, like BIG, Nike Lakers Dunk should be on your list! The pair currently resells for an average of $1,100. We know, not your average pair of dunks, is it?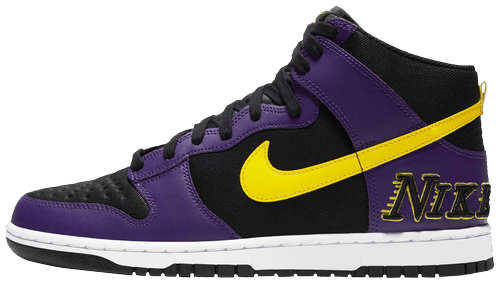 Cop Nike Lakers Dunk With NSB
NSB won't let you down when it's a drop on Footsites, Shopify, Adidas, YeezySupply, or even Supreme! NSB is an all-in-one bot that supports all of these sites and delivers consistently. An extra perk? NSB is in stock for you to get your copy any time you want! Everyone knows how hard it is to find a great bot for retail these days, and NSB's got you there. We know that paying several thousands of dollars for a bot for resale is a bit hard for beginners.
And speaking of beginners, if that applies to you, make sure you check out our easy cooking guide! Finally, make sure you get your copy soon, because sick drops won't be waiting around for long. Godspeed 🔥