New Balance Collabs Are Leading as This Week's TOP DROPS!
November is kicking off really hard! With all the New Balance collabs and sneaker releases, we can't help the excitement! However, we've also got an interesting Supreme week ahead of us. So we should all buckle up because it's a pretty cool month starter. However, the fact that no Yeezys or Air Jordans are dropping this week leaves a lot of room for other releases to shine! So what other kicks are shining this week? And which items are we gonna cook with NSB?
But First, Supreme News
The unfortunate news of a second dangerous wave of Covid-19 is sending some countries back into total lockdown. Europe is taking it seriously, so our European Supreme-heads will have to shop online only. After opening during the summer, the EU increased the restrictions once again. And thus, the Supreme EU stores will close on week 11, November 5, 2020. On the other hand, the US stores will stay open! Although some streetwear junkies don't think it's a loss, others will disagree. The upcoming Supreme Toshio Saeki collaboration is flashy in the most peculiar ways! Toshio Saeki is famous for his NSFW artworks and he's known as "the godfather of Japanese Underground". He passed away in January 2020 at the age of 74, so this is a sort of tribute to him. Imagine a bunch of stamps stuck on envelopes, that's what we'll get collage style. However, the hoodies are must-haves, especially with the interesting colorways!
New Balance Collabs
We said it once, we said it twice, 2020 is the year New Balance collabs rose to prominence. And because New Balance 2020 isn't done yet, we've got two new collabs this week! Let's check them out together.
New Balance Jaden Smith
If you missed the initial July release, you'll have another shot at owning the New Balance Jaden Smith Vision Racer. The inflatable boat-like sneakers will come in a sunflower yellow colorway and a flashy "vision" outsole. It's worth noting that New Balance was hit with a $2 million lawsuit over the use of the word vision. Authentic Brands Group is the company behind it and it owns Vision streetwear brand. According to them, the New Balance Jaden Smith collab used the logo without ABG's approval. That's interesting, considering the company didn't take any action towards the Kanye 2020 Vision that looks oddly similar to the brand!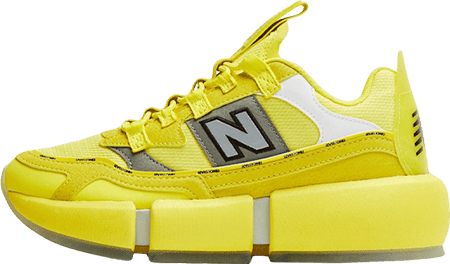 The upcoming New Balance Jaden Smith collab features sustainable materials and a cool yellow colorway. So if you're looking for kicks that won't harm the environment while looking good, you're set! The kicks will drop on November 6, 2020, and will retail for $150. Moreover, you can flip the kicks for around $400 on resale platforms!
Shoe Palace New Balance 997S "Great White"
Another interesting pair to join the list of awesome New Balance collabs. The official story says that the kicks are a tribute to the great white shark. But the way we see it, it's a cool looking dupe to Yeezy 700 Wave Runner! In fact, both kicks share the exact same color palette: orange, grey, black, blue, and white. Cool additions to the 997s are the shark teeth on the heels and ocean waves on the N logo.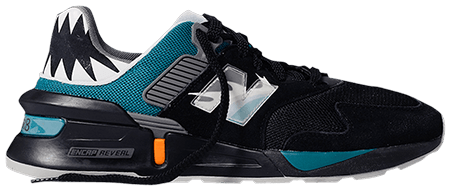 The kicks will come in an all-black toe box and midsole or black, and blue toe box with white midsoles. You can choose your favorite one. The drop will be a Shoe Palace exclusive on November 5, 2020. Although there is no retail price yet, you can find the kicks on the aftermarket for $300!
Nike Air Max 90 Infrared
Classics never die, especially if it's a Nike Air Max 90. The Infrared colorway is a recurring theme for this silhouette. But we ain't complaining because it's actually really nice. One of the latest times we saw it was on Air Max Day 2020 on the Camo 90s! But this specific colorway dropped previously in 2005, 2008, 2010, 2015. So according to our calculations, 2020 will mark the fifth release of the kicks. That doesn't make them any less desirable though! The kicks will drop on November 9, 2020, for $120. On the other hand, you can flip them for about $200, but we'd personally rock the heck out of them!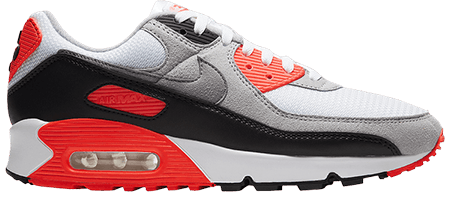 Nike Dunk Low Veneer
A Skunk wannabe! That was what we thought when we first saw the colorway. However, that doesn't mean that the kicks are worthless on their own. On the contrary, we love us some green and purple kicks to rock on our feet. This pair was part of 2001's Japan-exclusive "Ugly Duckling" pack! Luckily, Nike is reminiscing on the old rare pairs and dropping them again! The new Nike Dunk Veneer will drop on November 10, 2020, for $100. That's cheap enough for a $400 resale value!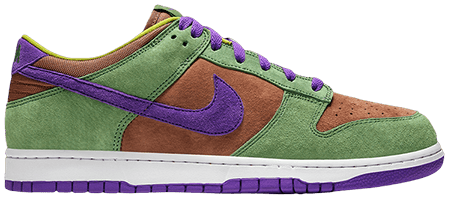 NSB Will Secure the New Balance Collabs and More!
Although the new Datadome security update on Footsites took the industry by surprise, NSB rose to the challenge! The latest Jordan 1 Mocha release is proof enough of that. So whether it's Supreme, Shopify, or Footsites, NSB will make it an easy cook for you! In fact, we've made a list of the best 2020 Shopify bots for you here! Godspeed 🔥
Random RT = Win 1xNSB2.0

NEW UPDATES came in CLUTCH as users scored 1.9K+ Checkouts! Most were Jordan 1 Mochas on Footsites & Shopify🔥

Hundreds of Yeezy 380 Glacites & Palace Cult T's🍳

We'll continue optimizing & adapting to all the major changes happening on websites 💯 pic.twitter.com/0OTSjXOunh

— NSB Bot (@NSB_Bot) October 31, 2020
Tags: new balance, Nike, Nike SB Dunk, supreme
Posted in Nike, Sneakers, Supreme 0 comments