If you're a part of the sneaker industry, you know that you shouldn't take it too seriously. However, there definitely are some unspoken (or even spoken) lines that shouldn't be crossed. But you know, anything is possible if you've got enough nerve. And if anything, MSCHF doesn't lack in that department at all. Think of the brand as the Fred and George Weasley of pop culture! Although it's all about pulling weird stunts, MSCHF shoes actually triggered the industry's interest. So today, we're gonna check out all the footwear that MSCHF blessed us with… Or cursed, depends on your sense of humor.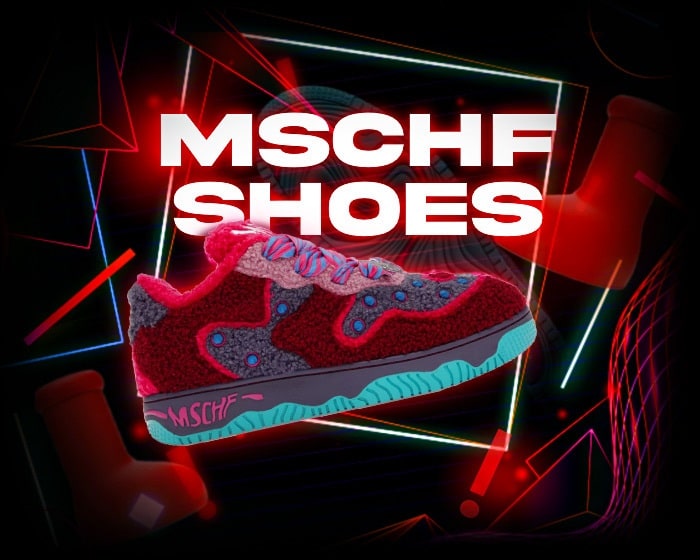 A History of Mischievous MSCHF Shoes!
MSCHF really lives up to its name, and if you're not sure what that means, check this out. But now, we'll take a look at all MSCHF shoes that dropped so far. Some of these seriously were grounds for lawsuits, and some did earn them. Now, shall we?
2019 – 2021 Era
MSCHF x INRI Air Max 97 "Jesus Shoes"
This pair didn't earn the brand a lawsuit, but certainly got a lot of attention and controversy! First things first, INRI stands for "Iesus Nazarenus, Rex Iudaeorum," meaning "Jesus of Nazareth, King of the Jews." The kicks are Nike's classic Air Max 97s with a twist to them. Instead of the Air unit, the kicks have holy water in them so you can literally walk on water! Anyway, according to MSCHF, Nike acknowledged that they did nothing wrong by dropping the kicks. The kicks dropped on October 8, 2019, and retailed for a whopping $1,000. But if you're really channeling the pious energy, then you'll have to spit out $3,000 in average resale!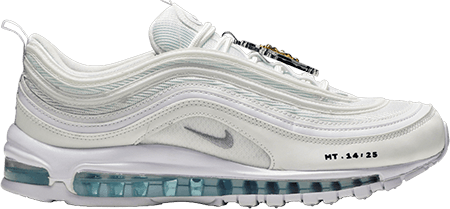 Lil Nas X's Satan Kicks – When All Hell Broke Loose Over MSCHF Shoes!
Although the Jesus shoes were controversial, it didn't drag the brand to court. However, Lil Nas X and MSCHF came together for a very bold partnership that resulted in a lawsuit! Although the concept was very similar to the 2019 pair, people didn't take it that well. The kicks were limited to 666 pairs and included a pentagram and a drop of human blood in the soles.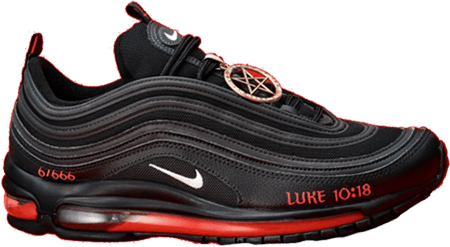 The Lil Nas X collab dropped in June 2021 for $1,018 and people bought them in less than a minute! However, the kicks didn't sit well with Nike, and it hit MSCHF with a lawsuit. The two brands eventually reached a settlement that the kicks would go out of circulation. But well… you know, the deed was kinda done.
2022 Releases Were A-Poppin'
MSCHF Super Normal
Plot twist: there's nothing normal about this silhouette! The only normal thing about it is that the kicks are a wavy version of the Air Force 1. And well, we're not sad about that since the AF1 is definitely a great pair to replicate. The first edition of these kicks is a popping "coke" white. Odd choice of color, but these are MSCHF shoes after all! The kicks dropped on June 23, 2023, and retailed for $145. If you wanna get a pair today though, you'll have to pay $276 on average!
Other available colorways: F&F Deer Hunter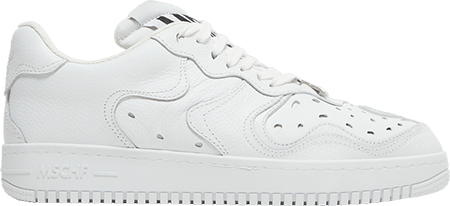 MSCHF Gobstomper – Just Like an Onion…
Who's a better candidate to collaborate with MSCHF than Jimmy Fallon? And the MSCHF Gobstomper was a spot-on choice for the collab. And if you like funky, layered shoes, these babies are just the thing for you! You see, you can DIY the design on the Gobstompers and reveal different layers and colors. Whether it's intentional or due to wear depends on your preferences! The kicks dropped on July 28, 2022, and retailed for $195. Today, they're worth $288 on average.
Other available colorways: Sour Edition, Graylag Goose Edition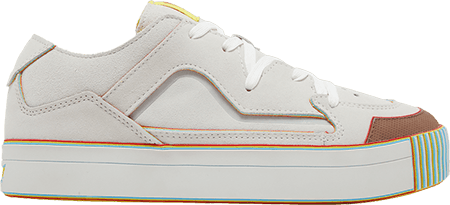 Tap3 – The Most Boring MSCHF Shoes?
Dare we say it? MSCHF isn't the kind of brand to drop a boring pair of sneakers. And Tap3 is no different. It might lack the controversy of flexing the swoosh, but it still nods to a certain classic silhouette. If you look at what's under the yellow MSCHF tape, you'll find that you have a black Air Force 1 replica. But is that any different from Bape sneakers? Anyhow, the kicks dropped on March 21, 2022, for $220. But you can actually buy them off the resale market for under-retail depending on your shoe size!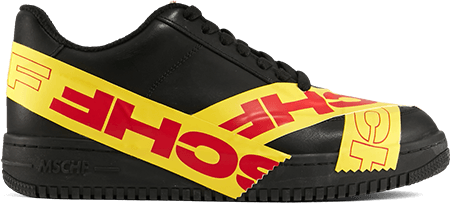 MSCHF AC1
Who knew that medical equipment would become a must-have without a medical condition? If you check out MSCHF's marketing strategy, you'll crack up! But well, it sold! Whether they sold as a joke or for real remains a mystery that only the owners of the kicks know the answer to. Anyway, these MSCHF shoes (?!) dropped on October 19, 2022, and retailed for $450. And they're currently worth about $346 in resale… a catch if you as us.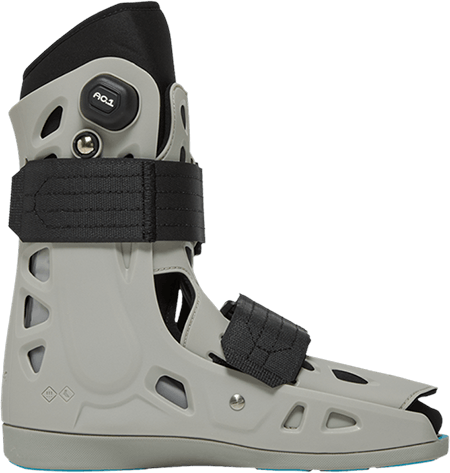 2023 MSCHF Shoes Are on a Roll
MSCHF Super Normal 2
Although the first pair dropped in 2022 (Perrotin Edition), we'll let it slide and talk about the first 2023 release. This silhouette featured the same design as the first edition. The only difference was the wavy outsole design instead of a straight line. The Super Normal 2 Common White dropped on January 31, 2023, retailed for $145, and is worth $143 in resale.
Other available colorways: Perrotin Edition, Mars Black, F&F Raspberry Lemonade, Kid Kudi Insano, Orange Milk, Mint.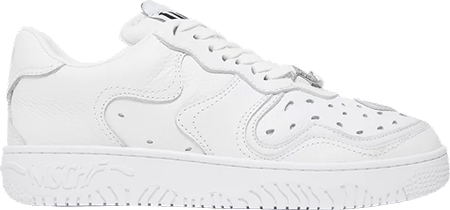 The Big Red Boot
This one took the sneaker and streetwear industries by storm. Everyone wanted a pair of these cartoon-looking boots. From influencer posts to epic fail videos, these babies were there to launch the year. In fact, the MSCHF Big Red Boot dropped on February 16, 2023, and retailed for $350. Luckily, you don't have to pay a lot more to get them off the resale market at an average of $373.
Other available colorways: Crocs Big Yellow Boots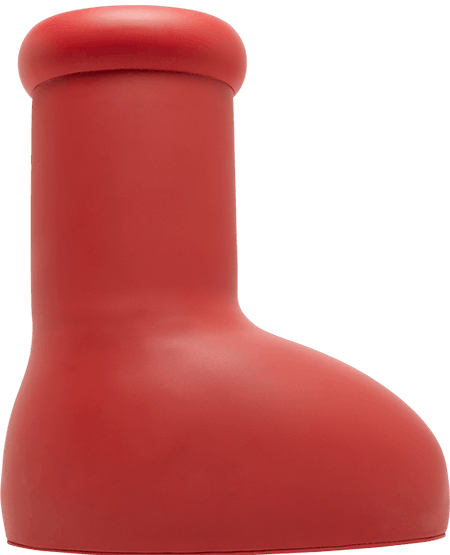 BWD Shoes
Just when we thought that MSCHF shoes couldn't get weirder, we got the BWD kicks. The main feature of this pair? You wear it backward because instead of the toe box, you have a slide-like opening! Kinda explains the "BWD" name, doesn't it? That also implies that we might get a FWD shoe. But who knows with MSCHF? The BWD shoe dropped on April 11, 2023, for $135! Today, this pair is worth $758 on average on the aftermarket!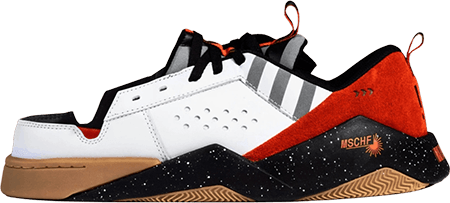 MSCHF AC2
Why settle for a boot when you can make a medical-looking pair of slides? You see, it isn't really weirder than a pair of Foam Runners, but that's just us peeps. Anyway, the AC2 dropped on August 22, 2023, and retailed for $115. And if you want a pair just for the sh*ts and giggles, you'll have to get it for about $142.

Reebok x MSCHF Pump Omni Zone IX
We need a little boing-boing in our lives from time to time. This is why the new MSCHF x Reebok partnership is a fun spin on the classic Pump kicks! The kicks dropped on September 27, 2023, for $250. And if you wanna know more about the kicks, check this out.
Other available colorways: MSCHF Reebok Pump Omni Zone IX Bleached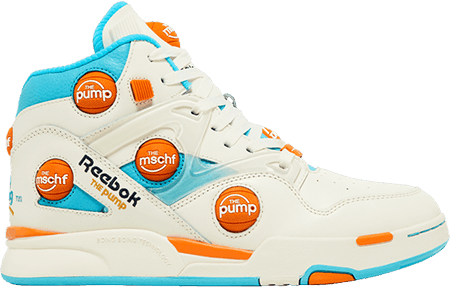 Is That Everything MSCHF Has to Offer?
The chaotic brand is definitely not done with the drama. And their stunts are definitely not sneaker-exclusive! So make sure you keep following the brand's news because you never know what's coming up. Don't worry though, our blog's got everything under control and will keep you up-to-date. Whether you wanna learn about sneaker reselling or the basics of sneaker botting, we got you. Godspeed!